South Africa celebrate job half done at Afcon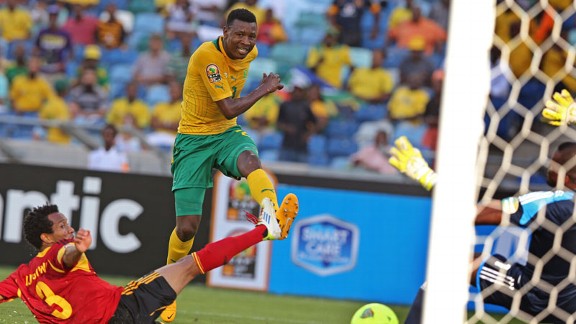 APSouth Africa's Siyabonga Sangweni scores the opener against Angola
"Well done #bafana and coach GI."


That was the message from former South Africa star Steven Pienaar, who opted out of international football in the lead up to the African Nations' Cup, after the hosts took the lead in Group A with their first win in the competition in nine years - a 2-0 victory over Angola.


"Such a special atmosphere at the airport yesterday as I watched the Bafana Bafana game. Top win for our men. #afcon2013 #backyourboytjies"


South Africa's limited-overs cricket captain AB de Villiers paused in his travels to catch a glimpse of the national football team in action and liked what he saw. The cricket squad have been vocal in their support for Bafana Bafana with Test captain Graeme Smith posting a message of support to his opposite number Bongani Khumalo and a banner outside their dressing room (they are also involved in an ongoing competition) wishing the boys well.


"So Bafana Bafana only scores in Castle Lager adverts, huh? We didn't think so either... Shapa Bafana Shapa."


The sponsors, brewery SAB and their flagship product finally got their own back after it seemed that the only place South Africa could find the back of the net was in staged television promotions.

- Drought over: South Africa score & win

Countrywide relief and joy dominates this Thursday morning. Television vox pops have fans saying they always believed in Bafana and they can finally wear their yellow jerseys with pride. Few have realised that the job is not done. Premature celebrations are one of South Africa's biggest vices and they seem to have sprung up again.

The reality is that Bafana Bafana have a very good chance of qualifying for the knockout stages but they haven't done so yet and will have to get it together against Morocco to guarantee it. On the evidence of the North African nation's recent performances, that may not be too difficult but the Atlas Lions will be hurting, having again failed to live up to reputation or potential. The last time they were wounded, when they lost the first leg of the ANC qualifier against Mozambique, they surged back to beat them 4-0.

So, sober up South Africa. Already, there is one grave issues; one of the goalscorers, Lehlohonolo Majoro will miss the next match and possibly more fixtures after he was injured. The Kaizer Chiefs striker, who came off the bench to score the second goal, was cut on the shin and requires stitches, ruling him out of the Morocco tie at least. Midfielders Kagisho Dikgacoi and Lerato Chabangu are also among the walking wounded.

Dean Furman gave everyone reason to believe the pair will not be missed too much, but it is also important that the Oldham Athletic man is not overhyped. That he was exceptional is not in question but all responsibility cannot lie on him alone.

One person, at least, seems to have a solid grip on matters. "We won today but we just cannot get ahead of ourselves," Bafana coach Gordon Igesund said. "We have a lot of work to do."

Perfecting the finishing touch is one of the improvements South Africa must make, especially because they may not be lucky enough to get as many chances against future opponents.

Meanwhile, two off the ball incidents have also been making headlines. Emmanuel Adebayor and some of his Togolese team-mates were allegedly robbed of possessions at their hotel. The team is staying at the Sun City resort, near Rustenburg, where they are based, and reports suggest that cash and personal belongings were taken. An investigation is underway but even the mere suggestion of thievery will not bode well for South Africa's reputation.

Already joked about as the crime capital of the world, South Africa's police force is on a mission to clamp down on incidents like these. They were kept to a minimum during the 2010 World Cup where fast-track courts were also put in place to deal with crime. This event does not have the benefit of a quick justice system but officials are certain to take this seriously.

Lastly, Ethiopia, as expected, were made to pay for their fans unruly behaviour in their opening match against Zambia. The East African federation was fined $10,000 after their supports pelted the pitch with plastic bottles and vuvuzelas on two occasions: when their goalkeeper Jemal Tesew was sent off and when Zambia scored the first goal.

Tesew was stretchered off with an injury after he executed a horrendous, kung-fu style kick into the thigh of Lungu Chisamba and has also been sanctioned. He has been banned for the next two matches, which means that unless Ethiopia qualify for the quarter-finals, he will not feature in the rest of the competition.

Tunisia have also been dealt a blow with striker Issam Jemaa ruled out of the rest of the tournament with a serious knee sprain. The 28-year-old, who was competing at his fifth successive Nations Cup, had to come off after 16 minutes of Tunisia's 1-0 win over neighbours Algeria in Rustenburg on Tuesday.