Few results but the football is still good
With only one winner from six matches, questions are being asked about the quality of the African game. Do teams park the bus too soon? Is there a lack of killer instinct? Or is defence across the board that much superior to attack?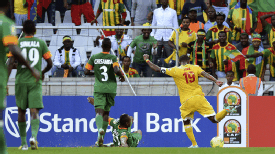 GettyImagesZambia and Ethiopia played out an entertaining 1-1 draw on Monday
After watching the engaging encounter between Zambia and Ethiopia on Monday night, none of those questions can be answered in the affirmative. The Nigeria-Burkina Faso match might have created slightly different responses because it was fairly anti-climatic after the excitement of the first game. But both fixtures saw what should have been easy results for heavyweight teams turned into draws as a result of the smaller brothers surging back.

Ethiopia's showing was the one that delighted most because the East African team have not been part of the competition for more than three decades and they played as though they had really missed participating. They were positive in their approach, despite being reduced to 10-men and although holding the defending champions to a draw exceeded expectations, they were left with one what-if. Had Saladin Said's penalty not been saved, Ethiopia could have pulled off a major upset and Zambia are not taking that lightly.

Their coach, Herve Renard took full responsibility for their defeat, blaming himself for "not preparing the team well to start the challenge." He also thanked goalkeeper Kennedy Mweene for saving them from defeat. "Without him, it could have been a very, very bad result." Mweene's efforts are not in isolation, goalkeeping throughout the tournament has been outstanding from the teams we have seen so far.

Renard said he was "not surprised," that Ethiopia had fought so hard because as he expected them to be a team others would need to "be careful," of. Ethiopia's manager, Sewnet Bishaw was buoyed by the result and proud that the team had "shown the rest of the world they can play football." The only downer on Ethiopia's superb day was the behaviour of their fans who pelted the Zambian players with plastic bottles and vuvuzelas. A sanction is yet to be meted out but their acts are certain not to go unnoticed.

With the group wide open, Ethiopia's eyeing of a quarter-final spot does not seem entirely unlikely especially after Nigeria's lethargy in their opener. The Super Eagles scored an early goal and then meandered along, structurally competent but lacking any punch. They defended well, even though they had Efe Ambrose sent off, until a last minute shambles when Alain Traore sent home Jonathan Pitriopa's cross.

Captain Joseph Yobo said the draw was "like a lost game to me." He is already looking ahead to the next match, against Zambia which he said the team will treat as a "Cup final, because we want to make sure we qualify for the next stage."

Burkina Faso are also targeting the knockouts and can realistically do that because of the point they snatched. Coach Paul Put would only go as far as to say his team "played well," and could challenge for a spot in the last eight.

Meanwhile, attention is turning back to the hosts as Bafana Bafana will attempt to earn their first ANC win since 2004 and avoid teetering on the brink of an exit when they take on Angola on Wednesday. A local herbalist has offered to come to the aid of the team. Traditional medicine is often used as a "magic charm" of sorts in African football and the man from the Eastern Cape has given an assurance that he will only use plants from South Africa to brew a special concoction for the team.

Better yet, the herbalist is willing to make the first two batches for free and will only begin charging South African officials "when" the team qualify for the knockouts. Before SAFA can consider his offer, they have to deal with another traditional healer who claims the assosication owe him R90,000 (US$10,600) and he will continue to curse the team until they pay up. At least now we know why they haven't scored a goal in three matches.