Life after Pienaar for South Africa
It is not exactly going South Africa's way, it is? Three months before a continental championship that they probably would not have qualified for if they weren't hosting, their most high profile player and captain, Steven Pienaar, has retired from international football.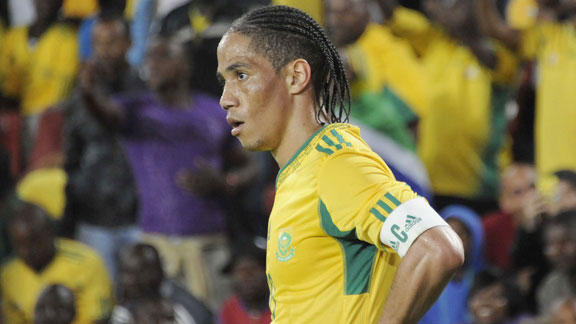 GettyImagesSteven Pienaar made 57 appearances for his country


Pienaar, who will now only be known by the qualifier 'Everton midfielder' rather than anything more internationally lofty , sent a statement to team management citing a tired body as the main reason for his decision to focus solely on club football. His announcement came on the same day as the South African squad to play Poland and Kenya in two friendlies, while the rest of the continent plays African Nations Cup qualifiers, and a day after the national coach denied that Pienaar would be missing in action.

Gordon Igesund revealed: "The bottom line is that Steven is Bafana Bafana captain… he will be in my squad." Twenty-four hours later, the coach had to change tack. Although he was gracious in accepting the armband back, Igesund was also quick to say the team would be able to move on when he said: "Steven Pienaar is now very far from my thoughts and good luck to him and his Everton side."

The real reason for Pienaar's decisions could be as genuine as the physical strain he is taking from playing in the English Premier League as well as for his country, or as pragmatic as that he has finally found a place he would rather play than the national side.

Pienaar returned to Everton at the start of the season, after an unhappy time with Tottenham where he was either injured or on the bench. He confessed it was a stint that made him fall out of love with football. Returning to Goodisen Park allowed him to rekindle that romance and it could be that there is no place for a third party like Bafana Bafana now.

The midfielder has played for the national team for 10 years since he made his debut in 2002 and captained them since the end of the 2010 World Cup. In that time, they achieved little and endured a tough transition to a local coach after flirting with the use of Brazilian managers for the years leading up to the tournament. 'Underachievers' would be a kind description for Bafana Bafana, who have resources at their disposal that other countries would be able to thrive on.

Life for Pienaar will go on and if he opts to come back to the national team, Igesund said the "door is not closed." He will have to earn it because "nobody will be guaranteed a spot," but he could return. The crunch question is what will happen to Bafana Bafana and Igesund, especially the latter whose mandate includes reaching the African Nations Cup semi-finals?

Naturally, life for them will go on too. A new captain, Bongani Khumalo who also spent time at Spurs, has been named, as had a squad with nine members who were not part of the recent matches against Brazil and Mozambique.

One of those making a return is midfielder Teko Modise, who claims to have turned the corner after leaving Orlando Pirates and joining Mamelodi Sundowns. Modise was called a "child with a problem," by Pirates boss Irvin Khosa, a taunt he responded to by criticising the club for not letting him seek overseas opportunities. Modise fell out with the previous Bafana Bafana management but Igesund is a man who build bridges and he has constructed one of those in Modise's direction.

The most surprising recall is for 34-year old winger Delron Buckley. Despite representing the national side in the 1998 and 2002 World Cup and the 2004 African Nations' Cup (ANC), Buckley is very much a blast from the past but his experience is something Igesund may be relying on.

The veteran has been a professional footballer for 17 years but this is his first one in South Africa's Premier Soccer League. The bulk of his career was spent in Germany, first for VfL Bochum and then Borussia Dortmund. He was out of contract for six months before Ernst Middendorp, his first coach, offered him a chance to return to top-tier football, albeit in a completely different way.

Buckley now plays at Maritzburg United, in the same province he was born: Kwa-Zulu Natal. It is not his doing alone but the club have only lost once this season, and it is players who come from cultures like that who form the basis for the way Igesund sees Bafana moving forward. (Either that, or players who come from cultures that are completely different to the current South African one.)

The only uncapped member of Igesund's squad is left-back Ricardo Nunes who has not seen the country since he moved to Portugal as a young boy. Nobody seems to know much about him, including Igesund, who said he had "watched DVDs" of the defender. Born in Johannesburg, Nunes now plays in Slovakia and like Leeds United striker Davide Somma has the mystery factor in his favour.

News has also emerged that he has been learning the South African anthem off Youtube. Next Friday, the country will see how far he has progressed with that. They will also see how far their coach and team have progressed without the one player they hoped would oversee their campaigns for the foreseeable future.