Damp ANC Day 1 - and not just the weather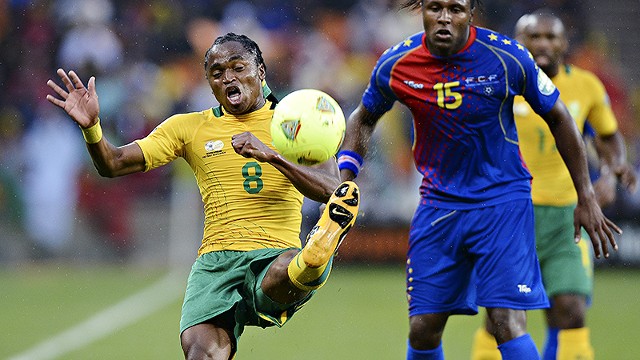 Francisco Leong/AFP/Getty ImagesSouth Africa and midfielder Siphiwe Tshabalala, left, just couldn't get going against Cape Verde and Marco Soares in Saturday's ANC opener
Words like "damp" and "froze" are being used to describe the opening day of the African Nations Cup in South Africa. If only they were limited to the weather.

Persistent rain meant the tournament opened in gloomy conditions with drizzle always around. Soccer City in Johannesburg was sold out Saturday, but there were some who did not want to sit on wet seats and nobody can blame them.

The players, though, should be scolded for their clammy showing. For a tournament that has already copped ample criticism, Group A did nothing to help change that perception. In 180 minutes, four teams could not conjure up a goal and in the case of Bafana Bafana, they did not even seem to want to against Cape Verde. The hosts will be painted as the guiltiest party – maybe unfairly so because they are the lowest ranked team who played on match day one but the ones with the most expectation resting on them.

They are also the team that has suffered most from impotence in front of goal, with their drought stretching back three matches, which is the equivalent of 270 minutes or 4 1/2 hours. To "freeze," as coach Gordon Igesund put, it for that long is something only an ice block should be comfortable doing.

Igesund was frank in his assessment calling the first half a "total waste of time." He also lamented the team's insistence on long, hard passes instead of more controlled passages. "There were big gaps between the midfield and the strikers and we tried to get the ball to the strikers too quickly. Too many balls were played over the top at 100 miles per hour, which is something we don't want to do."

More worrying than the lack of tactical subtlety was the giving in to fear that Igesund acknowledged. "Some of the players seemed to freeze when the whistle blew and lost their nerve. Perhaps for some of them the occasion was a bit too big."

Against an opposition who afterwards said they had only wanted a draw out of the opening game, it was always going to be up to South Africa to create something. It may continue like that as the competition draws on. That will be a massive challenge for Igesund because his team appear incapable of finding a way, something Cape Verde seem to have the potential of doing.

"They are a good, well-organised team and play like Europeans. They defended well, slowed the game right down in the second half and got the point they came looking for," Igesund said of the Islanders. Having emerged unscathed from their first match, the Blue Sharks have promised to step up for the rest of the tournament and with the likes of Luis Carlos Platini and Ryan Mendes, they may just be able to deliver.

"For me, it was mission accomplished. The team was excellent, we did the job we came to do and met our objectives and now we can concentrate on our next match against Morocco," Lucio Antunes, the Cape Verdean coach said. "We dignified our country today. It is a small country of 500, 000 people, but we made them proud and have nothing to fear in our remaining games."

Having watched Angola and Morocco also play to a stalemate, Cape Verde will fancy their chances against both. Angola were called "wasteful" by one website. In particular, their late squandering of what was probably the best chance of the match has seen the southern Africans criticised. Guilhermo Afonso should have scored but toe-poked the ball wide.

Marquee striker Manucho had two opportunities as the final whistle loomed. His first went wide and he also failed to hit the target with the second, which was even an even better chance inside the six-yard box.

That's not to say that Morocco were mere spectators. Although they tired in the second half, they controlled periods of the first. They drew a save out of Mamono Lama when Mounir El Hamdaoui fired in a long-range shot and then Liverpool fringe player Oussame Assaidi had an opening from an acute angle but sent it over the crossbar.

At least what the second match showed is that Group A does contain an element of enterprise and the capability of producing faster-paced and more engaging football. But only three teams seem to be able to manufacture that. Bafana Bafana are the odd men out and they will have to fix that quickly if they are serious about a quarterfinal spot.