Uncomfortable hosts fire blanks in Afcon opener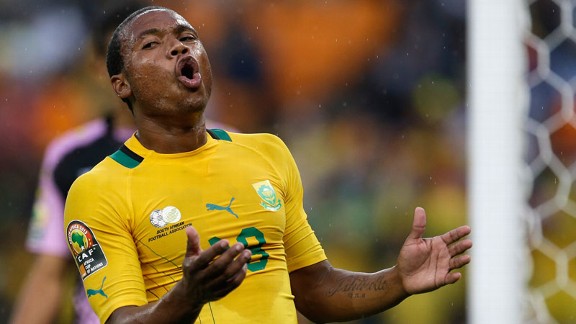 PA PhotosSouth Africn midfielder Thuso Phala reacts after missing a chance
There's something awkward about watching the courtship of teenagers. In that self-conscious phase between being carefree children and adults weighed-down with responsibilty, they just aren't quite sure what to do and how to behave. The opening match of the African Nation's Cup 2013 was like being witness to that juvenile frivolity.

- Match report: South Africa 0-0 Cape Verde

For both teams, there were reasons to be nervous. South Africa had massive expectation on them as hosts and as perennial underachievers. Cape Verde were thought to have already punched above their weight when they qualified for the tournament but they were also mindful of not disgracing themselves in the same way rookies Botswana and Niger did in 2012.

Cape Verde coach Luis Antunes was so determined to learn about what makes a champion side that he spent a week with Jose Mourinho at Real Madrid. Currently on long leave from his job as an air traffic controller, Antunes promised his team would produce something memorable at the competition. In the end, they only threatened to.

The much-hyped Lille winger Ryan Mendes had the first half-chance but he optimistically tried for a long-range shot that he lacked control over and it went wide. A minute later, South Africa had an opportunity of their own.

Siphiwe Tshabalala, who scored the first goal of the 2010 World Cup, had a free kick but he lacked intent and power and directed straight at the 'keeper. Vozinha almost messed it up from his end when he spilt the ball back to the opposition players but he soon recovered to collect it.

While South Africa's midfield could not connect with its strikers, Platini had an actual opening. He should have put Cape Verde ahead when he found space in the 18th minute and shot wide. He had been given what South African striker Benni McCarthy called a champagne pass and did not have the muscle to pop the cork.

So it went: Heldon sent a free-kick over the crossbar, South Africa continued to feed balls to Cape Verde's centre-backs, Lerato Chabangu went for a bicycle kick at the start of the second half and missed but most frustrating for home fans was the triple chance South Africa had 56 minutes in.

Lehlohonolo Majoro had the ball played to him in the box but before he could shoot, he was blocked. The ball fall to Bernard Parker who could not get past Fernando Varela, instead feeding to Tshabalala at the far post who failed to capitalise. The South African bench appealed for a penalty, pleading that Majoro was fouled. Coach Gordon Igesund's begging was so emphatic that the spectacles he had stored in his pocket, fell out.

That is what it had come down to. The hour mark had not been reached and desperation was in the air: For Bafana Bafana to make something happen and for Cape Verde to follow through on their early promise.

Something held both back. Hesitance, fear and even though it sounds insulting to type, an inability to actually do it underlined their efforts. The quality of football that resulted from that slow dance with mediocrity was not worthy of being called a tournament opener. Every time the ball made it close to the box, it was prodded away by the defence. There was no stage where it looked like a tussle.

South Africa were continually offside (nine times) and almost always shot wide. Cape Verde did not need anything more and played like it. With a draw looming, they shut up shop and were happy to meander through the last phases. For them, perhaps, there was less at stake.

The restless Soccer City crowd tried everything. From vuvezelas droning on to a Mexican wave. They had sat through unpleasant weather conditions to watch an anticlimactic fixture that would have left them frustrated. South Africa's reputation remains unchanged. They still lack the ability and the confidence to score goals when it matters. This time it could cost them advancement in the tournament they are hosting and Igesund his job.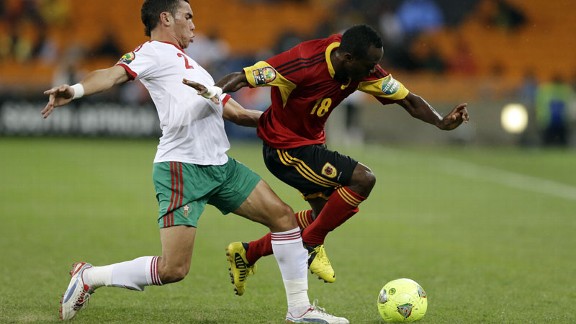 APMorocco's Abderrahim Achchakir (L) is challenged by Angola's 'Geraldo' Bartolomeu
With an opportunity to go top of the group, Morocco would have hoped to call on their superior record over Angola (four wins in five matches) to start a breakaway. The southern Africans may have hoped to rewrite that history. Neither side did any of that.

- Manucho misses golden chance

A second stalemate left the Nations Cup without its first goal after Matchday One and fans anxious for action. Morocco and Angola provided more entertainment with an enterprising encounter that saw two chances inside the first five minutes. Theirs was not an inability to score but decent defence on both sides and strong performances by the goalkeepers which left the scorers book empty.

Group A is in deadlock until next week, as a result.