Group C - Defending Champions, Eagles and the rest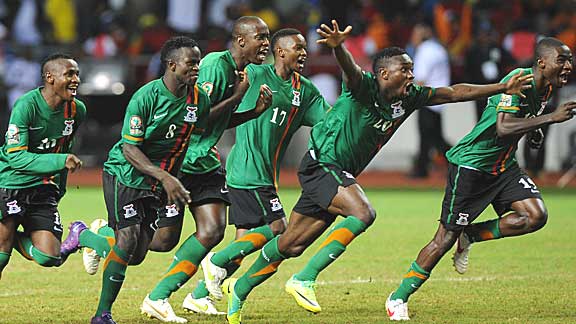 GettyImagesZambia players celebrate their dramatic shoot-out win in Libreville
A change to the schedule means that unless Zambia defend their title in South Africa, they would have been champions for the shortest period – just 12 months. The African Nations' Cup (ANC) will now be played in odd-numbered years so as not to clash with World Cups. But it will still take place every two years in January and February which does not solve the problem of them running concurrently with the European leagues.

- Group A: The hosts and others
- Group B - Ghana and other stars
- Group D - Favourites, neighbours and wounded

Still, there is great pride to be had from winning the ANC and few teams know that better than Zambia. A cathartic journey to the trophy took place at the last edition in Equatorial Guinea and Gabon. The Zambian team visited the site close to Libreville where the plane carrying their 1993 squad crashed, killing them all. They laid flowers in the sea in memory of their fallen comrades and then honoured them by winning the final.

Such fairytales are not supposed to repeat themselves but Zambia are determined not to follow convention. They are desperate to show their victory was not a one-off but will have to overcome tough opponents in the group stage to do that.

Nigeria haven't had continental success since 1994 but are still regarded as powerhouses of the continent. They've battled with internal strife in the lead up but it could serve as a motivator in the main event. Also up against the title holders are ANC originals Ethiopia who were part of the first group of countries to compete in the event but have not been involved in it for 30 years, and Burkina Faso, who have only advanced past the first stage of competition once.

Zambia

Lead by the man that should have won the African Footballer of the Year award, Chris Katongo, Zambia are the current darlings of the African game. Their rise to ANC success in 2012 was a culmination of a period of hard work and team spirit, albeit surprising to some.

Their unity is expected to be their biggest strength in this edition of the tournament too. Their key group stage match will be against Nigeria on January 25 and Renard has already begun the war of words. After watching Nigeria draw with Cape Verde, he asked reporters whether they believed the Super Eagles were at their best, because he did not. He hinted at a grudge match after Nigeria eliminated Zambia from the 2010 quarter-finals, predicted a tough match and promised Zambia are eyeing top of their group.

Zambia have arrived in Nelspruit following a goalless draw against Norway. Their preparation has not been entirely smooth after they lost to Tanzania and Angola and drew with Morocco, while their final scheduled warm-up match against Namibia has been cancelled. Renard said he would prefer his troops to rest.

Nigeria

Stephen Keshi was a member of Nigeria's 1994 side that last lifted the ANC. If he coaches Nigeria to success in 2013, he will become the first person to have won the trophy as a player and a coach. He was named manager of the side less than a year ago, after Samson Siasa was fired for his failure to take the team to the 2012 event. Historically, Nigeria are a consistent ANC competitor. They've finished runners-up four times and in third place, seven but its taking that next step which has only been achieved twice.

Their build-up was dominated by the ugly public spat between Peter Odemwingie and the FA, and the inability to secure the services of Newcastle United striker Shola Ameobi, but they have since turned the corner. At a practice session last week, four players voluntary stayed for an extra twenty minutes to practice set-pieces with the assistant coach.

It could be efforts spent in vain as Nigerian television may not broadcast any of the tournament. Rights payments are the main issue behind the possible blackout but there is no doubt Nigerian fans will want to watch their team's rise to the top.

Ethiopia

One of the lesser thought of teams, this will be a tough group for Ethiopia to come out. They came through qualifying having had an exciting run against Sudan who they drew 5-5 with on aggregate with but progressed on away goals.

They have a local coach at the helm, Sewnet Bishaw who has been around the Ethiopian circuit for a fair while, and their marquee player is a local star: Saladin Said was the top scorer in the Ethiopian league in 2008 and 2009 and now plays for Egyptian club Wadi Degla. Another home-based success story is that of Adane Girma who was 2011's lead scorer and has taken his club to four league titles in six years.

Ethiopia have done all they can in training to be ready. In their two warm-up matches, Ethiopia drew 1-1 with Tunisia, beat Niger 1-0 win and Tanzania 2-1 to cap off a solid preparation program.

Burkina Faso

It seems to be all or nothing for Burkina Faso as they named a squad made up of only foreign based players for the tournament. Having had a poor record in the past, it looks as though they are banking on international experience to come out of their group.

They are better known for their controversies than their football, having been accused of playing ineligible players in the qualifying phase for ANC 2012 and the 2014 World Cup qualifying. Their coach Paul Put was banned for life by his union Belgium for fixing matches but insists he has been the victim of a betting scandal.

Much hope will rest on striker Alain Traore. He was included in their 23-man squad despite carrying a heel injury which forced him to miss their early preparations.