Group A: The hosts and others
To keep an eye on the hosts' group is a must in major tournaments. Their performances determine interest levels and in a competition such as the African Nations' Cup that is perennially under-supported, it will be even more important for Bafana Bafana to give a respectable account of themselves.

- Group B - Ghana and other stars
- Group C - Defending Champions, Eagles and the rest
- Group D - Favourites, neighbours and wounded

On the face of it, the draw has been kind to South Africa, putting them against newcomers Cape Verde, Morocco - the North African giants who have not won silverware in over 30 years - and a fellow southern African side, Angola. They have avoided all the heavyweights because of their seeding in the top pool and also managed to avoid sides that could cause problems like Mali and Algeria.

Could Group A turn out to be more exciting than it looks? Football Africa previews the four teams.

South Africa
Locals have started to rally around their team in preparation for the event, even though there's a general feeling that Bafana Bafana will need to improve exponentially if they are to repeat their 1996 showing. In their first warm-up match, they showed that as the problem of old: an inability to find the back of the net returned.

South Africa created enough chances to have scored a dozen times against Norway but their lack of intent and fear in the box cost them. Heartening though, was the creativity in the mid-field and Siphiwe Tshabalala showed why he continues to be the best player in the team with his instinctive penetrative passes.

They will play two more matches in the lead up to January 19 to improve their goal-scoring form which will be weighing heavily on Gordon Igesund's mind. The stalwart coach has been given a clear instruction from the county's football association that if the team does not make at least the semi-finals of the competition, his job will be on the line.

It's a tough ask but the administrators have put it to the man who has had record league success. Igesund won the domestic championships with four different clubs and there is hope his Midas touch will take effect again.

Cape Verde
After the smallest qualifying country (in population terms) overcame their final hurdle to appear at the continental championship when they held Cameroon at bay, their journey could well have been regarded as complete. Then, they were presented with a further challenge: play the host nation in the opening match of the tournament in front of 90,000 fans.

That could be a fine assignment for the islanders who may otherwise have faded in the obscurity of their fairytale and not been expected to do much more. After all, this is the first time they will play at the ANC and as rookies, they could get away with more than other teams.

Cape Verde don't want that though. Their coach Lucio Antunes has made it clear that his team are here to compete and they have the personnel to do it. Striker Heldon delivered at crucial times in the qualifying phase, while Ryan Mendes from Lille is regarded as one of the most promising forwards around.

On the defensive front, the experienced Ricardo, who opted to play club football in Portugal rather than head to the ANC, will be missing but Cape Verde held Nigeria to a goalless draw two days ago so will take heart from that.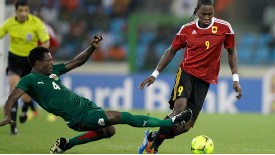 APReal Valladolid forward Manucho (r) will carry the much of the hopes of Angola
Angola
The dark horses of this group, Angola could surprise a few. They were close to not qualifying for the competition after they lost the first-lag qualifier for Zimbabwe but rallied to beat their fellow Southern Africans convincingly.

Manucho is their marquee player and will carry most of the responsibility if they hope to progress further. The Real Valladoid striker has scored 21 times in 38 appearances for his country and had played in three ANC's already. His first match in the tournament was against South Africa and he scored the opening goal in that encounter in 2008, where he was also named in the best XI. He was also the joint top-scorer in 2012.

Angola will warm up against Botswana who have not qualified for the event after their Cinderella run to get to the 2012 version and South African Club Moroka Swallows. They already have a 2-0 win over defending champions Zambia under their belt after beating the holders in a friendly.

Morocco
On reputation, they would be tipped to top the group but Morocco's recent reality has been a little different. They also squeaked their way into the tournament after starring down the barrel of exit when they lost to Mozambique.

Eric Genets was fired and Rachid Taoussi took over and oversaw Morocco's 4-0 drubbing of the southern Africans to deny them the chance to play in their neighbouring country. Taoussi has made some major changes and Morocco will not have Marouane Chamakh, former captain Houssine Kharja or Adel Taarabt in their ranks for the competition.

They will rely heavily on midfield maestro Younes Belhanda, who was named France's young player of the year last season and is being hailed as one to watch in the African game. With a history of falling at hurdles they should sail over, this will be Morocco's chance to overturn that record.