What's missing at ANC 2013?
A continental championship is thought to offer everything but there will be some areas in which the 2013 African Nations Cup will be lacking. Top teams have not qualified, marquee players will be missing, a desired venue will not be on the map and interest could be low. ANC 2013 will have all of those and then some. Football Africa takes a look at what won't be present this year.

The heavyweights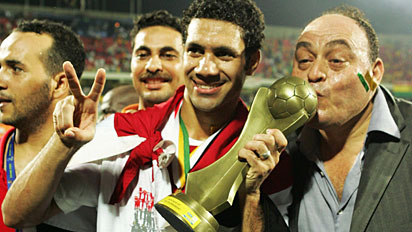 GettyImagesEgypt were victorious in the 2006, 2008 and 2010 African Nations Cup but will miss their second in succession this year
Record-holding seven-time winners Egypt, fan favourites Cameroon and usually sensational but now somewhat staid Senegal are the three countries notably absent from the tournament. It's the second time in succession Egypt won't be around after they also failed to qualify for the 2010 event. To make that even more dramatic, the Pharaohs won the previous three editions of the tournament they competed in and a continental cup without them always seems a little poorer.

Both Cameroon and Senegal were knocked out by unlikely suspects. Cape Verde stunned the once Indomitable Lions, while Senegal were denied by tournament favourites Ivory Coast. Their non-appearance means fans will not be able to see the likes of Samuel Eto'o, Papiss Cisse and Demba Ba.

Steven Pienaar

With just over three months to go before South Africa were due to host the ANC, their captain Steven Pienaar announced his retirement from international football to concentrate on playing for his club Everton. His decision smacked of selfishness, especially as he had withdrawn from earlier international friendlies citing injury only to play in the Premier League days later.

Although he was not widely popular and many believe the South African team will be stronger without Pienaar, he is probably the player with the highest profile. Ahead of a tournament where the pressure is on to produce, coach Gordon Igesund admitted being without Pienaar would make that tough. He met with the midfielder in the UK but the discussions yielded nothing and Pienaar will not be present at the ANC.

Emmanuel Adebayor?

After the Togo team bus was attacked at the 2010 ANC in Angola, it was though Adebayor would never play in a continental cup again. He retired in the aftermath.

He returned to the side in November last year, however, and helped them qualify for this edition of the tournament. Then, he u-turned on his national commitment when he blamed the administrators for poor planning and said he would rather stay at Spurs than turn out in South Africa. A row over unpaid bonuses is thought to be the biggest problem, though Adebaypr himself has denied that.

Tottenham have since said they will not stand in Adebayor's way if he wants to play for his country. He took to the field for their third-round FA Cup match against Coventry but what happens now is uncertain. Adebayor may yet change his mind and decide to aim for African glory again.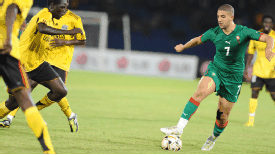 GettyImagesAdel Taarabt had been hopeful of a recall for the African Nations Cup in South Africa
Abel Taraabt

Morocco's marksman did not do enough to change coach Rachid Taoussi's mind about him and was left out of the squad, along with Marouane Chamakh. Taoussi said Taraabt, who plays for Queens Park Rangers, did not agree to a meeting in London despite the player being vocal about his interest in playing in the tournament.

Taraabt has not reacted quietly to being dropped. He quit international football when he was left out of an ANC 2012 qualifier against Algeria but returned to play against Tanzania, where his goal secured Morocco's qualification. He has netted 25 times since joining QPR permanently as is considered one of the most exciting players at Taoussi's disposal, but the manager has not been persuaded to pick him.


Cape Town

The jewel of South Africa was not the only city to raise serious objections to the financial obligation required of them to be part of ANC 2013. But they were the only ones who refused to sign a host city agreement. It was reported that government requires interested cities to pay R26 million (US$3.05 million) to cover the costs involved in putting on the event while sponsors and national funding would be used as well.

South Africa's search for money to host the ANC may lead some to think it is strapped for cash but that is not the case. The event was originally scheduled for Libya but South Africa agreed to swap hosting years because of the North African county's revolution and subsequent inability to get things ready in time. That also meant South Africa's budget had not been planned to accommodate for the ANC.

While most cities were willing to negotiate and accommodate, Cape Town, notorious for its superiority complex, was not. The Cape Town Stadium, which was a World Cup 2010 venue, will continue to lie dormant as a result.

Spectators

Half a million tickets will be available for the entire duration of the tournament but with two weeks to go to kick off only 10% of tickets have been verified as sold. Problems with the systems put in place to purchase them were initially the problem but largely apathy is to blame for the dwindling interest.

Marketing for the tournament has been scant with not even a billboard up in most host cities. Most of the promotion has been done through the broadcaster, SuperSport, but all that really does is encourage people to turn on their televisions.

The opening match and final are expected to receive significant traffic but the rest may look similar to the Equatoguinean and Gabonese grounds which were fairly empty for the duration of their event. South Africa's performances could alter that. If Bafana Bafana progress to the knockout rounds, locals could be persuaded to turn out in their numbers.