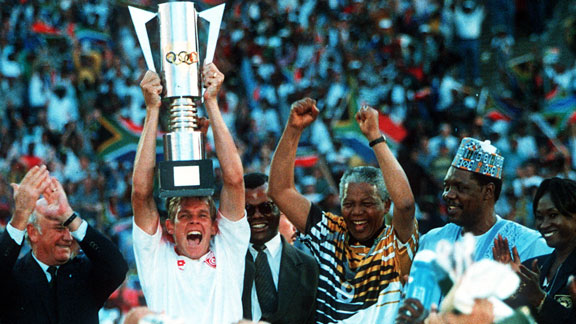 GettyImagesSouth Africa returned to lift the trophy in 1996.
There is only a 37.5% chance that the team who lifts the 29th African Nations' Cup on February 10 will be a new winner. Just six of the 16 competing squads have yet to touch continental silverware while the remaining 10 have all been there before.

- Group A: The hosts and others
- Group B - Ghana and other stars
- Group C - Defending Champions, Eagles and the rest
- Group D - Favourites, neighbours and wounded

Seven of those only enjoyed one-time triumphs, two of them are double winners and only Ghana has been crowned multiple times. Winning the competition is as tough as it sounds: the Confederation of African Football is made up of 54 full members but only 14 of them have been victorious at the ANC. The club of champions is an exclusive one, after all.

Football Africa takes a look at the previous winners of the tournament and what being kings of the continent really means.

Egypt

Record seven-time winners, Egypt are one of three countries to hold on to an ANC trophy permanently. They were given the gold-plated Italian-made cup after their 2010 success, which marked their third, consecutive victory at the ANC.

Egypt's success at the ANC dates back to its beginnings. They won the inaugural event in 1957 when only two matches were played. Then, they beat Ethiopia who did not have to compete for a spot in the final after South Africa were disqualified because of their Apartheid policies. Egypt retained the title at home two years later but did not go on to record a hat-trick, losing the third final to Ethiopia in 1962.

Their other successes came in 1986, with a penalty shootout win over Cameroon, and 1998, when they saw off the defending champions South Africa. Their run from 2006 to 2010 is considered the most impressive because of the dominance they exerted over the tournament in that period. Goalkeeper Essam El-Hadary and striker Mohamed Aboutrika are two of the legends who came to prominence during those years.

Despite their continental crownings in those years, Egypt did not qualify for any World Cups in that time. After their win in 2010, they missed out for the 2012 edition and will not be present in South Africa for 2013 tournament either.

Ghana

The first team to win the ANC three times, Ghana are the holders of the original trophy - a silver cup named after the first CAF president Abdelaziz Abdallah Salem. They dominated in the mid-1960s and late 1970s and won the event on their first appearance in 1963 before defending the title with only two squad members from the original side in its next edition.

Recently Ghana have earned reputations as chokers having stumbled at the knockout stages of the last three competitions. They've enjoyed a good World Cup run though, having made it to the round of 16 in 2006 and became Africa's most successful team in 2010 when they reached the quarter-finals.

They garnered much South African support in that campaign and were even dubbed Ba-Ghana Ba-Ghana (a play on the local team's nickname Bafana Bafana) and can expect a warm reception at the 2013 tournament. Some media outlets have run headlines such as "Ghana return to their second home," in anticipation of the Black Stars.

Cameroon

The only other permanent holders of ANC silverware, Cameroon own the African Unity Cup which was used for ANC tournaments between 1980 and 2000. In that time, the Indomitable Lions were victorious three times. They reached three consecutive finals between 1984 and 1988 and truimphed in two of them before winning again in 2000 and 2002.

Cameroon's African dominance translated into something bigger as well. In between their four ANC wins, they also qualified for four World Cups between 1990 and 2002 with their best result being a quarter-final appearance. Roger Milla symbolised their great success, as did the infamous sleeveless shirts which first made their appearance at the 2002 ANC and had to have sleeves put on them for the World Cup.

Like Egypt, Cameroon will not be present at the 2013 event with infighting in the football federation rather than political strife their undoing.

Nigeria and DRC

Both two-time previous winners will be in South Africa to try to add to their tally, with Nigeria the more fancied as far as progression goes. They won the tournament in 1980 and 1994 but selection debacles have tainted their preparation for this event.

DRC's glory days are considered well behind them. They lifted the trophy in 1968 and 1974, both times when they still called Zaire. Their 1974 win came after the match was replayed when it was drawn 2-2 with Zambia on its first attempt. They were also the first sub-Saharan African team to play in a World Cup but hold an embarrassing record for the first defeat: a 9-0 drubbing at the hands of Yugoslavia.

The one-time winners

Of the sole title-holders, only Sudan and Congo will not be present to add to their previous wins. One of the earliest Champions, Ethiopia, will be at the 2013 event. The newest champions Zambia will also be in attendance to defend their title. While Ivory Coast remain the favourites, the North African countries of Tunisia, Algeria and Morocco will want to live up to the hype that is often created about their brand of football. South Africa will remember the success of the last time they hosted the ANC in 1996 and know they will be under pressure to repeat that feat.