Uganda struggle to take final step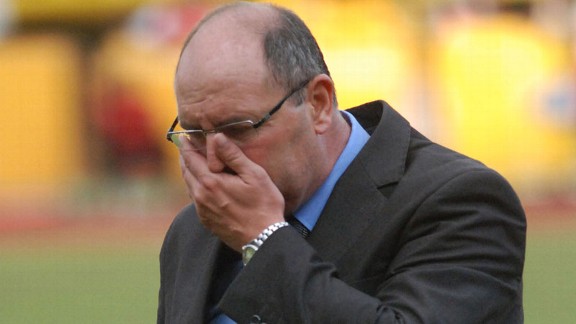 GettyImagesUganda boss Bobby Williamson has won four East African Cups
On October 14, Bobby Williamson could have walked away from Ugandan football. For a third time under his watch, the national side stumbled in their quest to qualify for a continental championship. No Angola 2010, no Equatorial Guinea and Gabon 2012 and, thanks to a penalty shootout in which Zambia showed more nerve, no South Africa 2013.

But Williamson was not going to be moved. "I do not see a reason to quit. I have a contract and Ugandans are good to me, the fans are magnificent. I know the fans are disappointed," he said. Uganda had fought the defending continental champions, Zambia, down to the very end.

Uganda won the home fixture in the two-legged tie and took the penalty shootout to twenty spot-kicks before a result was decided. There was no shame in that. None at all.

Less than two months later, Uganda won their third CECAFA Cup (East African Cup) in four years and finished the tournament having only conceded one goal. Kenya breached Uganda's goalkeeper for the first time in the final. That result means Uganda have only lost four competitive matches in 2012, thanks largely to their strong defence. But Ugandan fans are not happy. One of the billboards on display during the victory celebrations explained why. "Bobby we love you, but why don't you qualify for big tournaments?"

Uganda have not appeared at an African Nations' Cup since 1978 and have never been to a World Cup. When Williamson was hired, he was put on a stringent probation. If Uganda did not win their first two matches (against Niger and Benin) he would get his marching orders. The team won and he has been retained ever since.

Under his watch, Uganda have risen out of the 100s in the FIFA rankings, where they languished for ten years from September 1997. They reached a new high of 63rd in September 2010 and have shown major improvement. What Williamson has not achieved is the dream of repaying what he calls Ugandan fans' warmth with a major tournament appearance. Chasing that dream, rather than racking up CECAFA Cups (of which he has four in total) seems to be keeping him in the job.

Uganda lie second in their 2014 World Cup qualifying group, two points behind Senegal. With Angola and Liberia also in the pool, it is not an easy one to come out of but Williamson remains hopeful. He called the CECAFA Cup winning side the "best in the tournament", placing them ahead of Nations Cup qualifiers Ethiopia, who they then defeated 2-0.

The biggest gain over the last few months has been the emergence of quality young players, according to Williamson. "We used a different team, gave younger players a chance and we have retained the trophy," he said afterwards. "This team has showed lots of composure and mental strength which gives me a lot to think about as we move forward for other tournaments."

The country's Under-20 players coming through, such as Geoffrey Kizito who scored the winner in the CECAFA final. More importantly, they are combining with the experienced players like striker Robert Ssentongo, who was this year named Footballer of the Year and who Williamson calls his favourite player because he "never stops."

Repeatedly, the Scot has assured the nation that victory will come. It has not come as frequently or in the tournaments it should have. Sierra Leone Under-16 coach Tom Legg, an expert on East African football, believes Uganda lack the creativity with their forwards and have an over-reliance on their star player, Hearts midfielder David Obua. Legg praised their defensive structures, but criticised the league teams for not replicating the 4-5-1 or 4-3-3 formation used at national level, which does not help build that tactical acumen lower down.

There are other serious issues that plague Ugandan football. Payments are one of them. The players were reportedly unhappy with the US$700 they each received after winning the CECAFA Cup. SuperSport broadcasts the league, which brings in revenue, but at one point threatened to withdraw.

In a more serious and dark undertone, a recent sexual abuse scandal has also rocked football.

Accusations against former team manager Chris Mubiru recently surfaced, alleging that he sodomised young players. Williamson was quoted by the football association in the country's Observer newspaper as saying he would "not stand by any player who involved himself in such acts."

Uganda's relationship with homophobia is well documented - an anti-gay bill has been debated and almost passed several times by parliament since 2009 - and it is not clear how strong the evidence against Mubiru was. He is reportedly under investigation by the police.