What type of African team looks for a foreign coach and why?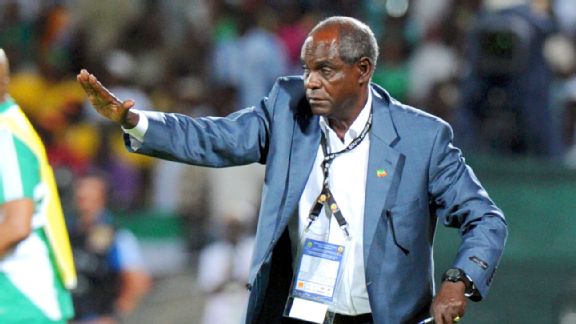 Alexander Joe/Getty ImagesIt is expected that Ethiopia will replace the recently sacked Sewnet Bishaw with a foreign coach.
If good men go down in glory, then Sewnet Bishaw must be one of the best. The Ethiopian schoolteacher-turned-football coach was sacked last week. Instead of sending him off in flames of blame, the Ethiopian Football Federation showered him with affection as they bid him farewell.

"Sewnet is a hero for our football; he brought us back to the international scene," Juniedin Basha, the EFF's president told BBC. "We recognise his success in the last two years but things must continue to grow. They don't need to stay stuck somewhere."

Therein lies the reason men like Bishaw don't last forever. After leading Ethiopia to a first African Nations' Cup (ANC) in 31 years last January, Bishaw had broken a barrier. He put Ethiopia back on continental map and at that competition, he showed why. They played an eye-catching brand of football, which was underpinned by their attacking mindset and lack of fear. Ethiopia looked a team on the rise, but that was as high as they got.

Ethiopia missed out on the 2014 World Cup after they lost 4-1 on aggregate to Nigeria. They were knocked out at the quarterfinal stage of the regional East African tournament, the CECAFA Cup, at the hands of Sudan and they lost all three matches of the African Nations' Championship, last month's tournament for domestic-based players.

Ethiopia want someone who can turn the talent into trophies and they've decided Bishaw had reached his glass ceiling. They have not decided who will replace him, but all signs point toward a look afar. "We'll be looking for a good coach that can push us up to the next level and that could mean a foreign coach taking the post," Basha said. He did not rule out a local, but stressed Ethiopia are looking for someone to "improve them."

In searching for an answer, they may take inspiration from down south where Botswana are set to unveil former West Ham and West Brom player Peter Butler as their new manager. Like Ethiopia, Botswana also sent their local man on his way after he failed to build on initial successes. Stanley Tshosane was shown the door last October despite his remarkable feat of being behind Botswana's qualification to the 2012 ANC.

Not only had the Zebras never been part of the continental championship before, but they were also the first team to book their places there. Getting there was one thing, competing was another and Botswana's minnow status was restored after they were beaten by all the teams in their pool, finished last in the group stage and failed to advance past the first round.

They went on to miss out on the 2013 event and were knocked out of qualification for this year's World Cup in the first round. The snowballing of poor results meant Tshosane had to go. It has taken Botswana four months to find a replacement, and with Butler all but confirmed as the man to take over, they are sending out a strong message: a so-called small team sometimes needs an outside influence to restore their previous success.

This will not be the first time Botswana has had a foreign coach. Colwyn Rowe, a former Colchester United player, was in charge from 2006 to 2008; Germany's Karl-Heinz Marotzke managed them in 2001. In fact, Tshosane was the first local coach they had and he enjoyed five years at the helm, in a second stint.

When he was brought in, Botswana were looking to break through a certain barrier -- the kind that foreign coaches are supposedly unable to accomplish -- the initial one. They needed to achieve something. Anything. Once Tshosane did that, they expected him to climb a run and maybe that is the stage where someone from overseas can help. Ethiopia may consider themselves in a similar position.

Bishaw and Tshosane are not too different in that they both come from structured environments. While Bishaw was an educator, Tshosane was an army officer. Both jobs required strict adherence to rules and likely shaped the coaching styles. Doubtless, it would have helped them push their teams to the next level.

Now, those teams need to do more and it may take someone with a different mindset to help them do that. If Ethiopia watch Botswana unveil Butler on Wednesday, they may be inspired to look in that direction themselves. Don't be surprised if the Ethiopia's new coach is not Ethiopian.