Aboutrika: Understated hero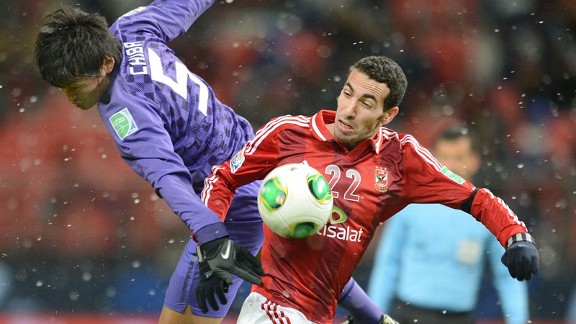 GettyImagesVeteran Mohamed Aboutrika scored for Al Ahly against Hiroshima to earn a semi-final berth
It has been called a miracle that Al-Ahly will play in the semi-finals of the Club World Cup. With the country still in chaos and no competitive football in 10 months, nothing of this magnitude was expected of them even after they won the CAF Champions League.

Succeeding in spite of instability has become Al-Ahly's speciality, embodied in none more clearly than their talisman Mohamed Aboutrika. He scored the winner in their victory over Hiroshima to add to his ever-growing collection of personal accolades.

Aboutrika's second-half strike gave him a fourth goal at the Club World Cup, the tournament in which he is making his fourth appearance. It also put him level with Lionel Messi and Denilson in terms of number of goals at the competition. Egyptians need no confirmation that Aboutrika is a legend - a man whose name deserves to be among the greats - but there was another small slice of proof.

Hailed as one of the most significant players of his generation, Aboutrika's achievements are not confined to the seven league titles, five Super Cups and four CAF Champions' League crowns he has won with Al-Ahly. Neither are they illustrated only by the two African Nations Cups he has played an instrumental part in Egypt winning.

The five consecutive Egyptian player of the year awards he has earned, the second place he achieved in the 2008 CAF African Footballer of the Year and the 2008 BBC African Footballer of the Year award all prove that he is admired and loved, even idolised. But why he is so revered can only be gauged from his actions and the influence he commands.

Aboutrika has effectively used football as others would their vocal cords to incite change. At the beginning of his career, it was his way of fighting for equality when he refused to sign a new contract with his original club Tersana because the salary offered to him was much higher than that a team-mate was given. Aboutrika only put pen to paper when the amounts were the same, although it meant he would earn less.

He is a United Nations Development Programme Goodwill ambassador, does work for the World Food Programme, volunteered to help children with cancer and was part of a blood donation campaign. In 2008, he wore a t-shirt with the words, "Sympathize with Gaza," emblazoned on it and displayed it during an ANC match against Sudan. He was yellow-carded and fined for his troubles.

More telling than any of that is the story of the 14-year-old boy who died in Aboutrika's arms during the Port Said disaster. Al-Ahly fans were desperately trying to get help from the medical team in the dressing room while the stampede threatened to suffocate the life from them. One of them was an Aboutrika enthusiast who was brought into the room to try and save his life. The last face he saw was that of his hero.

Aboutrika's outrage at the situation was immediate. In a telephonic interview on the day, he issued the first call for the suspension of the game with his eyewitness account of the event. "This is not football, this is war," he said. "People are dying in front of us. There is no security and no ambulances. I call for the Premier League to be cancelled." It was.

In the weeks after that, Aboutrika went missing. He refused to take calls but appearing at the funerals of the dead. He hosted their families at his home on his own expense. Then, he came back.

To take Al-Ahly into the group stage of the Champions League, to lead Egypt's Olympic Challenge and even to play in a World Cup qualifier, having earned the support of coach Bob Bradley, who was at first sceptical about including the aging striker. In typical fashion, Aboutrika scored the winner.

It is still his dream to take Egypt to the 2014 World Cup (they currently top their group after two matches) but football is not life for Aboutrika. When he had to decide between playing in the Super Cup in September or stand with the Ultras who demanded there was no play until justice was served to the families of the Port Said victims, he chose the latter.

That is not to say the philosophy graduate does not understand the power the game can have. Speaking after Al-Ahly secured the Club World Cup semi-final spot, he said, "We are here to entertain people. Playing here is a big thing because of what is happening in Egypt. There is no league in Egypt. What happened at Port Said and the martyrs... we want to win, we want to entertain."

Aboutrika has never played in a lucrative European league and he may never do so. He has not had the plaudits other players from the continent have, neither is he spoken about in the same breath as some of them. He is an understated hero and he is comfortable with that. If he can take Al-Ahly to a first win in the current tournament, it will be more than miracle. It will be magical.