Could South Africa have found a coach at CHAN?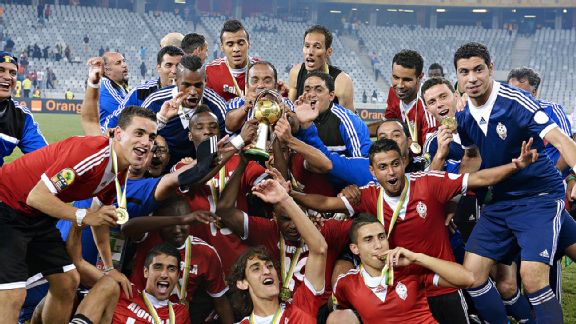 Alexander Joe/AFP/Getty ImagesLibya won the 2014 CHAN but a new coach might make South Africa's tournament time a huge success in the long run.
Libya were the big winners at the African Nations Championship (CHAN) but they were not the only ones. A handful of players used the opportunity to land deals in what Ventures Africa calls the richest league on the continent, South Africa:s Premier Soccer League (PSL).

Two Zimbabwean players, Simba Sithole and Kudakwashe Mahachi, signed with Ajax Cape Town and Mamelodi Sundowns respectively while a trio from Nigeria's squad -- Ejike Uzoenyi, Azubike Egwuekwe and Solomon Kwambe -- have also stayed behind to talk to South African clubs including SuperSport United and Kaizer Chiefs.

But the most unexpected chatter emerged in a Zimbabwean newspaper. The Herald , one of Zimbabwe's leading dailies, claim their coach Ian Gorowa has become a target for the South African Football (SAFA) Association and could be lured by an "audacious bid" to become the new Bafana Bafana coach. The paper, "close to the goings-on at SAFA house in Johannesburg," was identifying Gorowa as a candidate because SAFA were impressed with the way he led the Warriors to the semi-finals and regard him as well-versed in the South African game, because he was trained and coached there.

"They believe he has a strong understanding of the culture of the South African game," the source said. "And they have seen what he has done with the clubs he coached in the country and now what he has achieved with the Zimbabwe team in a short space of time and with very scarce resources." Gorowa was a development coach at Ajax Cape Town and coached at Moroka Swallows.

Although Zimbabwe did not manage to finish in the top two and lost in the third-place playoff, their registered their best-ever result at a continental tournament and Gorowa was credited with their progress, in particular their well-organised defence. Knowing South Africa's reputation for being goal-shy, that could have been their reason for looking at Gorowa.

Jokes aside, The Herald's story would have been met with giggles and rolling eyes in South Africa -- where many may find it amusing that their neighbours are talking their own manager up to the point where they've now tipped him for a big job -- but it's true that Gorowa's credentials will make him a unique candidate. He is a perfect mix between a foreigner -- the type of person insiders say SAFA President Danny Jordaan would prefer -- and a local.

For all intents and purposes, his coaching is also a product of the South African system. Whether he has the experience and the credentials for the job is another matter: Gorowa has only been an international coach for less than a year, taking over the Zimbabwean job in July 2013.

Others who have been linked to the job are Carlos Quieroz, who has coached South Africa before, is currently in charge of Iran and was in South Africa during CHAN to watch Iran's World Cup opponents, Nigeria. Also, Marcel Desailly, the French former World Cup winner. While the names get bigger and the speculation grows wilder, SAFA have spent their time dousing suggestion that current coach Gordon Igesund's contract will not be renewed when it expires in July.

"As it stands, there is no vacancy for the senior national team coach," Jordaan said after SAFA's three-day meeting in Cape Town. "We have a coach, and he is called Gordon Igesund."

Igesund missed the targets set for him -- finishing in the final four of the African Nations Cup last year, qualifying for the 2014 World Cup -- and although he stressed he had no expectation for the CHAN tournament imposed on him, it was widely thought he had to at least reach the semi-finals. By implication it appears his contract will not be renewed, but he could save his job depending on the meeting he has with SAFA officials next Thursday.

Should he manage to "throw away the drawing board and use the iPad" (Jordaan's words), which likely means opt for more modern methods, Igesund may keep his job. If he does, South Africa's only gain from CHAN will be the players who sign for the PSL clubs. If he doesn't, there may be another, greater gain as well.