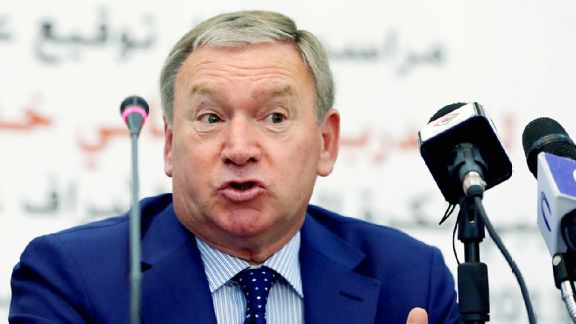 Mahmud Turkia/AFP/Getty ImagesHead coach Javier Clemente has guided Libya to the quarterfinals of the African Nations Championship.
Taking the field to do more than just win. That's was the message the Libyan football team of the 2012 African Nations' Cup (ANC) carried with them.

They were a heartwarming bunch of freedom fighters, many of whom had personally fought against the Muammar Gaddafi regime. They were a band of brothers, who had been brought closer together by war. They had a coach whose commitment went beyond currency.

Brazilian Marcos Paqueta stayed on despite not receiving a salary in his final few months because he believed in the team. But they were not to be a fairytale story and won only one match before being eliminated after the first round.

Having failed to qualify for the 2013 edition of the tournament, which they were due to host but had to hand to South Africa because of the political situation in their country, Libya all but disappeared. They remained in the hunt for the 2014 World Cup, but finished behind Cameroon in their pool. Their domestic competition stagnated and the future seemed uncertain.

Libya went the better part of three years -- 31 months -- without a functioning league. When it was due to resume late last year, it had to be postponed because of security concerns in Benghazi.

The delay was limited to just a week and by the end of September, matches kicked off to empty stadiums. With tensions running high in Libya, it was decided the games had to take place behind closed doors, but they were televised so fans could keep an eye on their teams.

Finally, footballing matters seemed to be on the up, especially when news broke that Libya had secured a new coach. Javier Clemente, the former Spanish and Cameroonian manager, had reached an agreement with the Libyan Football Federation and would be tasked with getting the national team back on track.

The joy was almost short-lived. After three rounds of league matches, it seemed the Libyan game was back to its dark days when Al-Ahly Tripoli's coach, Hossam El-Badry, was the victim of a shooting. Gunmen opened fire on his car and although he escaped unhurt, he didn't hang around in Libya much longer. He returned to his home country, Egypt, and now coaches their under-23 side.

Two days after the coach came under fire, Muhammad Al Maghrabi, an Al-Ahly Tripoli and Libyan national player, did not get so lucky. He was shot in the right arm and had to have surgery to remove a bullet in what seemed like a targeted attack against the club.

By the end of that week, the Al-Ahly Tripoli withdrew from the league and demanded an investigation into why their members appeared to be deliberately entangled in crossfire. "These people are attacking the game of football in Libya," said Sasi Buown, the team's chairman.

Luckily, for the Libyan game, the boycott did not last long. The club's players stayed away from training for a handful of days but eventually agreed to a meeting with management and decided to return to the league.

Al-Ahly Tripoli have competed in all the scheduled matches which have followed and currently top Group A in the Libyan League. They have also been so taken by Clemente and the Spanish connection that they've set their sights on setting up a football school similar to Barcelona's. They hosted former Barcelona player Jose Maria Bakero to discuss co-operation between the two clubs and have negotiated a deal for young footballers to train in Barcelona.

All this, along with Libya's qualification for the quarterfinals of the African Nations Championship (CHAN), bodes well for the revival of the Libyan game. Libya snuck into the knockout round after coming from 2-0 down to draw with Congo, with the second equaliser coming in the penultimate minute of injury time.

Libya have only won one match at the tournament, beating an Ethiopian side that was expected to do more, and can consider themselves fortunate to be in the final eight. Their opponents will be one of Burundi, Gabon or the DRC, depending on who tops Group D, and Libyans believe their team will have to do more to progress beyond that.

The Tripoli Post wrote that "there was no urgency about their play," against Congo and that they looked "much too confused to threaten," until the final 15 minutes. Then, they launched a comeback against the run of play to prove the spirit of 2012 is still alive and they may be able to gel together like a team who wants only to win, now that their other statements have been made.