Tanzania derby on the cards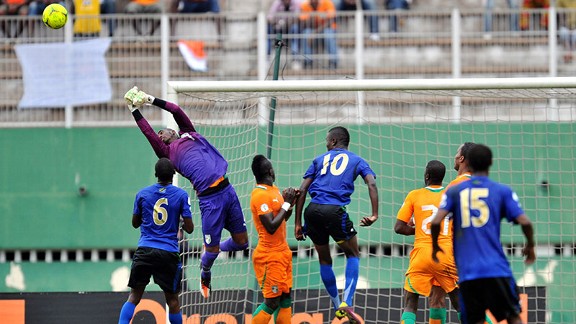 GettyImagesTanzania have only lost twice since their defeat against Ivory Coast in June
In major international competitions, the only derbies that can be expected are regional ones, not national ones. But in the East and Central African (CECAFA) Cup, there could be a massive final match-up between two teams from the same country.

Tanzania and Zanzibar are in the last four. Having avoided each other in the semi-finals, they could both make it through to the tournament's climax on Saturday to ensure an all-Tanzania final.

Zanzibar is best known as a tropical island off the east coast of the continent. Officially, it is part of Tanzania but, being semi-autonomous, it has its own government, its own international airport and its own football team. It is not a member of FIFA and cannot enter a World Cup qualification. Instead, they compete in the VIVO World Cup, which features unrecognised countries like Western Sahara and Kurdistan.

They are also only an associate member of the CAF and cannot compete in the African Nations' Cup (ANC). When Zanzibar was independent and a full member, they attempted to qualify for the ANC of 1962 but did not make it through to the main draw.

Where international competitions are concerned, Zanzibar's players represent the mainland Tanzania, but in CECAFA tournaments they play independently and have had a string of fairly good runs. In 1995, they won the cup when they beat hosts Uganda and they have reached the semi-finals six times.

This year, they are on course for more of the same, but it has not been a simple ride. Zanzibar finished second-last in their group with only a single win, but made it to the knock-out stages by via third-place qualification. They beat Burundi 6-5 in a penalty shootout to set up a semi-final clash with Kenya.

Tanzania advanced to the quarter-finals after two wins in the group stage, including a 7-0 drubbing of Somalia. They beat Rwanda 2-0 in the last eight and will play hosts Uganda - who have yet to concede a goal in the tournament - in the final four. While Uganda are the favourites to go all the way, neutral fans will be intrigued to see a battle within a country play out if both Tanzania and Zanzibar reach the final.

That may be one of the only talking points from a low-profile tournament which flew so far under the radar that locals did not even know it was taking place until after the first few matches had been completed. There is free entry into some of the matches, but turn-out has been low.

Despite being the oldest football competition in Africa, the CECAFA Cup struggles with a lack of sponsours and glamour, as most teams field understrength sides with their best players involved in league campaigns elsewhere. Kenya, for example, cannot call up Vincent Wanyama because of his current Celtic commitments. This edition of the competition has also been played on a poor pitch which has been ravaged by heavy rain.

In 1999, CAF pledged to help raise the profile of the CECAFA Cup but things have only gone backwards since then. CAF president Issa Hayatou was in attendance at this year's event but instead of addressing issues about the regional competition, he scolded CECAFA countries for not being proactive enough with bids to host the ANC. No East African country besides Rwanda has ever put themselves in contention for the continent's showpiece event.

While the frivolity that is a football tournament plays out, there are more serious things happening on the sidelines. The entire Eritrean national team went missing after their final group match and police have started a search for them. This is the third time in CECAFA Cup history - the other two being Tanzania 2011 and Kenya 2009 - that Eritrean players have not returned home.

It is believed that they will seek refugee status as the previous groups did when they cited lack of freedom in their home country as the reason for their refusal to go back. Eritrea are due to contest a World Cup qualifier against Ethiopia in the international window on 14-16 January and the same players who featured in this tournament were due to take part. Unless they go back to their homeland, they could leave the football association looking for another new squad.