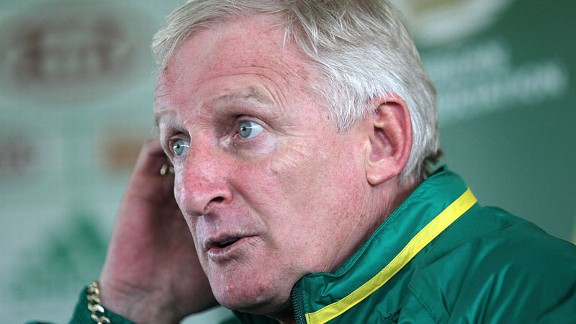 APGordon Igesund has failed to meet any of his mandates.
South Africa coach Gordon Igesund would have been relieved to hear he was not solely to blame for the country's first-round exit from the African Nations Championship (CHAN), according to the country's sports minister. But Igesund would have been embarrassed with the rest of Fikile Mbalula's diatribe about team. "What I saw was not a problem of coaching," Fikile Mbalula said at a press conference. "It was a bunch of losers."

If South African football had not been insulted enough by the team's performance in a competition they were expected to progress to the semifinals in, that line and the ones that followed would have changed that. "Their performance was not even lacklustre, it was useless," Mbalula bellowed.

The minister is known for using exaggerative language -- he once described the national cricket captain as a "paragon of human perfection" -- but that was a low blow. The 3-1 loss to Nigeria made South Africa losers in the literal sense. Hearing it from their own sports minister made them losers in every other way.

- Tresor Mputu's move
- Uganda's impressive CHAN start

His outburst questioned everything about South African football from the inability of Bafana Bafana to step up when it matters to why the fans continue to laud what he called "mediocrity". Mbalula said the team has a "crisis of monumental proportions" and that when he saw "people lining up to greet them" afterwards, he decided he would not join the throng. "I didn't even call them."

Bafana Bafana have already apologised for their showing. Siphiwe Tshabalala, his World Cup opening goal now a distant memory, told fans the team were disappointed that "we don't deliver, especially with the nation rallying behind us". He also said the team were hurting and promised they would apply themselves better in future.

All this has been heard before, so it's starting to sound a little familiar. South Africa were similarly gutted after they failed to progress to the final four of the African Nations Cup (ANC) a year ago. They were equally bashful when they missed out on qualification for the 2014 World Cup. Both times, they promised introspection and improvement. This time, they will have to deliver.

The self-analysis will reveal South Africa's well-worn problems. Not only are they hesitant in attack and suffer from a lack of incision, but they tend to get caught unawares on the counter and can end up appearing defensively vulnerable too. There is, as Mbalula himself admitted, no "crisis of talent" but a "crisis of putting it all together". Bafana Bafana lack confidence and self-belief.

Ostensibly, the person charged with changing that is the coach, which may be why so many South African's believe Igesund's time is up. Although Igesund is a legend of the local game, he has failed to deliver on the mandates presented to him on his appointment in June 2012. Igesund was tasked with ensuring South Africa finished in the final four at ANC 2013 and taking them to Brazil for the World Cup. He did neither, but was excused when they lost in a penalty shootout to Mali at the quarterfinal stage in the former and could not do enough to make up for draws at home against Ethiopia and Botswana under Pitso Mosimane.

It was thought Igesund's last chance was at CHAN. South Africa were supposed to, at least, play in the semifinals. Igesund has since said he had no performance expectation for the competition. "We wanted to do as well as we could," he said. Adding that he can live with whatever decision the South African Football Association (SAFA) make about his future.

He pointed out that during his time South Africa have won 14 of the 28 matches they've played, lost seven and drawn seven. They've scored 40 goals, including one that saw them beat world champions Spain. Although Igesund acknowledged they are still a work in progress he was happy with what he called "huge improvements".

With those things in mind, Igesund is ready to accept his fate, whatever it is and the reality is that he may survive. CHAN is a tricky tournament to judge a coach on. Since it is not FIFA-endorsed, clubs are not obliged to release players and with the domestic Premier Soccer League ongoing, Igesund had to reach a compromise about which players were available to him. South Africa still fielded a relatively strong squad, but Igesund may argue they were missing a few of the men who could have made the difference.

But there are those that maintain he may not be able to argue anything at all. Whether Danny Jordaan, the SAFA president, is one of them remains to be seen.

Jordaan announced that the technical team will be reviewed along with the team's nickname and kit. That means Igesund could lose his job, Bafana Bafana may end up being nicknamed the losers and the next time they take the field, it could be in neon pink and purple. South African waits with bated breath...