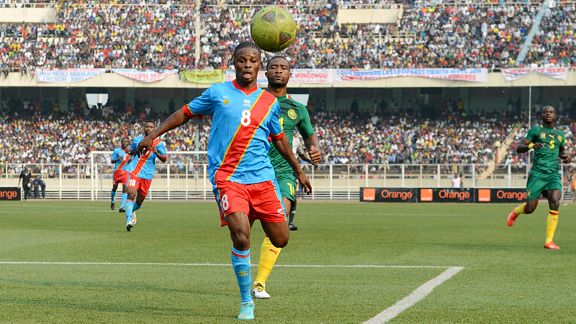 GettyImagesStar striker Tresor Mputu can't represent DRC at the African Nations Championship as he now plays for a foreign club.
As the inaugural winners of the African Nations Championship (CHAN) and the home of Africa's richest club, TP Mazembe, the Democratic Republic of Congo (DRC) were expected to be one of the sides that would set this year's event alight. They haven't quite done that, with their campaign kicking off with a 1-0 over Mauritania -- ranked 60 places below them -- but they played an eye-catching brand of football, albeit without their marquee man.

Tresor Mputu has not made the trip, as promised. In mid-December, he mooted the idea that he would not join the squad in South Africa because of his grievances over the treatment of local footballers. Now, even if they wanted him, it's not possible.

Following weeks of back and forth about whether he had switched allegiances, Mputu confirmed his move from Mazembe to Angolan club Kabuscorp on Tuesday. For as long as Mputu remains contracted out of the DRC, he will not be able to appear in another CHAN, because the tournament requires players to be based in the country they will represent, which puts Mputu out of contention. But the impact of his departure will not be limited to country -- he will be missed by his former club as much, if not more.

- Uganda's impressive CHAN start

Mputu was a much-lauded member of TP Mazembe and played a significant part in winning the CAF Champions League in 2009. That, as well as his role in the DRC's CHAN victory that year, where he was player of the tournament, contributed to him being named the best African-based player on the continent at the CAF awards.

Following that year, he seemed destined for a move to Europe. The club president, Moise Katumbi, who is also the governor of the province where Mazembe is located and the team's main sponsor, was happy to release him because he had achieved the goal of turning the club into African champions and Mputu was ready to go. "I have achieved my aim here," he said.

All those grand plans were scuppered by an embarrassing affair, which also underlined his importance to the club. Mputu was one of the chief culprits in an incident in Rwanda during the 2010 CECAFA Club Cup when Mazembe's match against APR had to be called off. He attacked the referee and his team-mate Guy Lusadisu assaulted a security official as matters on-field became heated. FIFA slapped a one-year ban on Mputu and 11 months on Lusadisu, much to the annoyance of Katumbi.

The president claimed the sanction was too harsh, considering Mazembe had apology to CECAFA, which was accepted. He also said the team was poorer without Mputu and a BBC report from the time noted the side "struggled to impose themselves" on the 2010 Champions League in Mputu's absence. They still went on to win the event.

He made his return in 2011 and revealed his time out of the game as one of his most difficult experiences. "I had pinch in my heart watching my team-mates playing," he said at the time. "Now I'm just glad to be back on the ground." By the time Mputu was back in action, Mazembe had already missed out on qualifying or the group stage of the 2011 Champions League, but he was victorious with them in the league that year and in the two that followed. His reputation as one of the best players in his country was sealed.

After a decade of representing Mazembe and with no European deal in sight, Mputu has made his move. It so upset fans that they protested when the news was still in its embryonic stage as a rumour. They wanted to know why. Apparently, money called him. His deal is reportedly worth 40,000 euros (US$54,468) a month.

Kabuscorp appear to have few cash-flow problems even though they are a relatively young club. They formed in 1994 and were considered, according to Luanda LAC radio journalist Jose Cunha, a "very modest club" just two years ago. But, they had enough funds to sign former World Cup winner and Barcelona star Rivaldo for their 2012 season, in a bid to win the championship, which they had missed out by one point the season before.

He scored 11 goals in his 21 appearances for Kabuscorp, including a hat-trick against Recreativo Caala, but his presence was short-lived. In November that year, Rivaldo left Angola and went back home to Brazil. Despite losing out on their big name, Kabsucorp won the league and in 2013 and will play in the CAF Champions League this year, where they're hoping Mputu will repeat his Mazembe heroics for the club he will now call home.