CHAN: Who's here, who's not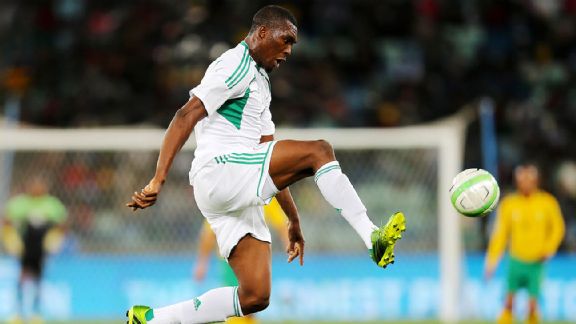 Anesh Debiky/AFP/Getty ImagesNigeria's Azubuike Egwuekwe is one of the players to watch at this month's African Nations' Championship.
It's hardly a surprise but CAF's team of the year, announced at their awards Thursday night, only included two locally-based players. Incidentally, they both came from the team that was named club of the year: Al-Ahly. Ahmed Fathy and the now-retired Mohamed Aboutrika were part of the "finest XI" of 2013 with everyone else, from goalkeeper Vincent Enyeama to striker Pierre-Emerick Aubameyang are contracted to clubs off of the African continent.

Interesting as this all is -- and it will provide the spark for some fiery debate about how the process should be considered -- it is worrying for the upcoming African Nations' Championship (CHAN) which kicks off Friday. Egypt are not playing which means none of the players considered as the best on the continent will be in action over the next three weeks.

We already know glamour is not the point of this event: it can't be; simply because it a competition played by footballers who ply the trade at home. Harsh as that sounds, it is the reality and it means CHAN is an opportunity for those who haven't caught overseas eyes in the past to do so now.

So who exactly should be watched? Some may immediately think of Sunday Mba -- the man who scored Nigeria's winner in the African Nations' Cup final last year and who, in so doing, proved Stephen Keshi's decision to show faith in home-based players correct, but they will be disappointed. Mba has recently joined French club Ajaccio so he does not qualify to play in this competition, although his move is evidence of what making a splash at a major tournament can do.

Others will think of the DRC's charismatic striker Tresor Mputu, who found the back of the net in a 2-2 draw with Ghana at last year's ANC and was one of TP Mazembe's leading lights at the Club World Cup. They will also be disappointed. Mputu was left out of the DRC's squad after launching a tirade of criticism against national management. He claimed that the administrators do not do enough for players who stay at home, and until that is improved, he saw no reason to compete in an event which glorifies local footballers.

Without those two, it means there are others whose names will be learned as the event unfolds. Four of Nigeria's squad formed part of the outfit that competed at the Confederations Cup, including Goalkeeper Chigozie Agbim, who seems set to play in Enyeama's absence, defenders Francis Benjamin, Azubuike Egwuekwe and Solomon Kwambe. Egwuekwe was set to play in the ANC, but a bout of chicken pox kept him out of it. He has a US $500,000 price-tag on him, set by his club Warri Wolves, and is being touted as the man to watch.

Despite being without their overseas stars, the Super Eagles are one of the favourites to add to their ANC Cup and will want to show their prowess ahead of the World Cup -- especially with Iran's coach making the trip to make notes on their style of play. They kick off against Mali, who also have a marquee man. Their goalkeeper Soumbeila Diakite was part of their under-20 squad that finished third in the 2003 FIFA Youth Championships and has stood in for Mamadou Samassa on occasions such as the ANC third-place playoff.

Another team who will field players that may hold some familiarity are Morocco. Their squad is comprised of seven Raja Casablanca players, who competed in last month's Club World Cup and defied expectations to reach the final. They've stated their target as the semi-finals. Likewise, the core of Ethiopia's squad is from the Saint George's Club, their best-performing team who played in the CAF Champions League.

As much as CHAN is about unveiling previously undiscovered talent, it's also about revisiting some of the stalwarts who continue to play for the countries. Daniel Cousin, the Gabonese striker is the standout in this category. He is a former Rangers and Hull City player and has since returned to his home country, who he has also captained in the past. At 36, some may think he will not be quick enough to beat off the defences he will come up against, but in a tournament like CHAN, anything is possible.