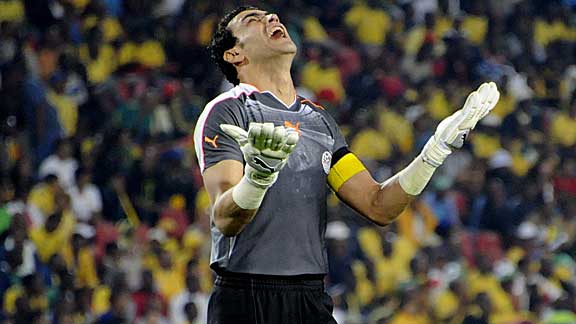 GettyImagesFormer Egypt international Essam El-Hadary has joined Wadi Degla.
Essam El-Hadary is home.

Well, perhaps not exactly home -- because that would ultimately be a return to the coastal city of Damietta -- but close enough. Egypt's veteran shot-stopper has signed a deal with Cairo-based Wadi Degla. The club does not have the history or the reputation of the team El-Hadary is most closely associated with, Al-Ahly, but they have a bit of bite.

Wadi Degla were formed only 11 years ago and played in the lower leagues until the 2009-10 season. That year, they earned promotion to the top flight from the second division in just one season -- something that has only been achieved by one other club. Their youth structures and relationship with Arsenal are considered one of the chief reasons for their success and with the experience of El-Hadary, they will be hopeful of pushing for a strong finish.

El-Hadary's career is twice as old as the club he is joining and he arrives with honours that will take decades for Wadi Degla to achieve. Since he began playing professionally in 1993, El-Hadary has played 632 matches, won nine league titles -- eight with Al-Ahly alone -- seven cup trophies and four continental titles.

In that time, he also turned out for Egypt on 139 occasions and won four African Nations Cups before calling time on his international career. El-Hadary's decision was not a result of believing his time at the highest level was up, but rather a tantrum in response to being overlooked, and he has no thoughts of doing the same at club level.

When his contract with Sudanese side Al-Merreikh ran out, it took only a matter of days for him to commit to Wadi Degla, despite being linked to various other clubs. El-Hadary was reportedly being sought after by the Democratic Republic of the Congo's marquee club, TP Mazembe, and newly promoted Egyptian side Qanat Al Suez.

He is proof that even at 40, not all footballers' bodies give up and neither does their prowess wane. El-Hadary is still fit, sharp and an asset worth having. Take, for example, the reason he missed the Sudanese Cup final. It was with an injury, but it had nothing to do with his fitness.

El-Hadary was nursing a nose issue after being hit in the face by a rock during the league match between Al-Merreikh and Alamal. He made several athletic saves before being struck and after dressing his bloody wound returned to the field to keep a clean sheet.

In the 16 matches El-Hadary played for Al-Merreikh, he kept eight clean sheets. His performances played a major role in their second-place finish in the league and victory in the Cup. On leaving, he was considered the best goalkeeper in Sudan, one of Africa's most highly rated leagues.

In the twilight of his career, El-Hadary will look to play a mentoring role at a club that is still young, but he will not allow that to dissolve a winning mentality. Team success has always been one of the most important things to El-Hadary. He regards his time at Sudan as well-spent because he earned three pieces of silverware, and if he is to feel the same about what could be his last club, Wadi Degla will have to dream big and perhaps punch above their weight.