In the presence of greatness: Remembering Nelson Mandela
Being in the presence of greatness is not a feeling. It is an experience -- a life-changing state of mind.

Anyone who was at Soccer City on the day of the 2010 FIFA World Cup Final could not have helped but feel its resonance.

A raucous crowd of some 85,000 people responded as one with deep respect and deference as Nelson Mandela, in a gold cart, was wheeled around the stadium to mark the end of South Africa hosting a very successful World Cup.

Weeks earlier, he had lost and buried a great-granddaughter just before the opening ceremony. That, the punishing winter weather and his frail condition meant he did not quite partake as he probably would have wanted to in a tournament that he helped bring home to Mzansi.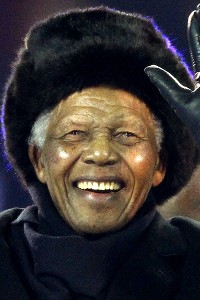 Thomas Coex/AFP/Getty ImagesMandela waves to the crowd at the 2010 World Cup final closing ceremony.
Sitting high up there in the stands, I felt as though he was waving just to me. Everything else ceased to exist for that moment.

It was at that moment that I realized nothing could have stopped Bafana Bafana from winning the African Nations Cup in 1996 when they hosted the tournament. Because they had Madiba.

Let me provide some context to that.

Nigeria had won the tournament two years earlier and, as the respected African football journalist, Mark Gleeson, put it at the time, "the only country that can beat Nigeria, is Nigeria."

It was not such a far-fetched idea. That team had the likes of Rashidi Yekini, Daniel Amokachi, Austin Okocha, Sunday Oliseh, Emmanuel Amuneke and more.

As if that was not enough, the rest of the continent were looking severely weakened. Egypt, Ghana, Cameroon, Tunisia. None looked up for it.

The Super Eagles' favourites tag was not just for show, they had the tools, the strength of character, the belief, and a weakened field.

In the end, they did exactly what Gleeson had inadvertently predicted and knocked themselves out of the tournament. Political differences between the country's military government and its Mandela-led South African counterpart saw Nigeria withdraw, leaving the coast clear for Bafana Bafana.

But it was more than that.

Inspired by the presence of the great man at the stadium, South Africa routed Tunisia to become African champions. Captain Neil Tovey speaks endlessly of the awe-inspiring influence Mandela had on the team.

And in all honesty, it is doubtful if even Nigeria, with a collection of players so great they went on to win Olympic gold just months later, could have stopped the Bafana juggernaut. Because they had Madiba.

A year earlier, he had stunned and inspired both sides of his racially cloven country by appearing at the 1995 Rugby World Cup Final in the green and gold Springboks jersey of the South Africa captain, Francois Pienaar.

His presence at the game marked a major turning point in easing racial tensions and that charisma, that influence, has inspired more than a few generations of sports people around the continent.

- Mandela's impact
- Moonda: Mandela's sporting legacy
- Lapchick: Missing Mandela

Former Nigeria captain Nwankwo Kanu, who overcame a heart defect soon after leading Nigeria to Olympic gold in 1996, speaks of how he was inspired by Mandela, not only to overcome his troubles but also to help others do the same:

"I learnt from him that we don't give up in life and we got to have a forgiving heart.

"We got to believe in what is good and work hard no matter how hard it is and we will come out successful in the end."

South Africa again tapped into that well of success when they bid for the 2010 World Cup hosting rights. Having lost the 2006 vote under controversial circumstances, the bidding team were leaving nothing to chance.

After presenting what looked nothing short of a superb technical bid, they played their trump card, Nelson Mandela. Flying the man in for the announcement of the bid proved a master stroke.

I doubt there was a person in that room who could have lived down seeing Mandela brought into those chambers, only for him to leave in heartbreaking disappointment.

And when Sepp Blatter said those immortal words, pulling South Africa from that envelope, few could argue with the decision. Because they had Madiba.

And so do the rest of us.

The Nelson Mandela Challenge is an ever-present testimony to the power of the man to unite, to command respect without seeming to.

Football teams from around the world who visit South Africa count a visit to the sage as the highlight of their time in the country. Pictures with him are so cherished they enjoy pride of place everywhere.

In a continent where getting top stars to show up for charity games sometimes makes scaling Mount Everest seem a cakewalk by comparison, superstar players turn out without exception in honour of prisoner 46664.

In his early years, Mandela was an amateur boxer and trained in the sport during his imprisonment on Robben Island.

While there, though he was not a footballer -- he was not allowed to play, or even watch, the game -- he helped found the Makana Football Association.

With little to occupy them during their incarceration, and the FIFA Laws of the Game one of very few reading materials allowed in, the inmates set up their own FA, organized their own games, and kept records more meticulous than some national associations.

Mandela was not allowed to play. Instead, he watched from the window of his tiny cell. When even that was taken away from him after his window was walled in, he played games out in his head.

Because he understood the power of sport, irrespective of the discipline.

In that understanding, players, officials and anyone else involved, around the continent and beyond, have felt the touch of Mandela.

Because we have Madiba.