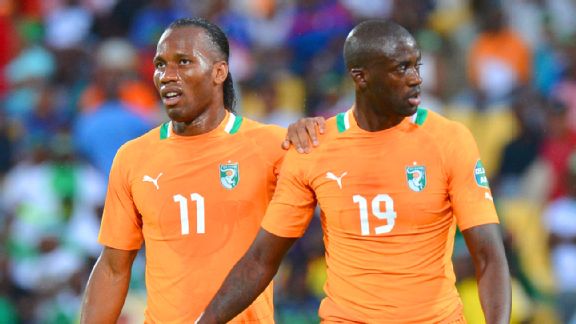 Ben Stansall/Getty ImagesIvory Coast stars Didier Drogba and Yaya Toure will look to emerge out of Group C against Colombia, Japan and Greece.
Africa's big five are likely to feel satisfied with their lot after the 2014 World Cup draw. They all avoided defending champions Spain, finalists from 2010, the Netherlands, "sworn enemy" Uruguay and European heavyweights England and Italy and France.

Continental champions Nigeria may feel they have the clearest path to the knockout round while Ghana will have the toughest, in what may be dubbed the group of death which includes Germany, Portugal, and the United States.

The Black Stars have progressed from a group that has involved Germany before and even though they lost to them in 2010, they emerged from that pool. Their matches against Portugal and the U.S. could be the contests of the group stage, especially as Germany are considered favourites and it will be a dogfight for the rest.

Ghana will look forward to their game against the Stars and Stripes, which will be their third at a World Cup. The Black Stars have won both prior meetings by the same margin, 2-1, although they needed extra time to overcome the Americans in the round of 16 in 2010.

Nigeria are also meeting an old foe in Argentina. They have played against them twice before in World Cups, first in 1994 and then in 2010. Although they lost both games, goalkeeper Vincent Enyeama's showing against Lionel Messi in Johannesburg earned him much praise and showed Nigeria's promise.

Theirs is the only pool which looks straight-forward in terms of the teams who will progress. Iran and Bosnia are the two minnows so Nigeria will be delighted they have got them both.


Analysts such as former Scottish footballer Stuart Baxter and South Africa's Andre Arendse are also talking up Cameroon's chances of advancing from the group stage. They will take on the hosts Brazil, Croatia and Mexico in what looks like a group in which the Indomitable Lions will have to play at close to their best to get out, but with Mexico showing patchy form this year -- losing to the U.S., Honduras and Costa Rica, and Croatia in the same boat, having been defeated by Scotland in October, Cameroon may fancy their chances.

Ivory Coast will also identify an opportunity to go through. They are grouped with Colombia, Japan and Greece and target wins over the latter two in a bid to make it to the round of 16. They are ranked above the Asian side and are only five places below Greece. But with their golden generation on their last legs, if Ivory Coast cannot get out this time, they may feel they never will.

The final African side is Algeria, who have been placed in the innocuous group with includes Belgium, Russia and South Korea. At first glance it would seem none of the sides on that pool would be too unhappy to meet the rest. Belgium is the highest-ranked side and are ranked just two places above Russia with Algeria and South Korea far behind. Algeria were up against England and the U.S. in 2010 and will feel much more confident of their chances in Brazil.