African teams hope for kind WC draw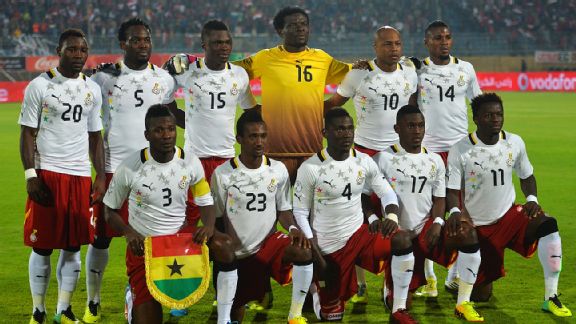 Khaled Desouki/AFP/Getty Images2010 World Cup quarterfinalists Ghana are hoping to make an even deeper tournament run next summer in Brazil.
African eyes will be on pot 2 tomorrow when the World Cup draw takes place in Brazil. That's where the five teams from this continent have been placed, along with Chile and Ecuador, who they will avoid in the tournament next year.

- Marcotti: Thorough prep ready offset draw setting
- Bennett: World Cup draw guide

Their pot will be added to by one team from pot 4, which contained the unseeded European sides, which means it is possible that an African side will not have to play one of England, France, the Netherlands, Portugal or Italy in the group stage. All of them are in line to face Brazil in the opening match, to be grouped with Argentina, Germany, Spain or, as one Ghanaian website put it, with the "sworn enemy", Uruguay.

Wounds from four years ago -- when Luis Suarez's hand-ball prevented the goal that would have put Ghana into the semi-finals -- are still fresh. Even though the Black Stars missed the resultant penalty and some of the blame lies with them too, they are hoping they won't have to meet Uruguay until later in the tournament and, if they come up against them, to take revenge for what happened in South Africa.

But apart from that South American side, Ghana will not be too bothered by whomever they draw, having progressed from a group that had Germany and Australia in it last time around. "A draw is a draw. You have very little input into it. You can't really determine which opponent you play but you always pray that you get a favourable opponent," Kwesi Nyantakyi, the Ghana FA boss said.

Ideally, Ghana, like the other African sides, would fancy drawing Honduras, ranked 41st and only above Cameroon (51st), Iran (45th) and also below the four excluding the Indomitable Lions or Australia, who are in 59th place.

Apart from those teams, African sides will not be able to avoid stronger opposition overall and will have to demand punching-above-their-weight performances from their representatives. The Ivory Coast are best placed, ranked 17th, which puts them higher than some big names like France, Mexico and Russia. They would fancy their chances against those teams but will hope to avoid a group like the one they had in 2010 when they were pooled with Brazil, Portugal and North Korea.

Ghana are 24th and Algeria 26th and both have reason to believe in their ability to overhaul whoever is put in front of them. Algeria couldn't do it in 2010, in a group that included the United States, England and Slovenia but, like Cameroon, have promised a better effort this time. Cameroon lost all three matches three years ago, to Netherlands, Denmark and Japan.

The only African side who is so bullish about who they are up against are continental champions Nigeria. The Super Eagles currently sit 36th in the world rankings and were defeated by both Spain and Uruguay in the Confederations Cup.

They're not using that as an indicator of what they can achieve at the main event, and instead of worrying about who they would not want to play, they are asking other teams which of them would hope to evade Nigeria. "We are African champions and instead of trying to avoid any team in the group stage, it should be the other teams trying to avoid us," Efe Ambrose said.

Elderson Echiejile echoed those thoughts. "As a team, we do not have a limit to what we could achieve. I believe so much in this team to shock the world in Brazil," he said, tempering them with some circumspection. "But we should not expect the best draw because there are a lot of great teams going to the World Cup. Whichever teams we are against will be difficult because they all went through the qualifiers, so they would be tough to play against."

The Nigerian Federation have announced big financial plans to prepare the team for the World Cup and are looking at setting up a training base in one of Colombia, Argentina or the United States before the main event. After tomorrow, they will know who they will need to prepare to face.