Experience paying off for South Sudanese football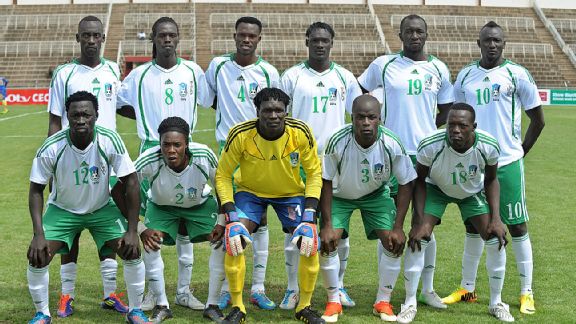 Tony Karumba/AFP/Getty ImagesThe South Sudanese national team have scored two goals thus far in the CECAFA Cup.
Tunisian club, CS Sfaxien, beat Congolese heavyweights TP Mazembe to lift their third Confederation Cup title, capping Africa's club competitions for this year and finishing off a fine 2013 for themselves.

The North Africans also won the domestic title for the first time in eight years, and seem to have higher honours piling up for them by the day: Five players received call-ups to the national team since January and their coach Ruud Krol was asked to take charge of the Carthage Eagles for their World Cup qualifier against Cameroon. They will play Al-Ahy in in the CAF Super Cup next year -- in another chance to show what they are capable of.

Two clubs who may have watched Sfaxien with interest are Altabara FC and Malakia FC. The champions of South Sudan's league and cup competition respectively will play in CAF club competition for the first time next year. The country they hail from is the youngest on the continent -- not even three years old -- and this will be its maiden opportunity to compete at this level.

Football is not new to their land -- they were playing it even when they were known by another name -- but South Sudan as a state are toddlers in the global game. They became a country in July 2011, by which time they had already appointed someone to oversee the national team. Seven months later, February 2012, they were admitted into CAF and three months after that, became FIFA members.

To date, South Sudan have played five international matches, losing four and having scored three times. Five of their current squad played for Sudan before South Sudan was formed and seven of them still ply the trade in the Sudanese league. But slowly, South Sudanese football is carving an identity of its own

Their league has been played just twice so far but it is well supported. It is contested between ten teams and the inaugural winners, Wau Salaam, played in the Kagame Interclub Cup -- a club tournament for teams in East and Central Africa -- and their first outside of their country. They fared miserably, losing all three matches group matches by massive margins.

The South Sudanese side went down 7-0 to Rwandan side A.P.R, 5-0 to Burundi's Atletico Olympic and 7-1 to Tanzania's Young Africans, in a match which actually gave them something to celebrate. Khamis Leyano, the national team vice-captain, became the first South Sudanese to score in an international tournament with his injury time strike in their final match.

Altabara and Malakia will be competing in much tougher circumstances. The former, as winner of the league, will play in the CAF Champions League where they will first feature in a preliminary qualification round. The latter, who lifted the South Sudan Cup, will play in the Confederation Cup. Neither is expected to go very far but that should not be on their minds. The learning they will take from playing in a major tournament will be far more important.

Already, South Sudan are making small strides. In the current CECAFA Cup taking place in Kenya, although they have lost matches against Zanzibar and Kenya, there are positives for them to take out of the experience. "Last year we scored only one goal and this year, we have got two goals, yet we have one last game against Ethiopia," Ismail Balanga, their Congolese coach said. "We have continued to improve."

The two clubs who will play in CAF's competitions next year may find themselves saying similar things. For them, it will not be about winning and losing, but the steps they take along the way to get better and compete harder so one day, they too, like CS Sfaxien, can lift a continental cup.