Jonathan Pitroipa -- Africa's best this year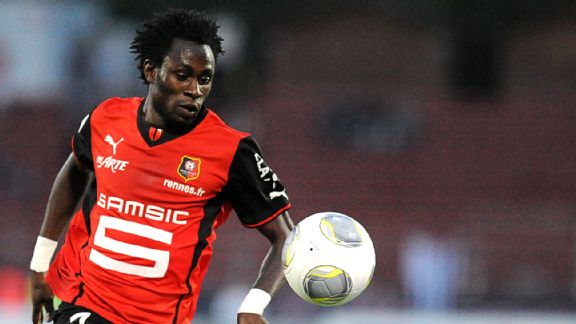 Jean-Pierre Clatot/Getty ImagesBurkina Faso and Rennes winger Jonathan Pitroipa has made a strong case for being named African Footballer of the Year.
The winner of African football's most prestigious popularity contest will be unveiled next week and if the voters have done the right thing, Burkina Faso's Jonathan Pitroipa should be named BBC's African Footballer of the Year.

The winger has been one of the key figures in the rise of his national team, and like Zambia's Christopher Katongo last year, that is reason enough for him to beat the competition. This year's is a tough one with Pitroipa up against Africa's only nominee on FIFA's world player of the year list, two members of the Nigerian team which lifted the African Nations' Cup (ANC) and a Gabonese player who entered record books with his performances in Europe.

But Pitroipa is a dark horse with Yaya Toure likely the favourite. This is the fifth successive time that the Ivorian has been nominated and after missing out on the previous four occasions, to Didier Drogba, Asamoah Gyan, Andre Ayew and Katongo, Toure must think his time to claim the prize is here.

Toure's importance to Manchester City is well documented, his ability as a playmaker is well known and he seems to have longevity to keep going forever. He still does not have an ANC with Ivory Coast, although that can hardly be blamed on him, but he will play for them in Brazil next year. Should they advance into the knockout rounds of that tournament, Toure may be in line for next year's title as well.

Nigeria's pair of Victor Moses and John Obi Mikel have their achievements with their national team to boost their chances, along with their showings for Chelsea. Moses' pace and eye for a goal has seen him excel for Chelsea and now at Liverpool while on loan, and Mikel was instrumental in the Blues' win in the Champions League final. Both have the support of high-profile team-mates at club and national level so their form in England may not be enough to see either claim the most votes this time.

Pierre-Emerick Aubemeyang's individual brilliance could stand out a little more. The striker opened his account at Borussia Dortmund with a hat-trick, becoming only the sixth player to notch that feat in his first match in the German league. He netted seven times in his first 11 matches and scored important goals for Gabon, but not enough to see them to the Brazil.

Pitroipa's strikes also did not secure the Burkinabe a place at next year's World Cup or continental glory, but they came mighty close to doing so. He found the back of the net everywhere from the first ANC match against Nigeria, who Burkina Faso would played again in the final of the competition, to the quarterfinal, with the goal against Togo that put them into the last four. He was on the scoresheet three times during their 2014 qualifying campaign, and most importantly against Algeria in the final round of matches.

His is a sentimental story of nothing being enough and in any other instance, that would not be worth handing him an award of this nature. But what Pitroipa has done, along with team-mates like Aristide Bance, is put Burkinabe football on the map.

With his pace -- he was one of the fastest runners among his school-mates and his small frame is negated by his sharp finishing and his powerful playing style. Similarly, the country thought of as a small player on the global football stage, Burkina Faso, has shown itself to be far bigger, in terms of potential and promise, with Pitroipa in it.

There is no trophy or title that can measures that worth but African footballer of the year is not a bad one to start with. Its a label that is bestowed on the player who receives the most votes and sometimes that it can be for the player that is best known overseas.

Occasionally, someone breaks the mould, and receives the title for the accomplishments that relate to the name of his award -- in Africa. Mohamed Aboutrika and Mohamed Barakat are two such examples because neither were playing in Europe when they won. Pitroipa is based in France but he does not have the big reputation of the four others nominated this year and if he is crowned champions, his exploits for Burkina Faso will be what got him there. And that would make him the rightful winner.