African Abroad: Vincent Enyeama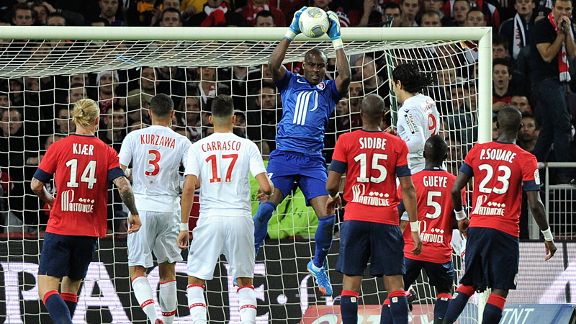 GettyImagesLille's Nigerian goalkeeper Vincent Enyeama catches the ball.
Vincent Enyeama spent all 36 matches of the 2011-12 Ligue 1 season on the Lille bench. He was neither a novice, having established himself as Nigeria's first-choice shot-stopper by then, nor a first-timer abroad, having spent four years at Hapeol Tel Aviv, but he was not considered good enough to displace France international Mickael Landreau.

He appeared intermittently in the Champions League for the French side but by the end of the season they had contracted another keeper in Steeve Elana. Enyeama knew he was unlikely to get a chance to play and decided to go back to Israel on a loan deal with Maccabi Tel Aviv.

That began one of the most successful stints of Enyeama's 14-year professional career. His club won the league with Enyeama one of the key contributors to the triumph and he captained his nation to African Nations Cup glory. From Ibon Stars, a small club in Nigeria, to a real star, Enyeama's journey was almost full circle. But only almost.

As a 17-year-old, Enyeama would have regarded playing in France as little more than a thought in the back of his mind. He was young and talented and focused on carving a future for himself as a footballer. After two seasons with a smaller club, he was picked up by six-time league champions Enyimba and was involved in their three consecutive title wins.

While with them, Enyimba made his debut for Nigeria on the biggest stage -- the World Cup. He played one match in the 2002 tournament, against England, but it was only eight years later at the same event that the world really took notice of Enyeama.

By then he had already moved to Israel, had been part of two African Nations' Cup in 2004 and 2006 and even though he lost his place in the 2008 event, he was back two years' later. His heroics there paled in comparison to what he did on the 12th of June that year.

Enyeama repeatedly denied Lionel Messi in a performance the Argentinean later described as "phenomenal" in the Super Eagles' first match of the 2010 World Cup. All Enyeama's valiant efforts only prevented the little maestro from adding to Gabriel Heinze's sixth minute goal and he could not save Nigeria from losing their curtain-raiser. They went on to lose to Greece and draw with South Korea and exited at the first round but Enyeama's name would be one that would be remembered.



It seemed a given Enyeama would play in one of the bigger European leagues but his time at Lille was unproductive and he needed to go in search of game time. National coach Stephen Keshi welcomed his move back to Israel in late 2011, even though it struck many as an unusual choice.

Former Nigerian fringe goalkeeper, Sunday Rotmi, who played for Hapoel Ashkeleon, was the first footballer from his country to head to Israel and believed he had opened a door others, such as Enyeama, could walk through. "Being the first Nigeria goalkeeper to have a contract in Israel contributed to Vincent Enyeama success in Israel," he said. "If I had not gone, probably no Nigeria goalkeeper would have dreamt of Israel, so I played a major role in it."

Enyeama gave his all to performing as well as he could and once he had his safe hands around the African Nations Cup, he knew he had made it. In Tel Aviv, he was welcomed back in fine style. "It was amazing. I never expected that kind of reception," he said. "I never knew I was that loved and famous until I witnessed the show of love from the fans. The reception was great and massive."

And at the end of the season, he was summoned back to France to finally finish the circle. Landreau, after reported disagreements with manager Frederic Pacquet, had left for Corsica. Elana was left to warm the bench and Enyeama put between the posts.

So far this season he has eight consecutive clean sheets, with 11 in total from 13 Ligue 1 games for Lille. They have only been breached on four occasions and have climbed to second on the table, four points behind PSG. Some of Enyeama's saves have provided photographers with images that could be in line for action shot of the year.

He has earned more praise than he could have imagined but Enyeama is taking it in his stride. "I'm not obsessed with keeping a clean sheet forever. I just want to help my club and keep our fans happy," he said. "I also remember with the national team, I went 10 games without conceding. People are only taking about this because it's a happening at a top European league and I have God to thank for that."

While the overseas eyes will keep watching out for Enyeama in France, Nigerians will hope their line of defence has a similarly concrete attitude this weekend -- for the final World Cup qualifier against Ethiopia.