Africa reveals a most deserving winner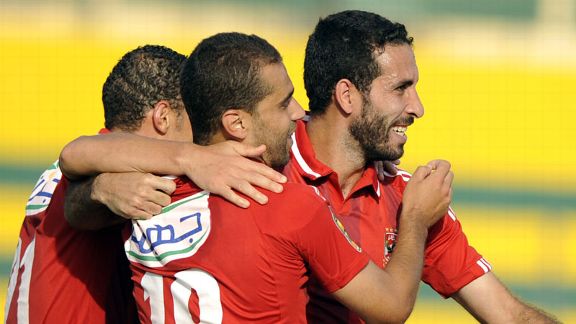 GettyImagesAl-Ahly have risen above the turmoil to find success on the pitch.
Laboured as the competition can sometimes seem, the CAF Champions League again turned up a deserving winner. Sunday in Cairo, Al-Ahly emerged victorious for a second year running and eighth time overall against the odds because they had to compete against Africa's best in the absence of a functioning domestic league.

Their journey to the Club World Cup in Morocco -- where they will meet Asian champion Guangzhou Evergrande Dec. 14, with the winner earning a matchup with Bayern Munich in the semifinals three days later -- was not as straightforward as it sounds. After qualifying for the group stage with wins over Kenya's Tuskers and Tunisia's CSA Bizerten, they topped their pool as the only team to win three matches. So far, so good.

Then came their semifinal against Cameroon's Coton Sport that resulted in two 1-1 draws eventually won on a penalty shootout.

In the first leg of the final against Orlando Pirates, Al-Ahly conceded in the last minute in another 1-1 draw. It seemed maybe the Egyptian pyramid was being shaken, but anyone who thought that was wrong. Al-Ahly know how to win when it matters and that is exactly what they did.

-Marcotti's Monday Musings: Heart-warming win

Buoyed by a more-than-capacity crowd who streamed into the Arab Contractors Stadium in Cairo, they scored twice to eliminate South Africa's Orlando Pirates. Their man of the moment for the last nine years, Mohamed Aboutrika, scored the first goal to add to the one he netted in Johannesburg.

His goal was an illustration of how Al-Ahly play: sensibly, intuitively and patiently. They don't reach desperation point. They just wait for the other side to get there. Pirates were so focused on scoring -- which they needed to be if they wanted any chance of lifting the trophy -- they left gaps at the back. Al-Ahly regularly threaded through them while keeping their own defense impenetrable.

They did not play the open game that some expected. At least, not the whole way. For the most part, they were happy to let Pirates come at them and they only chose to attack on the counter. One television analyst noted Al-Ahly only found themselves in a decent position to score three times and they converted twice.

Abdel Zaher had enough space to net the second goal and ensure that even when educed to 10 men six minutes later, Al-Ahly had done enough. In the last minutes, it was as if they were watching Pirates deflate. They let their opponents' lungs search for breath and legs push themselves to go one more stride. And when the ball came their way Al-Ahly coolly did with it what they liked.

Throughout the two legs, they seemed more in control than Pirates. They played more like a team who understands each other and can anticipate the moves of teammates. Pirates often passed before looking, perhaps expecting someone to be there when they were not.

South Africa's sole winner of the CAF Champions League climbed the ladder steadily this time. They managed not to be overawed by hostile officiating in Lubumbashi against TP Mazembe and fanatical crowds in Tunis and Dolisie. But in Cairo, where football is tied to politics and life itself, it may have become too much.

Pirates stood in a huddle on the field while the masses chanted ahead of kickoff. That was the body language of a team that was a little scared. They were targeted with laser lights, something the country's sports minister Fikile Mbalula has since slammed, and made to feel as much under pressure as Al-Ahly's 12th man could make them.

The role a crowd plays is difficult to quantify, but it can perhaps be understood by the fact that Al-Ahly lost 3-0 behind closed doors to Pirates in El Gouna in a group stage match and then surged back to win in Cairo. The fans were not the only reason for their victory. The Egyptian club understands when to turn it on, how to rise to an occasion and how to play to a plan.

They have made this tournament their own because of the way they dominated it. Pirates' stunning run to the final will be celebrated in South Africa even as they wonder when next one of their clubs will get that far in a continental event. But Al-Ahly are Africa's best team and they deserve to represent the continent at the Club World Cup.

This year, the tournament is being played in an African country for the first time. That's a big enough occasion for Al-Ahly and if they take their best game with them, Africa would have a good chance of a global title.