Aboutrika and Lekgwathi: the final swansong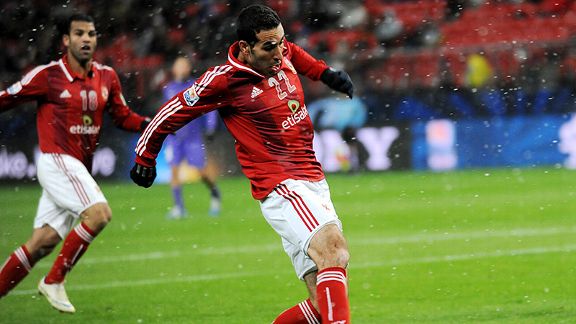 Kaz Photography/Getty ImagesMohamed Aboutrika has appeared in 229 matches for Egyptian side Al-Ahly.
One team's quest to become kings of Africa will be completed on Sunday evening when either Al-Ahly defend their title successfully or Orlando Pirates earn their second star. The gains, financial and reputational, that can be enhanced from victory have already been explained in these pages and for the team that triumphs, a place in history beckons.

But there are two men for whom this means so much more. One of them will see his career come to an end in Cairo, with his team on the losing side and his final act in club football one of failure. The other will be able to prolong his stay as a professional footballer for a little longer, to compete in the Club World Cup in Morocco later this year. We all know which of those options Mohamed Aboutrika and Lucky Lekgwathi would prefer.

With his 35th birthday on the horizon next week, Aboutrika is two years younger than Lekgwathi, but he is the more certain of the two that this is his finale. Having suffered the heartache of Egypt's stumble at the final hurdle in 2014 World Cup qualifiers, Aboutrika decided he would call it a day as soon as Al-Ahly's run in the continental competition ends.

He is a national hero, having been part of the squads that won the African Nations' Cup trophies in 2006 and 2008. But it is at his club where Aboutrika is a living legend. He has made 229 appearances for Al-Ahly, remaining loyal to them for nine years during which he showed little interest in chasing European money.

He has netted 157 times for them and his skills are as sharp as the day he started, as he proved when he curled in the free kick that put Al-Ahly in the lead in the first leg of the final. On the field, he has led the Al-Ahly attack and off it, he has acted as a mentor to players and people.

Aboutrika does not shy away from the role he can play politically and was part of the revolution that toppled Hosni Mubarak. He also took a firm stand when the Ultras -- a sector of Al-Ahly's fans -- were targeted at Port Said and more than 70 were killed by deciding to give up the game. The Egyptian league was cancelled and he thought his time was done.

But it was not a call he could make unilaterally and when asked to reconsider, he did. He came back to help Egypt in their qualification for the World Cup and to play for Al-Ahly in the Champions League. They won the title last year, with him in their ranks, and he is targeting the same this time around.

Already, Aboutrika has struck decisive blows for Al-Ahly. He scored in both their matches against Cairo rivals Zamalek and netted the away goal in the semi-final against Coton Sport. His free kick against Pirates was as good as they get, but he if he can get his hands on the cup again, he will probably say that will be better.

Lekgwathi feels the same way, although he is not awash in continental success like Aboutrika. He has won all the titles available to a South African footballer, and before the tournament started he said if he can add a continental cup to that, he will retire a happy man.

He began the competition as Pirates' captain but was forced to hand the armband to Happy Jele after what was reported in local media as being an unresolved issue between Lekgwathi and the Pirates' technical team. He was benched and then later dropped. For six weeks, he did not appear in the starting XI.

Pirates coach Roger de Sa has dismissed the rumours saying there was "never any problems," between Lekgwathi and the management and Jele's suspension has opened the door for the veteran to lead the team in the final in Cairo.

Lekgwathi will likely play at right back, not in his usual centre-half position, because it will require Pirates to make too many other changes, but de Sa has confirmed he will skipper the ship. There is no guarantee he will ever do it again and the fracas between him and his club may continue, but even if that is the case, if he manages a victory and to secure the Champions League title, Lekgwathi won't complain at all about hanging up his boots.