Golden Eaglets rule the roost at Under-17 level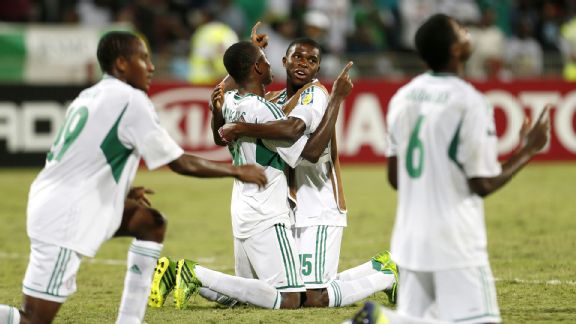 Karim Sahib/Getty ImagesPlayers from Nigeria's Under-17 team celebrate their Under-17 World Cup semifinal win over Sweden. Nigeria will next face Mexico in the final.
Their senior side are champions of Africa, who are one match away from securing their places at the global showpiece in Brazil, and now Nigeria's Under-17 side are on the brink of continuing their hegemony in the age-group event. If they win Friday's final, they will be champions of this tournament for a fourth time. If they don't, they will end in second place for a fourth time.

- Report: Mexico to meet Nigeria in U-17 final

Add that to the nine quarterfinal appearances they have made in the last 10 attempts in this competition and it's obvious all is very well with Nigerian football development.

A hallmark of this tournament has been their ability to attack. The Golden Eaglets have found the back of the net 23 times in the six matches they've played. That's more than any other team -- Brazil scored 19 times before they were knocked out in an 11-10 penalty shootout against Mexico -- and represents what their coach Manu Garba calls "a new concept of total football."

The philosophy is all about creating a movement and showing no fear. "Gone are the days when Nigerian teams play kick and follow. Now we build up from the back, we keep the ball until we have space to attack," Garba explained before their last eight clash against Uruguay. "Even if you bring a Uruguayan side with Diego Forlan, we would try our best to win the match."

The difference in their approach has been noticed and widely appreciated by current and former players, including Sunday Oliseh. The former national captain is working at the tournament as part of FIFA's technical study group and said the discipline and determination shown by the young Nigerian side is heartening.

"I've been very impressed with Nigeria. The boys are extremely motivated but above all they're very disciplined, which is very refreshing to see," he told FIFA.com. "The way the side switches from defence to attack is very good, frequently with one-touch passes. That's difficult to do as it requires a lot of movement, foresight and for all the players to support each other."

One of the youngsters who has caught eyes is Taiwo Awoniyi, who scored two goals in the quarterfinal and one in the last four clash against Sweden. Asamoah Gyan, the Ghana captain who is based in the UAE, lavished praise on him, calling him "my kind of player," because he "does all the work up there and creates a lot."

Compliments such as those will be welcomed more than usual because Nigeria, like many other teams, stands accused of age-cheating. Uruguay's captain Fabrizio Buschiazzo said the Golden Eaglets looked older than some Super Eagles, saying their appeared as large as 35 or 40 years old.

In August, Nigeria dropped players from their squad after wrist scans showed them to be over-age and Garba has defended the current crop who have all passed MRI scans confirming the eligibility. He did not mention they also have 14-year old Chelsea signing Habib Makanjuola, who made a brief appearance in the first match, in their ranks, too, which speaks about the depth of the team more so than their flouting of the rules.

The team will put that aside as they gear up to take on Mexico in the final, a team they already defeated 6-1 in the group stage. Messages of support have come in from the highest level. President Goodluck Jonathan issues a statement in which he advised the team not to get over-excited but emphasised the expectation.

"President Jonathan urges them not to be over-confident or take victory for granted," Reuben Abati, Jonathan's special advisor on media said. "He urged the team to be focused, train well and deploy their full arsenal of strength, determination and artistry once again to ensure that they overcome the Mexicans once again and return home with the Under-17 World Cup."

The President has promised to receive the squad at his villa should they be accompanied by the trophy. That, along with a place in history, should be enough incentive for the eaglets to go all out in search of victory.