South Africans become Pirates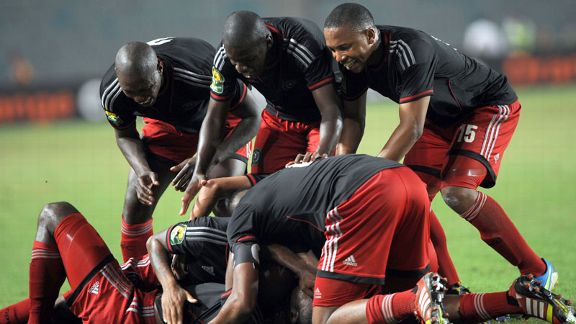 GettyImagesOrlando Pirates have a shot to make an impact on the international stage.
"We are all Pirates tomorrow." That's the mantra being repeated around South Africa as Orlando Pirates gear up to play Al Ahly in the first leg of the CAF Champions League final Saturday. Pirates are not just playing for their own fans -- which they have in large numbers -- but for all the country's football supporters, who have been starved of success for too long.

Having not managed to reach the final four of the African Nations Cup and failing in their bid to qualify for the 2014 World Cup, South African football seems to have stagnated despite the promise shown under coach Gordon Igesund. Pirates coach Roger de Sa understands it is up to his men to raise morale and promised they will have the nation at heart when they take the field. "From the beginning of the competition, we said it is not about Pirates, but carrying the flag of the nation," he said.

The last and only time a team from this country has lifted the continental club cup was in 1995 when Pirates beat the Ivory Coast's ASEC Abidjan 3-2 on aggregate. The victory received praise but not as much as De Sa thought it deserved. "It was a phenomenal achievement, probably bigger than Bafana Bafana winning the 1996 Africa Cup of Nations," De Sa said. "Going away like that and winning those competitions is a lot more difficult than hosting a competition and winning it. I didn't think those players and that team got enough credit at the time."

The competition was much smaller and less glamorous than it is now. There were also significantly fewer games. Pirates had to win only eight matches to be crowned champions in 1995; in 2013, they will play double that number.

They will also have to undertake substantially more travel across the continent -- something South African sides have a reputation for being weak at because it often means an absence from the home comforts they are used to. De Sa has said Pirates prefer traveling through North Africa, but in this competition, they made trips to Lubumbashi in the Democratic Republic of the Congo and Brazzaville in the Congo. They didn't win in either place, but they survived. From where they sit now, that's good enough.

After almost two decades of South African sides treating the CAF Champions League like a sideshow, their attitude has obviously changed despite the burden on their schedule. Pirates have put as many resources as they can into this tournament, making sure they have saved their best players for the Champions League.

They've also had the support of the administrators, including those at national level who agreed to leave Pirates players out of friendly matches, which would put extra strain on them. And they now have the backing of the people. "We just have to walk the streets and we get messages of support," De Sa said. "Even the players we played against on Saturday [Kaizer Chiefs] wished us well."

Chiefs are to Pirates what Manchester City are to United -- geographical opponents in the biggest sense -- and to have their goodwill tells the story of how much victory would mean to South African football. For the players, it is a chance to impress at what De Sa has reminded them "may be some of our only chance to represent South Africa."

The hype is far more subdued in Cairo, perhaps because Al Ahly have been in this position on numerous occasions. The seven-time title holders have played in big games over many years, and the feeling is that this is just another final.

Their only injury concern, goalkeeper Sherif Ekramy, has been passed fit. Their venue concern has been taken care of after it was announced they would play the second leg at the Air Defence Stadium in Cairo rather than the Red Sea resort of El Gouna where they have played the rest of the Champions League matches. Their request to play that match a day later than originally scheduled has been granted.

All is quiet on the northern front, which may be an indication they are quietly confident about their chances against a side so desperate to win they may trip themselves up through excitement. De Sa conceded Al Ahly are the favourites, but he still gives his charges the obvious 50/50 chance of winning. All of South Africa will hope it is a lot more, even Chiefs fans.