More Africa on the world stage?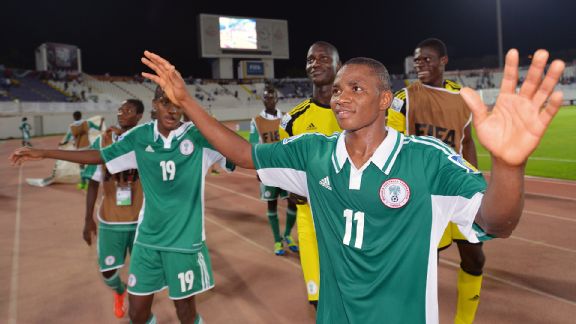 Stuart Franklin/FIFA/Getty ImagesThe international success of youth African sides such as Nigeria's U-17 team is helping the case the continent deserves more spots in the World Cup after 2014.
Africa has 52 associations competing for a spot at the 2014 World Cup. Fewer than 10 percent (five) will appear in Brazil. In comparison, 13 of Europe's 53 members -- 24.5 percent -- will earn places and four or five (depending on a playoff) of nine South American teams -- close to 50 percent -- are guaranteed an appearance in addition to the hosts.

The system is skewed and for whatever reason -- thought to because he needs African support to continue in his role as president -- Sepp Blatter wants that straightened out. Michel Platini, believed to be challenging Blatter for the position as FIFA president, agrees. ut instead of depriving those already promised places, he wants the World Cup to expand the competition to 40 teams from its current 32.

Either way, Africa could benefit and its football leaders are backing the idea. Danny Jordaan, South Africa's federation president who led the 2010 World Cup event, said "developing economies should have a lot of say," and few would be happier if that happens than Ghana FA president Kwesi Nyantaky. In January this year, he mooted the idea of greater African representation and cited the 2006 World Cup as an example.

"Based on the overall performances of African teams in recent years in many competitions, Africa really deserves more," he said "In the 2006 World Cup an African team was the only one from Asia, Africa, and North and Central America to make it to the second round. Only Ghana did that."

His argument held for the next competition as in 2010. Ghana was the lone African team in the round of 16, while Asia had two teams (South Korea, Japan) at that stage and North and Central America also had a pair in Mexico and the United States. Ghana were the only side to go on to the last eight.

Nyantaki believes the progress African football, and the fact it outperforms at least two other regions on the world stage, has made is enough to make them worthy of more places. "The quality of African football has improved massively at both club and international level. I agree most African teams are now at the level of most European teams and can beat them," he said.

Africa is used to very little, having one team represent them in 1934 before next seeing a country from the continent play in a World Cup in 1970. Nyantaki now believes its time to accelerate that without any dragging of heels. "I am convinced that there should be a fairer division and we should get at least six or seven teams. This cannot happen overnight and must take its course," he said. "We need to thank FIFA for increasing our allocation from one to two, to three to five. But now the time has come to pressure FIFA for more."

Ultimately he wants to see eight African sides in the World Cup and does not believe they will dilute the competition in any way, as has been suggested by those who do not want more African representation. If age-group tournaments are any indication, Africa is progressing.

At this year's Under-20 World Cup in Turkey, Nigeria and Ghana played in the round of 16, with the latter reaching the semi-finals. At the ongoing Under-17 tournament, Morocco, Tunisia, Nigeria and Ivory Coast all made it to the round of 16 with the latter two competing in the quarterfinals. At last year's Olympics, Egypt and Senegal played in the quarterfinals.

More African teams are getting further in global competitions, but rare are the instances where they win. Whether adding numbers to the mix will assist that goal is a topic of debate because a case of more is not always one of better.

Maybe that's not the intention of seeing more African teams play at a World Cup. It may simply be to expose more teams who go through a rigorous qualifying phase to the global stage. And there's nothing bad about that.