Russia 2018 - no place for Africans?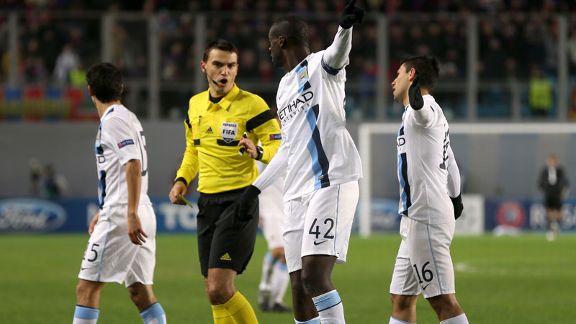 APYaya Toure in conversation with referee Ovidiu Hategan during City's match against CSKA.
One of the wonderful things about World Cups is that long before they get underway, they create a buzz. One of the woeful things about them is that the hype can often heave with negativity.

Brazil's event, like fellow developing country South Africa's in 2010, has had to put up with media speculation about stadiums not being ready in time. Qatar's, which is still nine years away, has hogged headlines for everything from its timing to the treatment of the labourers preparing it for hosting duties. But Russia's, sandwiched between these two, has mostly snuck under the radar until now.

Yaya Toure hurled it into the spotlight this week with his claims that black players could consider staging a boycott in 2018 unless racism is given a red card in that country. Toure complained that he was on the receiving end of monkey chants and other insults during Manchester City's Champions League outing against CSKA Moscow in midweek and he wants something done.

A formal complaint has been lodged with UEFA but the hosts have already started mounting a public defence. CSKA say the allegations are "unfounded," and that they have watched the video footage of the match several times and seen nothing to suggest there was any abuse.

Whether or not this incident is proved, it points to the broader problem that has plagued African players in certain parts of Europe and has prompted the likes of AC Milan's Kevin-Prince Boateng to leave the field in protest. Now Toure has suggested that walking off may not be limited to individual matches but could extend to an entire tournament.

"If we aren't confident at the World Cup, we don't come," he told RIA Novosti news agency. And if that happens, a member of FIFA's anti-discrimination task force, Piara Powar, said the tournament will be in jeopardy. "Players are the most powerful force and if all the players said they are not going, there wouldn't be a World Cup, or if there was it would be meaningless," he wrote in the Guardian.

Changing mindsets is difficult, and in many cases impossible, so the only action Russia can take is to noisily discourage discrimination -- something they committed to before they were awarded the World Cup. In November 2010, a month before FIFA's decision was announced, Russia's Football Union (RFU) adopted a seven-point memorandum on fighting racism.

The policy included a roll-out of anti-racism guidelines and the setting up of a website called Racism Offside. A thorough Google search revealed a few references to the site, but the actual page has seemingly yet to be set up.

Action on the whole has been slow, with Russia taking seven months after their memorandum was announced to increase punishment for the kind of racist behaviour that was treated with nothing more than shrug in the past. When Brazil's Welliton was greeted with a banner from Spartak Moscow fans saying "Monkey go home," the club was merely fined. Three years later, when Peter Odemwingie was sold to West Brom and Lokomotiv Moscow supporters held up a sign thanking the English club with a picture of a banana in the middle, the RFU said there was "nothing racial in it."

It was only when Roberto Carlos, who was playing for Anzhi Makhachkala at the time, had the fruit hurled at him the following year that the idea of banning fans from attending matches was mooted. Clubs whose fans were found guilty of racism could play up to three matches in empty stadiums and UEFA could step in as well with extra action.

The continental governing body has imposed full stadium bans on Croatian, Polish and Hungarian clubs this season and will be investigating the Toure incident. The player himself has asked for tough action to be taken and suggestions in the English media are that Toure wants the stadium taken off the fixture list. It is not an implausible suggestion, because UEFA's punishment for repeat offenders is exactly that.

Arena Khimki is not one of the stadiums listed as a 2018 World Cup venue but the Zenit stadium -- home to Zenit Saint Petersburg, who have also had been faced with allegations of racism -- is. That should give the organisers of the Russian World Cup something serious to think about in the five years leading up to their tournament.

With few solutions in sight besides banning supporters, Russia could have something in common with Brazil, where prices are rumoured to be so steep many fans cannot afford to make the trip, or Qatar, where searing heat could turn some supporters off attending. The difference is that if there are empty stadiums in Russia in 2018, it could be because of the choice of the players.