Can Burkina Faso be as cunning as Foxes?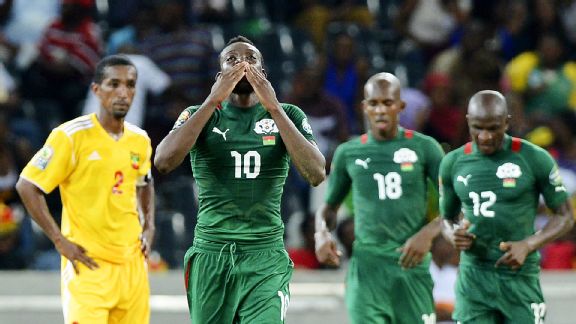 AllsportBurkina Faso's Alain Traore hopes to do plenty of celebrating in next week's first leg versus Algeria.
Of the five ties in the final round of African qualifying for the 2014 World Cup, Algeria-Burkina Faso is the one that will probably fly under the radar. However, it could end up being one of the more hotly contested clashes between two teams who have plenty of history and even more to play for.

- Moonda: Eto'o boosts Cameroon stock
- Moonda: Ethiopia take on Africa's best
- Moonda: Lions looking to roar

Despite being ranked third and ninth on the continent, respectively, neither Algeria nor Burkina Faso have made solid enough impressions on the global stage. Algeria are former continental champions -- they triumphed in 1990 -- to bring the curtain down on a period in which they also appeared in two successive World Cups -- 1982 and 1986. Burkina Faso have never appeared at the global event and were considered small fry on the continent until they stunned, perhaps even themselves, when they qualified for this year's Nations' Cup (ANC) final.

They could build on that success by going all the way to Brazil, but they will have to out-think the self-styled Desert Foxes. In the 17 times the two teams have competed in the past, including when the Stallions were still from the country called Upper Volta, Burkina Faso have only emerged winners four times: in the 1998 and 2001 ANCs, and in 2003 and 2006 internationals.

Their nine defeats include the worst in their history, a 7-0 drubbing in the 1981 ANC. That was a long time ago, but Algeria may want to take some inspiration from it anyway because Burkina Faso have become a lot more competitive in recent years.

January's ANC was an incomplete example of it because they managed to top their group with only a single win. Draws against big guns Nigeria and Zambia were overshadowed by a 4-0 thumping of Ethiopia, during which Alain Traore and Jonathan Pitroipa showed the team's class. Their most surprising result came when they held their nerve to beat Ghana in the penalty shootout of the semi-finals. However, once they reached the final hurdle, they played as though they were just happy to be there.

Those results hint at a glass ceiling for the Burkinabe, but one must consider the way they performed in the qualifying pool: They beat Gabon and Niger and also managed to overcome Congo in Pointe-Noire, after having the home clash awarded against them for fielding an ineligible player.

While Burkina Faso had to keep Congo, a much-improved surprise force, at bay, Algeria had to fend off Mali in World Cup qualifying. They lost to them away from home which meant that even with big wins over Rwanda and Benin, they still needed a positive result when it mattered most. It came via a 1-0 triumph on the final weekend, sending Algeria through to the final round.

When they got there, they were bullish. The board president, Mohamed Raouraoua declared the team "set for the knockouts already," because of their "new, young and talented players". But they replaced some of them, like 21-year old Ishak Belfodil, with some older, more experienced hands for the tie. Mohamed Amine Aoudia's three goals for Dynamo Dresdan have won him back his place while Faouzi Ghoulam and Foued Kadir also make comebacks after being dropped for the final fixture against Mali.

Burkina Faso have also expressed their readiness. Paul Put understands his men are the underdogs but has simple words of encouragement: "It will be historic if we qualify, and everyone is focused and motivated to deliver," he said. "Algeria has an advantage, but I trust my team to deliver a positive result."

Algeria are undefeated in their last eight matches and the opportunity to qualify for a fourth World Cup, and perhaps do more than exit at the first round, would appear ripe for the picking for them. And the hype around the match has reached a new level of intensity as well. Last Saturday, two Algerian journalists were arrested in Ouagadougou on charges of espionage after they were caught taking pictures of the stadium where the game will be played. Fortunately, ambassadorial intervention resulted in them being released and allowed to work in the Burkinabe capital.

That's where over 1,000 Algerians will be flown in to watch their side and provide a taste of the atmosphere Burkina Faso can expect in November's second leg.