Zimbabwean football lifted by notoriety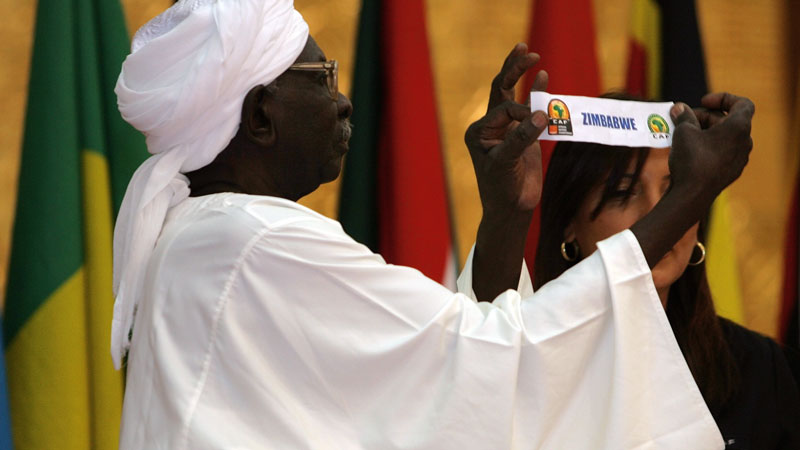 GettyImagesZimbabwe has struggled to rebuild from the match-fixing scandals
If it was not for Zimbabwe's Asia-gate scandal, coverage of their football would be minimal. The Warriors have never qualified for a World Cup and made their first appearance at an African Nations' Cup in 2004. They've played in the continental championship just twice. But the process leading up to the 15 life bans issued in October and 78 other sanctions across the board in one of the biggest match-fixing affairs in the sport has gained them notoriety.

That may not sound like a positive immediately, but in its aftermath it could be. Zimbabwe Football's decisive and wide-ranging actions have showed commitment to cleaning up the game. In a society where allegations are often made but not followed up and corruption is thought to be endemic, there was massive significance that a story that first broke in an independent newspaper was responded to so effectively.
The Daily News' sports editor Enock Muchinjo was the journalist who first wrote about a fake Zimbabwean after being tipped off by a Malaysian reporter, Mohammad Rizal Hashim, who watched his country's football team beat an outfit that called themselves Zimbabwe 4-0. The massive margin of victory made Hashim curious about the state of Zimbabwean football so he emailed Muchinjo to enquire.

Muchinjo, like the rest of the Zimbabwean press corp, had been told by their football association that Harare-based club Monomatapa would travel to Malaysia to prepare for the African Champions League. He thought Hashim had made a mistake when he said he had seen the national side in action and corrected him. Hashim replied with a photograph of Monomatapa midfielder Brian Mapfumo wearing the Zimbabwean national colours and a scoreboard from the match which had the country's name on it.

Malaysia had been duped and Muchinjo had a massive scoop. He called then ZIFA chief executive Henrietta Rushwaya to ask her about the masquerading Monomatapa, given that she was the person who outlined their plans to prepare for the continental club tournament. She defended the shirts by saying they were representing Zimbabwe abroad and would not be drawn into anything else.

Had the tale ended there, Monomatapa players may have been the only guilty parties. Muchinjo had also previously heard from a football agent that Zimbabwe's teams were accepting bribes from bookmakers. He did not take the claims too seriously because the agent had a questionable reputation, but when the Monomatapa story landed in his lap, the defeats also began to look suspicious.

Zimbabwe had lost matches to Singapore, Thailand, Jordan, Bulgaria and China between August 2007 and January 2010. None of them were televised in their own country. The match reports sometimes caused experts to shake their heads in dismay at the downward spiral and their world ranking plummeted to 130.

The Monomatapa episode prompted an investigation by the Sports and Recreation Commission which then also revealed the extent of the fixing. Players had received up to $5,000 each to lose a match, perhaps not big money in much of the world, but a fortune in the dollarised Zimbabwean economy. Rushwaya was thought to have got much more, with some sources saying as much as $1 million.

She became the face of the scandal. In March, she was arrested and charged with concealing information, bribery and corruption. Her trial is currently underway. Testimony heard so far includes details of how she would call players and request them to turn up at the airport at short notice.

Many of those players' careers are now over. Even though not all of them have been banned for life - with ten, five and two-year suspensions imposed on most - by the time they could make a comeback, retirement will loom. Brief dalliances with quick cash seems to have cost many of them the chance to continue to carve out success on the field.

Some, like former national captain Method Mwanjali, who plays at South African glamour club Mamelodi Sundowns, are appealing the bans. They are assisting him with his challenge and believe his claim that he has never been involved in dodgy dealings.

For those players, only a livelihood has been lost. Others faced much greater danger. ZIFA chief executive Jonathan Mashingaidze almost lost his life. He was kidnapped for looking into the suspensions and extorted for over US$10,000. A board member Benedict Moyo reportedly received death threats. Their experiences are reminder that cheating involves making associations with some dangerous people.

FIFA have indicated that they are likely to ratify the bans which will give them worldwide effect and send out a strong message about the fate that awaits those who cross the line. The sport's governing body has been supportive of ZIFA throughout the process, which began almost two years ago.

Some Zimbabwean papers now refer to Asia-gate as a never-ending saga because of the time it took for investigations to be completed and action to be taken. In hindsight, it does not seem too dragged out - especially as it changed the lives of almost a hundred professionals in the football industry in Zimbabwe and put the country's game in the spotlight so obviously.