Ethiopia hoping to ruffle Super Eagles' feathers
Ethiopian midfielder Minyahil Teshome does not know too much about Brazil. "I want to see it," he jokingly told reporters ahead of his country's mice-against-men styled World Cup qualifying play-off with African champions Nigeria. His compatriots probably share those sentiments.

Many of them would have been to Brazil and many more would have seen television images of the country that will play host to next year's World Cup. All of them would have dreamed of seeing their national team in action on the world's biggest stage.

Despite being one of the four founding members of the African Nations Cup and having one of the longest competitive histories on the continent, Ethiopia have never played at a World Cup. They are two matches away from it now, but will have to play in games that have been dubbed finals in their own right, because of the quality of the opposition, to get there.

- Moonda: Lions looking to roar

Nigeria are the continent's best team, at least if you believe the results of January's African Nations Cup (they are actually the fourth best according to FIFA's rankings) and on paper are considered the far superior side. They hold the historical edge and the recent advantage, giving Ethiopia little to pin hopes on besides the fact that the Super Eagles drew against sides ranked 30 places below them in the group stage.

The pool round seemed to be a walkover for Nigeria because it grouped them with Kenya, Malawi and Namibia but Stephen Keshi's men to did not impose themselves on the smaller teams the way a ruthlessly tough side should. They were stunned by an injury time goal in Blantyre, needed a last-gasp equalizer in Calabar against Kenya and also had to come from behind to draw level in Windhoek.

By the time the final weekend of group qualifiers came around, Nigeria were in a must-win situation and went into the clash against Malawi amid a war of words between the two coaches. Nigeria eventually made light work of the affair but the way they were challenged throughout the pool round will have Ethiopia wondering whether they could catch Nigeria on the back foot as well.

They have not been able to do that in the past. Ethiopia's solitary win over Nigeria came in African Nations Cup qualifying in 1993 when they triumphed 1-0 in Addis. They have played six other matches against the Super Eagles, losing five and drawing one. Among the defeats was a 3-0 victory for Nigeria in the final of the African Nations Cup in 1982 in Benghazi -- that was the first match these teams played against each other -- a 6-0 drubbing in Lagos earlier that year, which happened to be the final match in African Nations Cup qualifying and was sweet revenge for the Ethiopian's win at home and a 4-0 thrashing in another African Nations Cup qualifier in Abuja in 2011.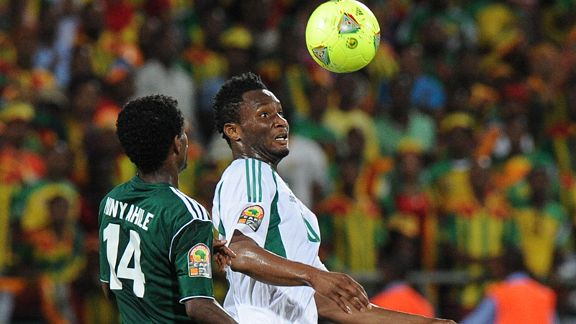 GettyImagesEthiopia's Teshome will renew acquaintances with Nigeria's Obi Mikel.
Ethiopia rate themselves as a side that is far better than those results show. They showed their creativity at the African Nations Cup, where they held defending champions Zambia to a draw, and in their qualifying campaign, with four victories including one over South Africa at home. If not for fielding an ineligible player, the same Teshome who has not been to Brazil and should have been serving a suspension, they would have qualified for the final round before the group stage was complete.

Teshome is back and ready to play against the best in a squad that includes four overseas based players. Star striker Saladin Said will be the man expected to do most of the damage against Nigeria.

The Super Eagles are unlikely to have their feathers ruffled by Ethiopia's big names because they have more than enough of their own. Victor Moses, the scorer of two penalties in Nigeria's latest victory over Ethiopia at African Nations Cup 2013, is one of them and he has already started showing Nigeria's superior attitude. "If we must qualify for the World Cup it must be in grand style," he said. "Ethiopia must fall right there in Addis Ababa."

Nigeria have reason to be confident. They have appeared in four of the last five World Cups, although they have never made it to the quarterfinals. Their best chance was on their first appearance when they took the lead against Italy, when Roberto Baggio forced the match into extra time with a leveller. After reaching the round of 16 in France as well, they exited at the group stage of the next World Cup.

For all their fighting talk, that is not the way a team hoping to create a legacy plays. For that, they will need to advance much further in Brazil. But before thinking that far, they will need to remember they have to get there first and Ethiopia will be out to do exactly the same.