Lions looking to roar in African qualifying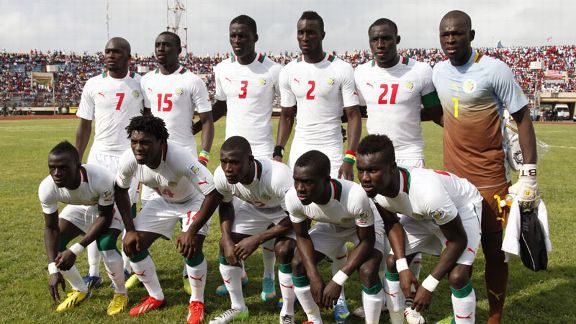 GettyImagesSenegal face a tough test if they are to recreate memories of 2002.
The West African game is known for its physicality with hulking defenders, towering midfielders and strapping strikers. That makes the first tie in the final round of African World Cup qualifying a battle of strength in the very literal sense.

The derby between Ivory Coast and Senegal will pit two teams desperate to make their big reputations count for something against each other. The laws of the jungle suggest that it takes many lions to bring down an elephant and history agrees with that because the mighty Elephants have dominated the Lions of Teranga over time.

Ivory Coast and Senegal have contested 16 matches since they first met in 1965 and only one of them has been a draw. Ivory Coast have won 11 of the encounters and Senegal four. Among the former's victories are last year's 4-2 and 2-0 truimphs, significant because they were qualifiers for the 2013 African Nations' Cup.

The second of those, in Dakar, degenerated into crowd chaos and FIFA has declared this match 'high-risk'. Around 1,700 security personnel will be deployed for this fixture. Close to 28,500 tickets are available and are expected to be sold out soon. Indeed, the Senegalese fans have also been promised a special escort to offer them protection and ensure Ivorian fans do not retaliate after the violence they suffered last year.

Ivory Coast also have an edge through their recent showings. They emerged looking stronger from the group stage: winning four of their six matches, beating Gambia and surprise challengers Tanzania both home and away. Their two draws came against perennial underachievers Morocco but neither were goalless.

Senegal won as many matches as they drew: three. The positive results included a double over Liberia and success at home against Uganda, but they were held in Kampala, and twice by Angola.

The most telling statistic from the preliminary round is the number of times each side found the back of the net. Ivory Coast scored 15 times -- the third-most of any team in World Cup qualifying and conceded just five times, giving them a goal difference of +10. Senegal were significantly less aggressive, netting nine times but their defence was breached only four times, to give them one of the better defensive records of the campaign.

Many consider this Ivorian side to be the country's golden generation and, after appearing in successive World Cups in 2006 and 2010, they were expected to win the ANC earlier this year as proof of that. Instead they were booted out in the quarterfinals, losing to eventual winners Nigeria, and the result was badly received.

Their talisman, Didier Drogba, was one of the casualties from that tournament. He was left out of qualifiers against Gambia and Tanzania but was recalled for a friendly against Mexico.

Drogba's form at Galatasaray, who he moved to after a short stint in China (although the level of competition was not challenging enough), has been encouraging enough for Sabri Lamouchi to believe he can play a big role for the national team again, especially as the sun sets on his glittering career. Drogba has indicated he will retire from internationals after the 2014 World Cup, which may put some added pressure on his teammates to ensure he gets the send-off he so desperately wants.

And he is not the only one who is eager to display his capabilities on the biggest stage. With players like Yaya Toure, Gervinho, Boubacar Barry and Saloman Kalou, Ivory Coast still have the core of their best. They have also recalled Kolo Toure to complete a compliment of well-known players.

Senegal have also brought back a big name: Papiss Cisse is back after a two-match suspension but there was no room for Demba Ba, who has still been ignored. The Senegalese government are taking this campaign so seriously they've committed 300,000 US dollars for the team's preparation, which includes a camp in Paris.

The world's standout memory of Senegalese football is 11 years ago, but seems as important today as when it happened in the 2002 World Cup. After stunning France in the opening match, they went on to reach the quarterfinals, where they lost to Turkey. That was their only appearance at the global event to date but they made enough of an impact for fans to want them back. Now, they just have to beat the odds to do it.