Danny and development in South Africa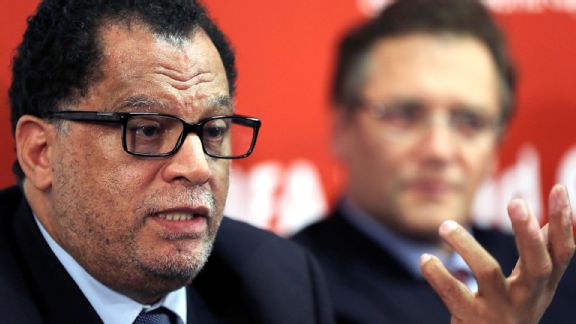 AP Photo/Themba HadebeDanny Jordaan's priority in taking over South African soccer is to boost participation at the youth level.
Something did not seem quite right when South Africa's new boss soccer boss made his first public statement Sunday. "Many say we are a football nation, but I say we are not," he proclaimed. That the man saying those words was the same one who was the public face of the 2010 World Cup -- the first on the African continent -- only added to the incongruity.

But perhaps Danny Jordaan has a point. For all its potential, South African soccer has more under-achievements than accomplishments to its name.

South Africa's national team failed to qualify for the 2014 World Cup, they would not have played in the 2010 had they not hosted it, and the same can be said for the African Nations Cup this year. The only glimmer of hope at the moment comes from the likes of Kagisho Dikgacoi, who plays for English Premiership side Crystal Palace and Orlando Pirates, who will compete in the semi-finals of the CAF Champions league.

Instead, Jordaan chose to focus much lower down. "Germany is playing 80,000 junior matches over a weekend, Spain is playing 30,000, France 40,000. If you find 3,000 matches in South Africa, you're doing well. That's the problem."

Comparing South Africa with the much-wealthier European countries Jordaan used may not have presented a complete picture, but Jordaan's argument is understood. Development, long championed as the aspect of the game that requires more resources and more commitment, needs to increase at a fairly brisk pace if South African football is to get back on track.

An obvious starting point to fuel this lies in what Jordaan has already created. The World Cup legacy trust was set up to ensure some of the money made from hosting the tournament was ploughed back into the game. It received 450 million rand ($45 million) and agreed to disburse that money to worthy applicants.

It made its first payments, worth 56 million rand ($5.6 million) in January this year. The projects included bursaries for basic and higher education to ensure future football administrators received assistance with their studies, funding to train health professionals who could provide medical assistance and development projects for women's, futsal and beach soccer.

All three are admirable investments and illustrate how the game is about much more than what happens on the field, but none of them have anything to do with developing, besides the third to some extent, actual footballers. It was only in April that attention was turned in that direction. The South African Football Association (SAFA) launched an under-13 and under-15 league with a vision to develop players who could compete in Qatar in 2022.

Then-SAFA president Kirsten Nematandani called it a "technical master plan" which would help South Africa reach its goal of being in the top three in Africa and top 20 in the world in the next decade.

For that to be a realistic aim, South Africa will need much more than just an age-group league. They will have to have skilled coaches to ensure the children playing at these levels have proper mentors who can guide their development.

Jordaan alluded to this when he issued his concern that there is currently one coach for every 2,000 players and that SAFA needs to get more people trained. They will have to reintroduce football to the country's top sporting schools, who have top-class facilities but currently focus on rugby, cricket and hockey, in order to ensure young players can make use of the best resources.

They will have to ensure the youth teams tour regularly, play against top-class opposition and are constantly measuring themselves against the best. They will have to ensure there is a pipeline for players who excel at this level to be included in academies and be contracted to clubs so that playing football is a constant learning curve and a viable career option.

All these things make it sound like SAFA will have to turn South Africa into a country where football, and not much else, is at the forefront. Maybe that is what Jordaan meant when he spoke about it not being a "football nation" yet.