South Africa's continental hope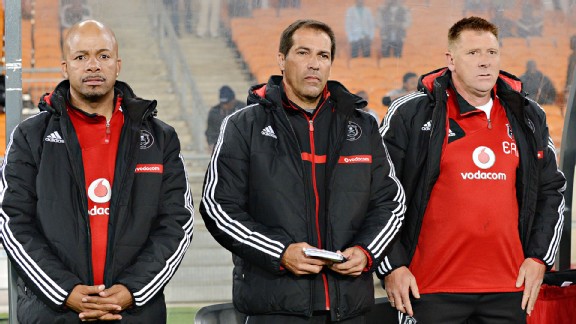 Lefty Shivambu/Getty ImagesOrlando Pirates manager Roger de Sa, middle, hopes to guide the South African side to their first CAF Champions League title since 1995.
Celebrating a goalless draw is one of South African football's most well-known flaws.

The Bafana Bafana did it two years ago when their African Nations' Cup qualifier against Sierra Leone ended in a stalemate and they thought it was enough to see them through to the 2012 continental championship. Management had received incorrect information and the team had not done enough. Their joy was short-lived and the image of the team dancing as though they had actually achieved something remains one of this country's most embarrassing sporting moments.

Luckily, Orlando Pirates did not suffer the same fate in their CAF Champions League group stage finale. They were also in party mode when the final whistle blew on their 0-0 affair against Al-Ahly, but their festivities were properly founded. During their match, Pirates found out Zamalek had soundly beaten AC Leopards 4-1, so all the South African side needed was a draw to advance.

Breaking through an Al-Ahly side who had already qualified for the semi-finals proved difficult, especially against the two defensive midfielders, Rami Rabia and Shehab Ahmed, so Pirates shifted focus to not conceding. They did, however, have two chances in the last 20 minutes but Lennox Bacela's shot went over the crossbar and Daine Klate headed straight at Sherif Ekramy.

An inability to finish has long dogged South African football and the nerves showed by Pirates was an example of that. Coach Roger de Sa recognised that opportunities were not taken, but he did not seem to mind too much: "We had chances and we should have put one away," he lamented. "But we've done the country proud and qualified for a change."

For that reason, Pirates earned plenty of praise for their performance on the day and what it means for the country's football overall. For the first time since 2006, a South African side is guaranteed a place among the best four clubs on the continent. Pirates were the last team to make it this far in the Champions League and are also the only team from the country to have won the competition, back in 1995.

Many believe they have what it takes to go all the way again. Local media hailed their showing as spirited, stirring, even heroic, and they were praised for matching Al-Ahly in all departments. Perhaps most tellingly, their opposition were full of compliments for the way Pirates approached the match and the competition as a whole.

Mohamed Youssuf, Al-Ahly's coach said, "They played a good game and attacked too much," he said, before lauding his opposite number's conduct. "We just want to thank Roger. It was a great pleasure when we met in Cairo although by then he was ahead of us by three points. He was very humble, he had a lot of of knowledge and information when we played the match during Ramadan fasting as well as on the situation in Egypt."

Youseff wished Pirates "the best" for the Soweto Derby cup competition knockout clash against arch-rivals Kaizer Chiefs tomorrow night and even said he thinks Pirates could make it all the way to the Champions League final. "There is a big possibility that we can meet again in the final with all the four teams left."

Al-Ahly will play Cameroon's Coton Sport in the semis and there's little doubt de Sa would have wanted to do the same. Instead, Pirates take on Esperance, who had a relatively simple time of it in the group stage and won this event two years ago. The Blood and Gold will fancy their chances but Pirates have already overcome DRC's TP Mazembe in the qualifying stage and beaten both Egyptian heavyweights, Al-Ahly and Zamalek in their pool, so they may feel better equipped to take on Tunisia's pride.

Importantly, there appears to be a renewed focus from Pirates on triumphing in Africa -- something South African teams did not place as much as emphasis on in the recent past. The clash with league fixtures was thought to be one reason for their indifference, the lack of further incentive was another.

The existence of a Club World Cup has changed perceptions as far as the latter is concerned. The challenge remains keeping up with one's local domestic competitions while also performing on the continent and it remains to be seen how Pirates deal with that. So far, they have only played two premier soccer league fixtures, have collected three points and as a result, lie third from the bottom.

They won't play another league fixture until after the semi-finals, ensuring their focus will be on continental glory. And one thing they can be certain of from here on out is that goalless draws are not an option at the business end.