Africans Abroad: Mohamed Salah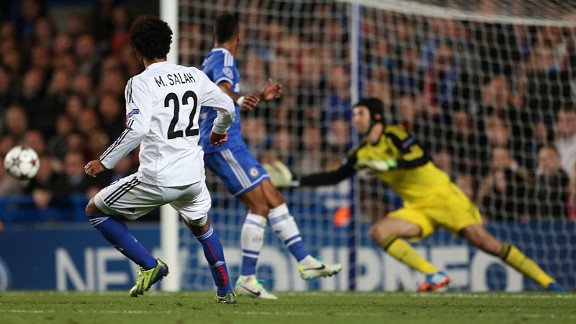 GettyImagesMohamed Salah scores Basel's first goal against Chelsea.
Yaya Toure, Kevin-Prince Boateng and Sulley Muntari were among the African players on the score sheet in the first round of the Champions League, but Mohamed Salah scored the goal that may be the most talked about.

His equaliser for Basel in the 71st minute against Chelsea paved the way for the Swiss side to record a surprise win and underlined his position as one of Egypt's main men going into their 2014 World Cup qualifying tie against Ghana.

Salah is young, talented and oozing confidence -- exactly the kind of player the Pharaohs need to get to their first World Cup in 24 years. He is known for his speed and crafty playmaking and was awarded the CAF most promising player prize last year. He is also a symbol that despite the revolution and its aftermath affecting all aspects of Egyptian society, the country's wealth of quality players is still there and can still be unearthed.

- UCL wrap: Basel shock Chelsea
- Delaney: Blues issues exposed
- Worrall: More disappointment for Chelsea

Now 21 years old, Salah would have been at the most important point in his football development when the 2011 uprisings came to a head. He had just become a regular in the Al Mokawloon Club, based in Nasr City in Cairo, a place that has made international headlines over the past few months, when the league was suspended. But that did not stop him.

Youth was his big advantage. Being just 19, he represented Egypt's under-23 side, where he had the opportunity to impress FC Basel. At a friendly organised between the club and the age-group side, he scored two goals after coming off the bench. He was invited to stay on for a week's training and was subsequently signed.

While football languished in Egypt and players rued lack of game time, Salah was part of the Basel side that won the Swiss Super League title. He was on the field regularly after finding the back of the net in his first outing for the team, a friendly against Steaua Bucuresti, and was even on the wish list of Premier League side Tottenham Hotspur. This April, Andre Villas-Boas watched him in a Europa league match against Chelsea but decided against signing him.

Instead, Salah stayed at Basel, where he played an important part in their qualification for the Champions League, but it was not without controversy. At their home fixture against Israeli club Maccabi Tel Aviv, he refused to shake the opposition players' hands for political reasons, busying himself with his shoelaces instead. Then he indicated he did not want to play the return fixture at all.

Basel management insisted on Salah's turning out, and he gave in, albeit grudgingly so. "Football is more important than politics, and it is my job. In my thoughts, I am going to play in Palestine and not Israel, and I am going to score and win there," he said at the time. "The Zionist flag will not be shown in the Champions League."

His prediction came true when he scored Basel's second goal in a 3-3 draw. Maccabi Tel Aviv were beaten 4-3 on aggregate. And about those handshakes? Salah fist-bumped instead.

Ahead of the playoff round, he announced his intention to no longer celebrate goals because of the situation in his homeland. "There is nothing more important for me than the blood of my fellow countrymen," he said. "No matter how important the game would be, I won't celebrate until it stops." He scored two of the four goals against Bulgarian side Ludogorets but did not show any sign of pleasure, although he called it his best performance for Basel.

Salah's passion for the Arab world at large and Egypt is obvious in these examples, and it spills over into the way he approaches the game. The good news for Egypt is that Bob Bradley thinks Salah will only get better. He scored a hat trick in World Cup qualifying against Zimbabwe, netted the only goal against Mozambique and is the leading goal scorer in qualifying.

Bradley has called him the "consummate professional" who will play "a great role in guiding us to the World Cup finals" and "the future of Egyptian football." If that is the case, the future for the Pharaohs looks quite bright indeed.