Egypt-Ghana, Africa's glamour tie, too close to call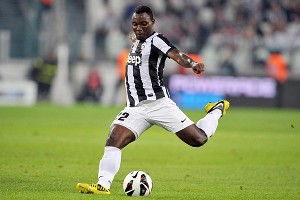 AP Photo/Daniele BadolatoKwadwo Asamoah, who plays for Juventus, is considered by some to be Ghana's best player.
The 2014 World Cup will be played without either Africa's best performers at the last event, Ghana, or the continent's best team of all time by virtue of number of titles, Egypt. The heavyweights were drawn against each other in the final leg of qualifying -- five two-legged ties in which the winner of each is guaranteed a spot in Brazil.

Ideally, Africa would have preferred separating the big names so both stood an equal chance of playing in the World Cup, if only because the two could both be the continent's biggest hopes at the event.

Ghana was the only African team to reach the final eight, while Egypt, although they have never made it past the first round, are seven-time African Nations Cup champions and continue to defy the odds despite the political upheaval in their home country.

-Africa World Cup qualifying matchups set
-Carlisle: New challenge for Egypt coach Bradley

Both teams have points to prove but the playof will deny one the chance to better their World Cup record. It will also provide an appetizer to the tournament itself for fans on the continent because two teams with such accomplished reputations promise two uncompromising encounters.

Egypt have won eight of their 18 matches against Ghana, losing six with four draws. While Egypt have the overall edge, recent history gives little indication as to who may be favoured.

In the last four years, they have played each other three times: a 2-2 draw in Cairo in February 2009 in a friendly, a 1-0 win by Egypt in the final of the African Nations Cup in Luanda in January 2010 and a 3-0 win for Ghana in a friendly in January this year. Ghana have out more goals past Egypt, but the Pharoahs have won when it matters.

The most recent result and the state of Egypt as a whole may lead some to think the tide is turning and Ghana may be able to call themselves favourites. Their 3-0 win in the lead-up to the 2013 ANC was dominant but it was achieved against an Egyptian side without Mohamad Abou-Treika, Gedo and Shikabala.

With their heavyweights back, Egypt have won their last five internationals, although against teams who do not have the quality of Ghana -- Zimbabwe, Mozambique and Guinea. The Black Stars beat Zambia to qualify for the two-legged playoffs, but have had a mixed bag of results in the last month.

They drew against Turkey and lost to both Libya and Japan. As a result, fans think this one is just too close to call.

While this tie is the one to watch, the other four will also make for interesting viewing. Nigeria are considered to have been dealt the kindest hand. The African champions take on an Ethiopian team which looks as if it has more heart than head.

The West African derby between Ivory Coast and Senegal is expected to be a tough physical encounter while Burkina Faso, the other team from that side of the continent will have to overcome Algeria to quality.

From the sidelines, Cape Verde may be kicking themselves. Tunisia, who qualified for the final stage because the islanders fielded an ineligible player, were drawn against Cameroon, who Cape Verde beat to qualify for this year's ANC. They may well have fancied themselves to do it again but breaking the rules has meant they will have to wait another few years for the chance to qualify for a World Cup again.