Why Cape Verde got what they deserved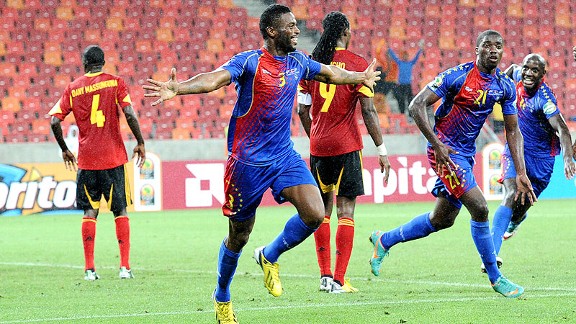 Stephane De Sakutin/AFP/Getty ImagesCape Verde defender Fernando Varela shouldn't have played against Tunisia.
Sympathy is often dispensed far more easily than anger, and that may have been the feeling when African minnows Cape Verde were dumped out of contention for the 2014 World Cup. They were a success story, and to see that crumble was enough to evoke pity. But, on closer examination, the circumstances that led to their fall from grace should only result in vexation.

Put aside the emotion for a few minutes. Forget that Cape Verde are a tiny island nation with a population of little more than 500,000 and who were the Cinderellas of the African Nations Cup in 2013. Ignore that Lucio Antunes is a charismatic coach who is a personal friend of Jose Mourinho's and shelve thoughts of the promising talent of Ryan Mendes, Platini and Heldon.

- Tunisia replace Cape Verde in play-offs

Pretend this is just another football association that has access to the same set of information as any other. Now read this:

On March 24, 2013, in a World Cup qualifier between Cape Verde and Equatorial Guinea, defender Fernando Varela was sent off for unsporting conduct towards a match official. FIFA's rules state in Clause 49.1 that anyone who receives a red card for an offence of that nature will be banned for at least four matches.

That meant Verales would have to miss the rest of the qualification -- the three games that remained and then a further match.

Cape Verde lost that fixture and seemed out of contention for Brazil 2014 until CAF overturned the results of both their matches against Equatorial Guinea. The Equatoguineans had fielded an ineligible player. Spanish-born Emilio Nsue played in those matches and scored a hat-trick, having only committed to the country earlier in March.

Reports did not explain exactly why Nsue was deemed improperly qualified. Given the short timeframe in which he had been associated with Equatorial Guinea, his representation for Spanish age-group teams and the African country's penchant for hasty naturalisation, it seemed to add up that Nsue had not spent the required time in his adoptive home to play for them.

Equatorial Guinea's error put Cape Verde in with a chance. The ruling was made after they beat Sierra Leone 1-0 at home and left Cape Verde needing a victory over Tunisia in Rades -- a tough but, as they proved, not impossible task.

They should have had to do it without Varela because, as you will remember, he was due to serve a four-game suspension. Yet Varela took the field as Cape Verde beat Tunisia 2-0. When it was brought to FIFA's attention, they had to deem the result invalid, award a victory to Tunisia and fine Cape Verde.

The excuse that came out of the islanders was that they thought Verales' sanction had been overruled by the match against Equatorial Guinea being forfeited. Verales had not played against either Gabon or Sierra Leone in June because he and the management believed he was serving a suspension. The following month, when the results against Equatorial Guinea were overturned, Cape Verde considered Verales' red card also scrapped and that is where they got it wrong.

The only plausible explanation for Cape Verde thinking Verales was clear to play is that they did not read the rules. Clause 18.4 clearly states "an expulsion automatically incurs suspension from the subsequent match, even if imposed in a match that is later abandoned, annulled and/or forfeited." That suggests an appeal on their part will be unsuccessful.

So no, Cape Verde -- just because Equatorial Guinea made the mistake of not knowing what was allowed and what wasn't, doesn't mean you can do the same thing. Verales' suspension remained a suspension, and he should not have played.

Because he did, Cape Verde got what they deserved, much as we all wanted them not to. It may make us a little sad, but it was the correct outcome. And it should continue to happen to other teams who break the rules too.

An examination of why African teams continue to fall foul of FIFA -- Cape Verde are the seventh in World Cup qualifying -- has already been examined in these pages. In some cases, it seemed possible that a lack of know-how or just plain negligence could be responsible for some of them being unsure of complicated eligibility conditions. For that, there needs to be education and enough information to assist them.

The converse is that some teams might hope to get away with fudging the system, and some examples suggest it is more than just oversight that leads to situations like these. All the officials can do is continue to crack down on wrongdoing in the harshest way possible and hope that serves as a deterrent.

For Cape Verde, the dream is over. Whether they will have the players and the drive to try again next time remains to be seen. Until then, best they learn the laws.