Knowledge has learnt a lot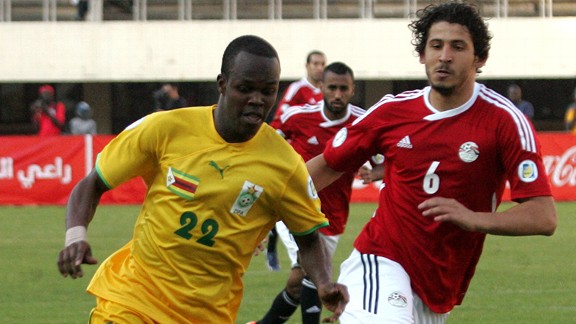 GettyImagesKnowledge Musona is taking international experience in his stride.
There are many advantages to having a name like Knowledge. Do something right and people say you taught others a lesson. Do something wrong and they will advise you to take inspiration from your name to improve your situation. And it beats being called something different, especially something which would suggest an existence of struggle.

Just imagine what Zimbabwe striker Knowledge Musona thinks of his national team-mate Hardlife Zvirekwe or the former CAPS United captain Limited Chicafa. He must pity their unfortunate labeling.

Names aside, Musona really does seem to have learnt a lot and some of it was on display during Zimbabwe's victory over South Africa. The 2-1 win was sparked by Musona's classy goal at the start of the second half, underlined a disappointing time for Bafana Bafana and showed what Kaizer Chiefs can expect from the international as the season unfolds.

Musona seems set to take his career in South Africa's Premier Soccer League to the next level after returning from what he admitted was a difficult time in Europe.

Having caught the scouts' eyes with impressive showings for AmaKhozi, who he joined as a 19-year-old despite not having played in his home country's top flight, Musona was picked up by 1899 Hoffenheim in July 2011. They loaned him out to Augsburg last season where he found himself on the fringes. He only made eight starts for the club and only played a full 90 minutes three times. In 14 appearances, he did not find the back of the net once and for someone who makes it his business to score -- as he has in 11 of the 16 games he has played for Zimbabwe -- he regarded the stint as unsuccessful.

"It was frustrating," he told the BBC in June. "I was fighting for my position but the second half of the season was not so good for me. I must say it was a hard time for me. I think my game went some steps back, because the previous season I was playing regularly and this season I didn't play so much."

At that stage, Musona did not know where he would end up playing football this season. But he did not let the uncertainty distract from his duty at international level. He continued to impress for Zimbabwe, scoring goals in both World Cup qualifiers against Egypt and keeping faith in a national team which has not had much to be proud of in recent years.

He believed with "a little more confidence and a little bit more experience in our team, we can go far." And on Tuesday night he showed how far that could be.

Beating South Africa may not carry the prestige of overcoming one of the continent's heavyweights like Nigeria or Ivory Coast but it would have held special significance for Musona. Not only is South Africa the team he made his international debut against, but they are the side whose players he would know best. having returned to their league.

He has re-signed with Chiefs on a season-long loan, an understandable decision considering his struggled in Europe and the fond memories he has of playing with them. Musona scored a goal on debut for them, against Bidvest Wits and was awarded the league's rookie of the year prize in July 2010. He followed up by claiming the Chiefs' golden boot award in the 2010-11 season with 15 goals in 28 matches. With Chiefs defending the league title, he saw it as a place to make an impact.

However, not everyone thinks Musona has done the right thing. Former Zimbabwe international George Mbawando called his return to South Africa "regressive", and thinks he should have stuck it out in the Bundesliga.

"At times it might not be easy to adjust to a new and tougher environment but it was not hell for Musona. Even if he could not play regularly in the Bundesliga he could have tried to have a season or two in the Second or even Third Division and I know that he would have bounced back into the Bundesliga a far much better player," Mbawando said.

He also questioned what Musona would actually glean from South Africa's top-flight. "With all due respect I don't see how playing in South Africa will improve him or prepare him for European football when he has already been in Europe and knows what is required. How can you go back to high school when you have reached university?"

That is a question Musona may have to answer a few times in his life. It's in the name.