African attitudes to foreigners must become more accommodating
This time, Stephen Keshi has taken it too far.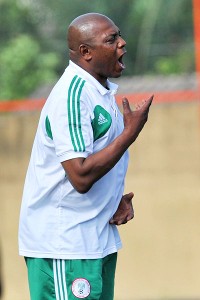 Issouf Sanogo/Getty ImagesNigeria coach Stephen Keshi's criticism of non-African managers on the continent is ill-advised.
Nigeria's Afro-centric manager is not shy to punt people from his own continent, particularly when it comes to coaches, but he went over the top in his verbal attack on Malawi's Tom Saintfeit who he said "should go back to Belguim."

By itself, that comment could be dismissed as nothing hot air -- but with this as a precursor, it was obviously more than that. "If he wants to talk to FIFA, he should go back to Belgium. He is not an African person, he is a white dude, he should go back to Belgium," Keshi said.

The Big Boss implied Saintfeit lacked knowledge of a situation because of where he comes from, not because he was ignorant on a certain subject or just made a mistake, and that is a serious insult which Saintfeit may well complain about to higher authorities.

Saintfeit asked for the Sept. 7 World Cup qualifier to be moved from Nigeria's southeastern city of Calabar because of safety concerns. Keshi believes the area is "one of the safest places in Nigeria," and Saintfeit is "crazy," for requesting another location. Why his attack had to degenerate into something bordering on racism, which Saintfeit is claiming, is puzzling.

This is not the first time Keshi has lashed out at foreign coaches. Shortly after winning the African Nations Cup, with a squad heavily loaded with local players, Keshi slammed African teams for hiring "mediocre" European coaches who are only in it for the money and do not understand how to develop African talent.

His comments were received badly by those coaches Keshi seemed to be targeting. Uganda's former boss Bobby Williamson said Keshi was misguided in that assumption and he would happily "swap wages" with Keshi to prove his point. Others saw Keshi's boasting as nothing more than bravado -- a metaphorical puffing out of the chest after becoming only the second man to win an ANC as a player and a coach -- and expected him to quiet down after a while.

But Keshi has been spurred on by the continued strong performance of the men he commands and the support of the people around him. The Nigerian Guardian has called him the "best Nigerian coach ever" who is "steadily changing the psychology of home-based players to believe more in themselves."

While locally based players need someone to show as much faith in them as Keshi does, the militancy of Keshi's views is worrying. By belittling foreigners who work in Africa so often, he is not flying the flag for home-grown talent, but making enemies unnecessarily in a continent that has yet to resolve the dispute between the overseas haves and the local have-nots.

Another example of the same is Ghana's Kevin-Prince Boateng, who is likely to be included in Ghana's squad to play Zambia in a decisive World Cup qualifier Sept. 6 in Ghana. The German-born midfielder has made himself available for the country, nine months after retiring from international football to concentrate on playing for his club, AC Milan.

Boateng has been viewed as a maverick by fans in Ghana, picking and choosing the games he wants to play. Boateng made his debut in 2010, after first training with the Ghanian team for just a month, and was an important part of their World Cup campaign. He declined several call-ups after that, many of them matches played in Ghana, before retiring. He has since reversed that.

The Ghanian FA have allowed Boateng to change his mind at will and the preferential treatment he has been afforded has, by some fans, been attributed to his reputation as an overseas-based footballer. The timing of his comeback seems to indicate he does not want to miss out on the 2014 World Cup and could easily be viewed as selfish and glory-hunting, rather than patriotic.

But Boateng has done something to prove he is not a spoiled brat who chooses to be African when it suits him. He has been influential in the fight against racism in Italy, leaving the field when he and other teammates have faced racist attacks. "Racism does not go away. If we don't confront it, it will be spread," he said.

Similarly, attitudes of superiority because of place of birth also don't disappear overnight. Africans have long been led to believe they are less worthy than those from elsewhere in the world. It is admirable a man like Keshi wants to change that. But uplifting one's own does not have to come at the cost of others and when the balance between African and foreign can be achieved and respected -- football can thrive from various expertise.