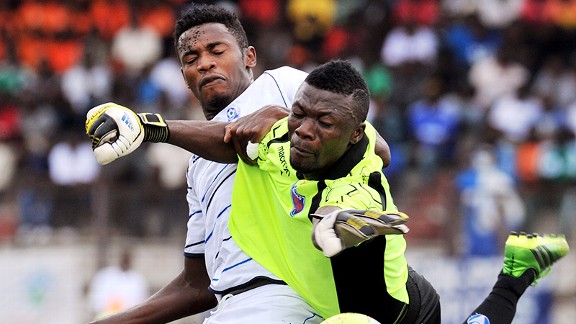 Issouf Sanogo/AFP/Getty ImagesSewe Sport's Kako Rostan collides with Recreativo Do Libolo goalkeeper Mavanga Landu during their CAF Champions League match earlier this month.
At the halfway stage of the CAF Champions League, inexperience has been the most obvious concern in a tournament that has not been as competitive as was hoped. With three teams making their debuts in the event, this year's field was described as the weakest in recent times and the trio have so far rubberstamped the opinion that they would not live up to expectation.

AC Leopards, from the Congo, Ivorian champions Sewe Sport and Angola's Recreativo do Libolo lie in the bottom half of their respective groups. They will all need more spirited performances if they hope to make a semi-final appearance, but the odds are not with them.

Leopards have the best chance. They are on the same number of points as Al-Ahly -- four -- but have to make two daunting trips to Egypt in their remaining three matches, and to succeed there will be tough. From the get-go, it was clear Leopards would bank on home advantage in this competition, but they have to shelve that theory from now on, although it has served them fairly well.

It was through beating Nigeria's Kano Pillars in their own backyard that they made it through to the second round of qualification. Similarly, triumph in Brazzaville over ES Setif qualified them for the main draw. Away from their comfort zone, they were conservative, even careless, and were defeated heavily on their way to the main draw.

The strategy has also looked shaky in the group stage too. Their physical defense ensured that they managed one point in Johannesburg against group leaders Orlando Pirates. But at home, they seemed equally timid. Only a penalty and a stubborn backline saw them win 1-0 against a Zamalek side who have their own set of problems at the moment and they were beaten in clinically minimalist fashion by Al-Ahly.

Traveling to play against both teams will be even tougher, and unless Leopards lift their game, all they will take out of their first appearance in the Champions League is a lesson. But it is an important one: against the best teams in the continent, you have to lift your own game. What is enough in the preliminary stages will not be sufficient once you are among the big boys. You need a touch more confidence and hopefully experience will bring that.

Recreativo showed a glimpse of that self-belief when they won their opener against Esperance. They scored with the final kick of the game to beat the much-fancied Blood and Gold. Last gasp, ugly victories are sometimes exactly what's required.

Life on the road has not been easy for them, though. Last weekend, they were beaten 2-1 by Coton Sport in Cameroon as they struggled to contend with the West Africans' aggressive style of play. When Libolo tried to emulate the attacking way, they left their defence exposed and conceded again.

A similar fate struck them in Abidjan, where Kevin Zougala scored a hat-trick before halftime as Sewe Sport beat Libolo 3-1. Stunned by their opposition's intent, the Angolan side only really showed up in the second half.

The Ivorians' win started their campaign off in promising fashion but they went on to lose in Garoua and at home against Esperance, despite a strong showing there. Sewe forced Moez Ben Charifa into numerous saves after Esperance had taken the lead, but he was up to the task and ensured the Tunisians took joint top-spot while the newbies are both left at the bottom.

On three points each, at least Libolo and Sewe can take heart in knowing both of them have done better than Zamalek, who are at the bottom of Group A with no wins and they don't even have lack of Champions League know-how to pin it on. The Egyptian heavyweights drew with their arch rivals Al-Ahly and lost their two away matches. Turmoil in their home country may explain some of their underperformance, although Al-Ahly, who lie second in the same group, refute that theory.

Instead, it seems internal strife is plaguing Zamalek. Rumours emerged while they were in South Africa that a dressing room feud almost prevented the team from taking the field against Pirates. Coach Helmi Toulan left out midfielder Ahmed Hasan and veteran goalkeeper Abdel-Wahed El-Sayed and the story was that the rest of the team were not willing to play. Zamalek denied the report but a 4-1 loss hinted otherwise.

Whether it is true or not, to languish where even the rookies have managed to avoid is something Zamalek will want to put right in the next half of the competition.