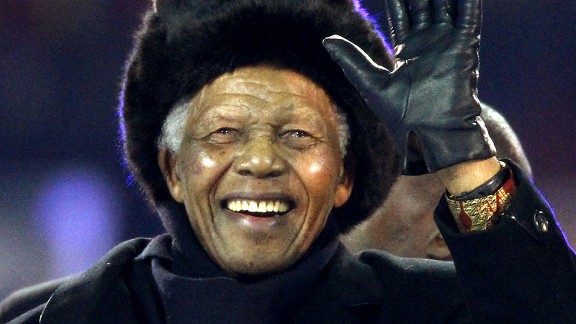 Thomas Coex/AFP/Getty ImagesFormer South Africa president Nelson Mandela was able to make an appearance prior to the 2010 World Cup final.
Competitive sport is all about results, but there is one tournament where the outcome almost does not matter as much as the reason for why it is being played: The Nelson Mandela Challenge is an annual event which has been played since the year the man it was named after became South Africa's first black president in 1994, and it seeks to raise funds for his flagship charity, a children's fund.

- Moonda: Wanyama shirt helps FC Kalingalinga FC

Wednesday night night, just like the two years before, the Bafana Bafana lost the trophy. Their 2-0 loss against Nigeria was the consequence of too many squandered chances against the continental champions whose depth was on display. Uche Nwafor, who was playing in only his second match for the Super Eagles, scored both goals to leave Stephen Keshi a satisfied man.

Gordon Igesund will need to have a word with his men, who looked eerily like Nigeria did at the Confederations Cup. They created chances and found themselves in good scoring positions throughout the 90 minutes but their final touch was sorely lacking.

They looked a far cry from the teams of the past, who have won 11 of the 19 Mandela Challenges played, including a run of seven straight victories between 2003 and 2009. The opposition during that streak included Costa Rica, Senegal, United States, Cameroon and Norway and the only match played out of South Africa, in London against Egypt.

These achievements and failings may not really register on sporting radar because for the most part, they are really just about morale boosting. What matters is the man for whom they are being played for. This year, in fact this week, the Bafana Bafana will play twice in Mandela's name and the result is unlikely to matter on either occasions.

Their Challenge match will be all forgotten come Saturday when they face African Nations' Cup finalists Burkina Faso in a unique double header, which also features the national rugby side. The Springboks play Argentina on a day that will begin with a South African Legends football team facing the Italian Masters. All three events are part of the Nelson Mandela Sports Day, a new event created as fears over Mandela's health grew in June.

The senior statesmen has been in a critical condition for the last two months, during which South Africans, and the world, have been asked to make peace with the fact that he will eventually pass. When he does, he will be remembered for many things, one of them sport.

Mandela was an accomplished pugilist but his sporting influence was felt in other codes. One of the most famous photographs illustrating South Africa's democracy was Mandela wearing a Springbok jersey, handing the William Webb Ellis trophy to Francois Pienaar at 1995 Rugby World Cup. He also had an important part to play in football, turning up at the final of the African Nations' Cup the following year to celebrate with Neil Tovey and Co, who won on home soil.

It is widely thought that Mandela was one of the main reasons the 2010 World Cup was awarded to South Africa and not sent elsewhere on the continent. Mandela was part of the delegation who presented their final bid -- and some criticised the move as nothing more than a publicity stunt -- and famously said he felt "like a young boy," when South Africa's name was pulled out of the envelope.

When the tournament actually got here, Mandela did not have reason to celebrate at first. His 13-year old great-granddaughter was killed in a car accident after the concert to mark the start of the tournament. Mandela was not present at the opening ceremony or the first match because he was in mourning.

But he did arrive at the final to make his last public appearance. Mandela and his wife, Graca Machel were taken around the Soccer City perimeter in a golf cart. It was obvious the Mandela of that day was not the same as the Mandela who once danced on stage in eccentrically patterned shirts. He was aging.

It took three years and multiple trips to doctors before many could accept that reality. 2013 has been the toughest of those years. Mandela's stay in a Pretoria hospital is in its third month and he probably does not know of the many events being organised in his honour.

One took place in March when Sunderland declared their own Mandela day as part of efforts to stop racism in European football. They broadcasted a message against discrimination by the man himself, used Mandela Foundation t-shirts in the warm-up and donated money to the charity.

As Mandela grows older and the inevitable looms closer, there will doubtless be other initiatives in his name. Many of them will involve sport and it will be worthwhile to remember where it all started -- with the Nelson Mandela Challenge.