Worried about Colombia in the World Cup? Don't be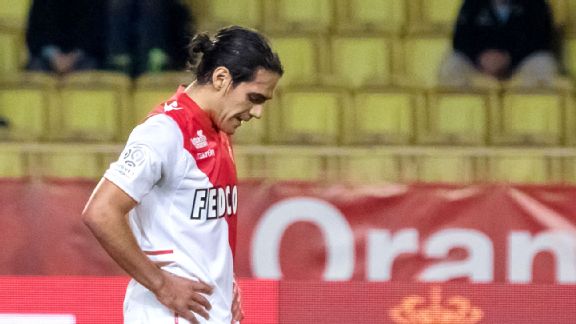 Didier Baverel/Getty ImagesFalcao's ACL injury sent shock waves throughout the footballing world.
With Falcao possibly ruled out of the World Cup due to a torn ACL, Colombia lost its leading goal scorer in qualifiers and biggest name. He led Colombia with nine goals, tied for third in South America behind Luis Suarez and Lionel Messi. His loss creates a significant hole for Colombia, but the country has reasons to be optimistic.

Here are five players who can step up in his absence and help coach Jose Pekerman and Colombia to a successful World Cup.

• James Rodriguez (AS Monaco): At the age of 22, Rodriguez has emerged as one of the world's best playmakers and young talents. He has created 56 chances for AS Monaco in France's Ligue 1, good for second in the top five European leagues, and nine assists, tied for second with Wayne Rooney and Zlatan Ibrahimovic. His play for club has transitioned to his country form. Rodriguez created 43 chances in CONMEBOL qualifying, making him the leader among all players in the region. He also led Colombia in passes completed in the attacking third, take-ons and touches.

The No. 10 role will be his to make plays and be a catalyst for Los Cafeteros.

• Jackson Martinez (FC Porto): The likely striker replacement, Martinez, like Falcao, is a versatile goal scorer. Martinez was the Portuguese league's leading goal scorer in the 2012-13 season with 26 goals in 30 games and is off to a similar start this season, scoring 12 goals in 14 games.

Last season with Porto, his first full season, he scored 11 goals with his left foot, 15 with his right foot and eight with his head in all competitions. He has had trouble replicating the same form for Colombia, much in part to his style being similar to that of Falcao.

Martinez failed to score in the qualifiers and hasn't scored for Colombia since a 4-1 win against Guatemala on Feb. 6, when he scored two goals in the first half. In that match, he played with Teofilo Gutierrez, not Falcao. Martinez hasn't scored in his past 10 appearances for Colombia.

It will be left to see if he can translate that Porto form to Colombia now that he may be asked to lead the striking charge.

• Pablo Armero (Napoli): Just like his compatriot Rodriguez, Armero was involved in 15 of the 16 games Colombia played to qualify for the World Cup. Armero leads Napoli with the most chances created from crosses with 12 since he joined the club on Jan. 1, 2013. He also had the fewest number of turnovers of players with at least 25 games played in that time, committing only 10.

Armero will need to help Rodriguez create service for the forwards down the left-hand side. The left-back has shown that he can take care of the ball in international appearances as well, committing only seven turnovers in 15 qualifying matches. Also, Armero leads the team in interceptions with 28, tied for fourth among all players in South America.

• Teofilo Gutierrez (River Plate): Before moving to his current club, Gutierrez was a star for Cruz Azul in the Mexican Liga MX. He was creating chances as a secondary forward to Mariano Pavone, averaging 1.4 per game to lead the club's forwards. He also led in touches per game with just over 34.

Gutierrez seemed to be the steady point for Colombia in qualifying. Colombia lost only twice during qualifying when Gutierrez played with the team's regulars. Colombia also had a plus-16 goal differential when he played, the best differential by any player not on Argentina.

He and the replacement striker will need to form a partnership fast if they are to have success scoring in the coming World Cup.

• David Ospina (Nice): The Colombian goalkeeper also will need to step up. He is the starting goalkeeper for Nice in France's Ligue 1, averaging 0.9 goals allowed per game, good for fourth best in the league. His 77.8 percent save percentage is also good for fourth in the league for goalkeepers who have played at least half the season.

Ospina had the task of replacing Faryd Mondragon, who was on the bench in the 1994 World Cup. He has taken the opportunity and succeeded, becoming a consistent player in the starting XI for Pekerman's Colombia. His save percentage of 79.4 percent during qualifying ranked highest among goalkeepers who played at least half the qualifying matches. Ospina also started each of the 16 matches, one of only four players to do so in all countries.

Colombia, with Ospina, allowed only 12 goals in qualifying, the lowest total among all countries.