Mexico faces near must-win on penultimate CONCACAF day
Tuesday is the penultimate matchday in the final round of CONCACAF World Cup qualifying, and three countries still have plenty to play for, including Mexico hosting a near must-win game against Panama.

The United States and Costa Rica have already clinched World Cup berths. The U.S. has secured its 10th World Cup appearance and seventh in a row, which is the seventh-longest active streak in the world. Costa Rica has locked up its fourth World Cup berth; the Ticos have qualified for three of the last four World Cups.

The drama is further down the table, as Honduras, Panama and Mexico are jockeying for the third automatic berth and the fourth-place playoff spot against New Zealand. Honduras holds a three-point edge over the other two, and Los Catrachos could qualify today with a win and a Panama-Mexico draw.

Facing a home game against Costa Rica today and an away match against Jamaica to finish the round, Honduras is nearly guaranteed its third World Cup berth, with 94.8% odds of qualifying, according to ESPN's Soccer Power Index.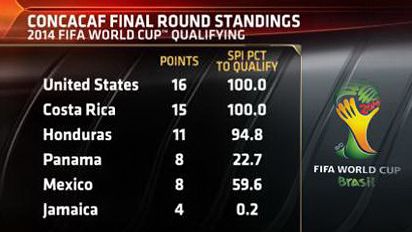 ESPN Stats & Info


After going winless in four home qualifiers this year (0-1-3), Mexico isn't guaranteed anything. This after Mexico had won its previous 24 home qualifiers, including 15 straight wins at Estadio Azteca. By dropping nine home points this final round, Mexico has exceeded its seven points dropped in the previous four final rounds combined, a total of 20 games.

Goal scoring has been Mexico's primary issue. El Tri's four final-round goals are second-fewest to Jamaica's three, even though Mexico leads the final round with 106 shots and 31 shots on goal. The fewest goals Mexico scored in any of the four previous final rounds was 16 in 2002.

Mexico has one home goal in four final-round games. The fewest final-round goals Mexico had in the previous four cycles was 11. Javier Hernandez has been part of the problem lately, failing to score in six straight qualifiers. His 35 international goals are tied for third-most in Mexico history with Carlos Hermosillo.

The Mexico-Panama winner will be in pole position for fourth place and the accompanying playoff spot, up three points with one match remaining. With tonight's match in Mexico City, SPI sees Mexico as a 59.6 percent favorite to qualify for the World Cup, ahead of Panama's 22.7 percent.

That's because Mexico is projected to beat Panama 67.9 percent of the time. But a Panama upset at Azteca would chop Mexico's qualifying odds down to 3 percent, and nearly guarantee Panama at least a playoff berth.