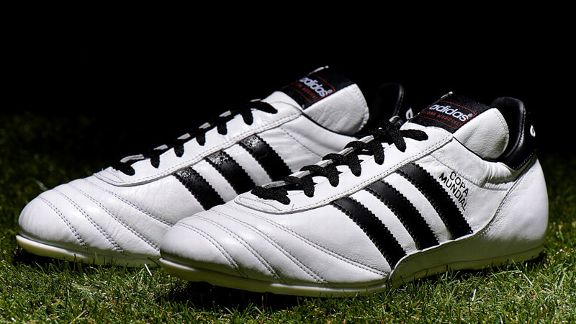 Other / adidasThe Copa Mundial continues to be made in Scheinfeld, close to adidas HQ in Germany.
Rating:


The average football boot has a production span of nine months to a year before a new design is introduced. So, when you consider that the Copa Mundial has been around since 1979, it's almost hard to believe that many still consider the Copa as one of the best boots available. There's a reason why the Copa has stood the test of time, as it's everything a boot should be, and nothing more. Simplicity at its finest.

Design 4/5

The Copa features an upper crafted 100% from extremely high quality kangaroo leather. It is designed to stretch to the exact shape of your foot, giving you a truly custom fit once broken-in. The Copa Mundial is really the benchmark for all traditionally styled, kangaroo leather football boots.

The signature flap tongue of the Copa gives the boot a very distinctive and old-school look, visually setting it apart from the rest. The thick, polyurethane outsole acts as the main base for the Copa, along with a very traditional, conical stud pattern for great traction on natural grass playing surfaces. The simplicity of the design is what makes it stand out, especially if you've managed to snag a limited edition white colorway.

Comfort 5/5

Perhaps the main reason why the Copa has stuck around for so long is due to how comfortable the boot actually is. Unlike most modern shoes that are generally best suited for a single foot type, the Copa is designed to form to any foot shape or width, allowing anybody to achieve an incredibly comfortable fit. The ultra-soft kangaroo leather upper is plush and flexible, allowing the boot to flow very naturally with the bend of your foot.

There is some break-in time required, but you should be able to get through that after a couple hours of wear-time, with minimal discomfort. It must be said that the Copa does have a slightly bulkier feel than most boots, especially at first, but that's just part of the overall package. It's also worth noting that sizing with the Copa is way off, and I strongly recommend going at least a full size down for the best possible fit.

Performance 4/5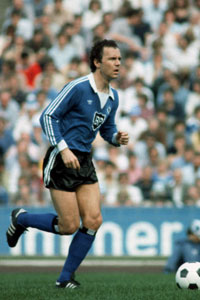 Other / adidasGermany legend Franz Beckenbauer sports the Copa Mondials in 1982.
The Copa is a great example of a no-nonsense boot. The smooth leather upper does not feature any additional elements or anything that is going to alter your feel for the ball. With that being said, the Copa still offers one of, if not the best kangaroo leather feel on the market. Since the entire upper is made from the same thickness of kangaroo leather, the feel that you get across the entire foot is completely uniform, making for a consistently cushioned touch.
The traditional, conical stud pattern isn't particularly aggressive, but still provides adequate grip when pushing off for a sprint, while also allowing for plenty of freedom to twist and turn when planted. It's also a great option for harder, natural grass playing surfaces. One of the areas where the Copa hasn't aged particularly well is the weight of the boot. While I wouldn't necessarily call it heavy, it definitely weighs a little more than most modern football boots, coming in at 11.7oz. But while the weight is a negative, it isn't particularly detrimental to the overall performance of the boot.

Value 5/5

When you're talking bang for your buck, the Copa Mundial is one of the first boots that comes to mind. Ranging in price between $100 to $120, there is definite value to be had with the Copa. With the boot still made in Germany, and featuring some of the highest build quality of any shoe out there, you're pretty much guaranteed to get a longer than average lifespan out of each pair. Just keep in mind that the upper is made from 100% natural materials, so some regular maintenance is required in order to keep the boots in optimal condition.

Overall 4/5

It's incredible to believe that a product, especially one based around performance, has stuck around and remained unchanged for more than 30 years. The Copa is a true classic and a boot that everybody needs to experience in order to grasp its quality. While it may lack the flash and technology found in a modern football boot the Copa is the perfect example of how none of that is necessary to build a shoe that is going to provide a fantastic playing experience. They say you can't buy class, unless it's a pair of Copas.

Josh Vujovic writes for www.soccerreviewsforyou.com