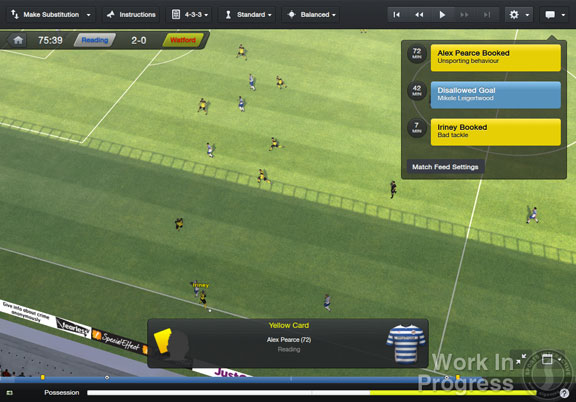 OtherFootball Manager 2014 benefits from added depth with a more straightforward user system.
Rating:


It's testament to Football Manager's unquenchable thirst for realism that it always seems to be closing off the loopholes that we enterprising managers discover from year to year.

- Macintosh: The joys of managing Manchester United

My own stint in charge of Royal Geants Athois in the Belgian third tier during a previous edition of the game lasted only a year due to mounting frustrations over a baffling promotion system and my club's amateur status: I had an array of quality players, but couldn't make them sign contracts, allowing bigger sides to pick them off at will.

As a 20-year veteran of the game, the solution was obvious: join a non-league club in England and take all the best players with me without paying a penny. From then on, on starting a new game, I'd pick an English non-league club but add the Belgian league, bring in a bunch of fancy foreigners on free transfers and bask in the glory of my cosmopolitan side's stylish romp to promotion.

In Football Manager 2014, though, the Belgians don't seem so keen. They don't seem to want to move abroad to a semi-professional club anymore and, if they are going to play in the Skrill Premier, they're going to want a hefty pay packet to relocate. For a game that is regularly derided as a glorified spreadsheet, the human element looms ever larger.

From the off, you are given the chance to declare your own football philosophy, to tell your players your ambitions for the season.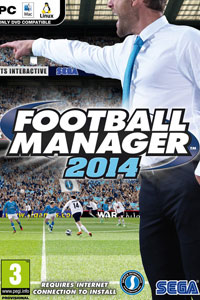 OtherFootball Manager has been entertaining armchair bosses since the first incarnation of Championship Manager back in 1992.
The Tamworth players, it turns out, do not take well to having me -- a former Sunday League footballer -- tell them they should be gunning for promotion despite the media predicting a 13th-placed finish. Just as David Moyes discovered this summer when accidentally implying Wayne Rooney would serve as Robin van Persie's backup, or Roy Hodgson when employing an ill-advised term in providing tactical instructions for Andros Townsend, the right words can be as important as the right tactics in the modern game.

The players inhabiting Football Manager 2014 can be a prickly bunch indeed -- misjudge a team talk at your peril -- but there are also more options to redress your blunders. You can now ask your captain to have a word with an irritating malcontent, for instance.

Yet, as the game becomes ever more nuanced, there is also a distinct drive towards simplification this time around. Tactical instructions in the form of sliders are abandoned in favour of verbal messages -- a logical change to a more realistic approach, and one that works well.

Delegation, too, becomes remains a very legitimate option. Feel free to palm off training on your assistant, adopt the tactical advice offered by your backroom staff and leave a director of football in charge of dealing with contract negotiations.

The interface is more straightforward, too -- though an FM virgin may still find the depth of options a little overwhelming -- with the colour-coded email inbox helping you to keep things organised.

There are several other small, but notable, improvements. During a match, your assistant will still provide regular insights -- that their right winger is being given too much space, for example -- but now there's a button underneath that allows you to instantly act on his advice. During transfer negotiations, you can now simply suggest a bid and see if the selling club is interested, which can save plenty of wasted time. When selecting your player's specific role -- such as whether your central midfielder should act as a deep-lying playmaker or a ball-winner -- a star system clearly illustrates his ability in each.

The match engine is now slicker than ever, but certain actions are rendered less realistic, and your players can appear to act with a lack of awareness (both of your instructions and the basic principles of playing football) that can be alarming and infuriating in equal measure.



As with last year's edition, there is a 'Classic' mode for those unhappy with the wealth of delegation options, which -- should the player desire -- does not even require that they sit through games. For those who have grown accustomed to the game's burgeoning complexity, it's hard to imagine that success in a stripped-back mode could not feel tainted, but for the legions who felt the game's heyday came during its early years, it may be a welcome tonic.

At heart, though, Football Manager 2014 aims to simulate the football manager experience. Though this year there are, as ever, minor gripes, every edition takes a small but distinct step forwards, cementing its position as the king of the genre.