Sir Alex Ferguson autobiography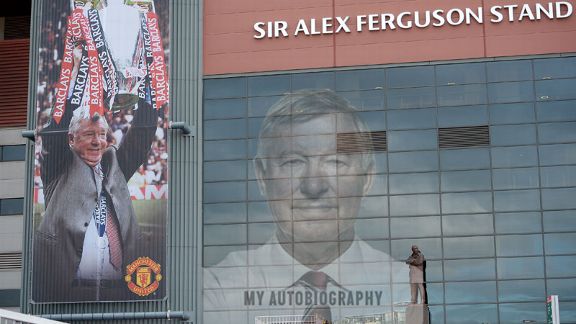 GettyImagesSir Alex Ferguson's book did not make as many waves as was thought.
It would be difficult to render dull the tumultuous times of Sir Alex Ferguson's years in charge of Manchester United. His latest autobiography certainly does not achieve that.

The best autobiographies read in the subject's voice. It is easy to imagine hearing Ferguson speaking many of the phrases. To follow 1999's "Managing My Life", the lugubrious prose of Hugh McIlvanney has been swapped for Fleet Street veteran Paul Hayward's more minimal style.

"Oh aye," Ferguson says at one point. A seat by the fireside in Ferguson's Wilmslow mansion is offered, and his side of the story -- or as much as he would like you to know -- is delivered engagingly. There is much to learn, and Ferguson both confirms and buries a few myths.

Bar a brief reminiscing on his early days in Glasgow -- the upbringing he feels defines him now as much as ever -- the narrative picks up in 1999, when the last book was published, though the odd memory is cast back to for context. Beyond the headlines the red devil lies in the detail, small soupcons of information that are of interest to enthusiast rather than muckraker. The book will be pulled apart in all different directions, but its intentions are setting the record straight, and not reopening theatres of war. We knew what they were all along, anyway.

A search for major revelations would be one in vain. Modern football coverage's all-encompassing nature precludes that. Even Ferguson's fearsome protectionism could never prevent the biggest stories coming out. Manchester United was too big a concern for even him to be fully in control of. The appointment of David Moyes is given the account we have all heard already, and has presumably been agreed with the club's hierarchy. In a chapter on Jose Mourinho, there is no mention of his friend's hopes of succeeding him at Old Trafford.
Instead, significant interest lies in the picking of targets. Ferguson was always truly expert at the carefully-laid barb. He always preferred to be the planter of a bomb rather than the detonator, though the latter was never ruled out, either. It would seem almost impossible to carry the moments of red mist onto the page.

His targets often find themselves praised but swiftly denigrated with a cutting put-down: Wayne Rooney "was not the quickest learner"; David Beckham's "eye was off the ball"; "it seemed to me that losing the game scrambled Arsene's brain," he says of the Frenchman's reaction to Arsenal losing the chance to go a half-century unbeaten matches because of an October 2004 defeat at Old Trafford.

The chronological order of "Managing My Life" is abandoned for themed chapters. Those looking for big-name associates will find it easy to locate them. "Beckham", "Keane", "Rio", "Ronaldo", "Rooney" and "Van Nistelrooy" are six chapter titles, while "Liverpool -- a Great Tradition" is mostly concerned with Rafa Benitez, who receives the lengthiest and most sustained criticism of those involved in football. "I found Liverpool dull to watch when he was manager there," is the view of an opponent Ferguson makes clear he has never warmed to, and is now never likely to.

It was hardly revelatory to know that Ferguson holds much of the football media in open contempt, with rolling news a particular pariah, but an entire chapter is devoted to various run-ins. Even then, there are emissions of sympathy for those who must seek a story a day to survive. "They were under such pressure, it was not easy to confide in them," he says of the new breed of reporters.

Such easy targets are picked off. Those looking under the surface for the story behind the machinations that took the club into the hands of the Glazer family will be disappointed. The dispute over racehorse Rock of Gibraltar's stud rights receives a single paragraph which paints the whole row with the Ireland's Coolmore Mafia as a misunderstanding. Ferguson revealed on Tuesday that a bi-lateral agreement with John Magnier prevented him from saying much more than he does. In print, he dismisses its importance.

Earlier, Ferguson says of Roy Keane, as their relationship again hits the rocks: "I never understood his obsession with the Rock of Gibraltar affair." The broken relationship with his former captain is the one that he clearly found most difficult.

Ferguson dismisses fears that many United followers hold in the direction the club has since taken. Nobody expected him to turn his guns on the Glazer family now, most of all because he retains a lucrative directorship of Manchester United. Ferguson suggests that such a brand of ownership was always likely. "From the moment Manchester United became a Plc in 1990, I was certain that the club would be bought and taken into private ownership," he says.

He is defiant to the suggestion that he should have walked away in principle when the club moved into the leveraged ownership that the Glazer chose. "One of my concerns was how much money we might have to invest in the team," he admits, before dismissing the zealots. "So do you want to throw down your tools because some supporters want you to walk away from a lifetime's work?"

Ferguson has always had his favourites. His own golden generation -- the "Class of '92" are swamped in praise, and indulged. When the decision to overturn his expected retirement in 2002 is announced, Ryan Giggs is given the last word. "Oh no, I can't believe this," jokes the favourite son. "I just signed a new contract."

Paul Scholes is a recipient of similar affection, but Cristiano Ronaldo receives a chapter of the most fulsome testimonials. "Ronaldo" is almost a father's letter to an adopted son, even if he did eventually flee the nest. "We looked back at his time with us, with pride and gratitude," he gushes. Agent Jorge Mendes even receives sweet nothings, another pointer to a continuing policy of not burning bridges. Manchester United may need Mendes' services in future; Ferguson remains a Manchester United man. His book-launch press conference confirmed that he had cleared his book with the club.

Those seeking insight into the managerial mindset are rewarded with a chapter on his psychology, though he suggests that the concept of "mind games" has been wildly overplayed. "Every time I made a public utterance, a swarm of analysts would look for the hidden meaning, when 98 percent of the time there was none," he says.

Ferguson never goes fully for anyone's throat, though many might feel their ears burning. Rooney, Beckham and Ruud van Nistelrooy receive sharply phrased pieces of mind but then some kind words and an affectionate slap on the bottom to send them on their way.

Perhaps that is a reflection of the man himself. It was always the threat of the bite that kept people at bay, even if the bark could often be truly terrifying, too. As one of his family members told Hayward in a preview interview at the weekend: "Do people really think he managed all those great players for all those years just by shouting?"

He would have never have survived so long if he had, and this is not a book to blow open 26 years at United into fresh territory with page after page of agenda-seizing revelations. Despite that, it remains an essential read for those wanting to know more of the most dominant figure in English football's last two decades. Ferguson still delivers plenty to further our knowledge.