Four Revelations: Fergie autobiography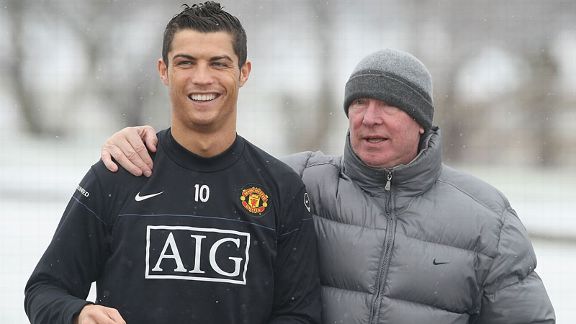 GettyImagesCristiano Ronaldo is all smiles as Sir Alex Ferguson puts an arm round his star player in February 2009.
Those expecting an explosive account of Sir Alex Ferguson's final 14 years at Manchester United may be a tad disappointed with his autobiography. For while it is indeed laced with barbs at former players and opposition managers, most are also tempered with gushing praise. Wayne Rooney and David Beckham are among those lauded and lamented almost in equal measure. But there is space for some revelations in 'My Autobiography'. Here, ESPN FC picks out four of the most noteworthy in Sir Alex's memoir.

Ronaldo forced to stay an extra year to spite Ramon Calderon

Background: After a momentous 2007-08 season in which he had established himself as the best player on the planet, Ronaldo was publicly courted by Real Madrid. Los Blancos president Ramon Calderon was happy to declare to the media that he was making moves to bring Ronaldo to the Bernabeu, while it became apparent that the player himself had a long-standing ambition to move to the Spanish giants. Ferguson, however, was not amused by the public pursuit, famously saying in December of 2008: "Do you think I would get into a contract with that mob. Jesus Christ, no chance. I wouldn't sell them a virus." Calderon was the man at the centre of his ire and he told Ronaldo he had to stay at Old Trafford, such was Ferguson's desire to avoid doing business with the Madrid president.

What Sir Alex said: "I went to Carlos' house in Portugal to find the boy expressing an urge to go to Real Madrid, and told him: 'You can't go this year, not after the way Calderon has approached this issue. I said, 'I know you want to go to Real Madrid but I'd rather shoot you than sell you to that guy now.'

"I did well to calm him down, I told him the reason I was refusing to sell him that year was because of Calderon. I said: 'If I do that, all my honour's gone, everything's gone for me, and I don't care if you have to sit in the stands… I will not let you leave this year."

'Bootgate' was the final nail for Beckham.

Background: David Beckham's Old Trafford departure has been well documented. With Ole Gunnar Solskjaer displacing him as a regular on United's right wing and Ferguson believing the England captain was becoming increasingly distracted by his celebrity lifestyle, Beckham was offloaded to Real Madrid in the summer of 2003.
Ferguson long had reservations about Beckham, expressing a concern that he was "being swallowed up by the media or publicity agents". He describes in the book his bemusement at the player's unwillingness once to take off a beanie hat for two days because he did not want to reveal a new haircut before he took to the pitch. But it was a January 2003 clash that proved the end of the line. After a poor display against Arsenal that had seen Beckham fail to track back for a goal by Sylvain Wiltord, Ferguson criticised him in the dressing-room but the player refused to take the blame. What followed led to a media storm.

What Sir Alex said: "He was around 12 feet from me. Between us on the floor lay a row of boots. David swore. I moved towards him, and as I approached I kicked a boot. It hit him right above the eye. Of course he rose to have a go at me and the players stopped him. 'Sit down,' I said. 'You've let your team down. You can argue as much as you like.' I called him in the next day to go through the video and he still would not accept his mistake. He didn't say a word. Not a word. The next day the story was in the press. In public, an Alice band highlighted the damage inflicted by the boot.

"It was in those days that I told the board David had to go... David thought he was bigger Alex Ferguson. There is no doubt in my mind. It doesn't matter whether it's Alex Ferguson or Pete the Plumber. The name of the manager is irrelevant. The authority is what counts, You cannot have a player taking over the dressing room... That was the death knell for him."

Keane called Ferguson out in front of United's players, which led to his departure.

Background: The seeds of the breakdown in Sir Alex's relationship with Roy Keane were sown in pre-season ahead of the 2005-06 campaign when the midfielder made a sustained complaint about the facilities on a tour of Portugal, though Ferguson was also concerned with his captain's refusal to recognise that his box-to-box powers were diminishing -- describing in his memoir how Keane thought he was "Peter Pan".

The fuse for Keane's exit, though was well and truly lit with the Irishman's astonishing attack on his team-mates in an interview with in-house TV channel MUTV. Keane doubted "why people in Scotland rave about Darren Fletcher" and said of Rio Ferdinand, "Just because you are paid 120,000 pounds a week and play well for 20 minutes against Tottenham, you think you're a superstar." This led to a showdown between Keane, Ferguson and his players, with the player accusing his manager of courting controversy over a legal dispute with John Magnier about the ownership of the horse Rock of Gibraltar. Keane's contract was cancelled and he ended his career at Celtic; his relationship with Ferguson never recovered.

What Sir Alex said: "Roy's suggestion was that we should show the video of the interview to the players and let them decide. I agreed and the whole team came up to see it. [After criticising many of his team-mates] He saved the best for me. 'You brought your private life into the club with your argument with John Magnier.' he said.

"The hardest part of Roy's body is his tongue. He has the most savage tongue you can imagine. He can debilitate the most confident person in the world in seconds with that tongue. What I noticed about him that day as I was arguing with him that his eyes started to narrow, almost to wee black beads. It was frightening to watch. And I'm from Glasgow. Carlos called it 'the worst imaginable spectacle in the life of a professional club.' 'He needs to go,' I said... I was finished with him.

Ferguson regarded Queiroz as his natural successor

Background: It may be difficult to imagine Iran coach Carlos Queiroz sitting in the Old Trafford hotseat, particularly after his failed spell as manager of Real Madrid. But for five years and two spells as Manchester United assistant, Queiroz was a key cog in the club's success -- helping Ferguson mastermind three Premier League titles and a Champions League triumph before leaving the club in 2008.
Ferguson has had many No. 2s, with Brian Kidd, Walter Smith and Steve McClaren among the men to have sat alongside the Scot and proffered advice as his assistant. But Queiroz, according to Ferguson, stands above them all, and had the skill set required to manage England's biggest football club.

What Sir Alex said: "He was so impressive I offered him the [assistant manager] job straight away. He was the closest you could be to being the Manchester United manager without actually holding the title He took responsibility for a lot of issues he didn't have to get involved with.

"...He had most of the qualities to be the Manchester United manager. He could be an emotional man. But of all the ones who worked alongside me, he was the best, no doubt about that. He was totally straight. He was good for me. He was a Rottweiler. He'd stride into my office and tell me we needed to get something done."